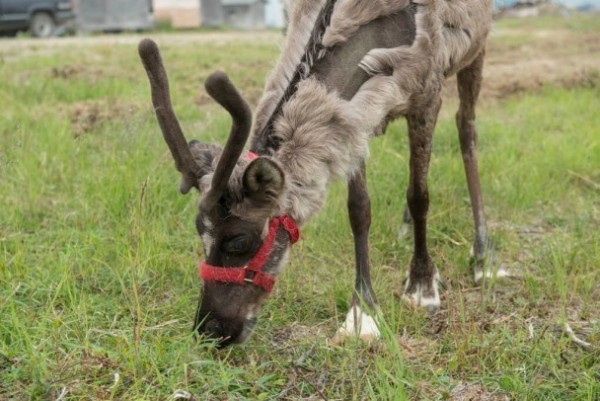 A unique guide that combines the traditional knowledge of reindeer and caribou food preparation, as well as other Arctic recipes and culinary traditions, is set to be released in a few months. The cookbook may provide Alaskans with new ideas for economic opportunities in a changing Arctic.
"This is the plate with a lot of reindeer food. And this is very traditional" said ViviAnn Labba Klemensson in her video blog on luckyreindeer.com. "I'm going to tell you what each piece is. This is the tongue from the reindeer. It's boiled and we eat it like it is. It's really a delicacy."
"This is intestines filled with reindeer blood," said Klemensson, a reindeer herder of the Swedish Sami people, as she described some of her favorite dishes.
Klemensson's video blog covers topics ranging from reindeer biology and herding techniques to commenting on development that threatens her herd's grazing grounds and persevering in a male-dominated profession.
"We're actually doing something really essential," said Klemensson inside a lavvu or a cone-shaped tent. "We're smoking the reindeer meat. And this is yum! It's really a delicious, delicious food when it's ready."
For the indigenous people of the circumpolar north, nothing is wasted when harvesting domesticated reindeer or the larger, migratory subspecies known as caribou. Everything from the animal is used.
Sinew is used for sewing. Hide, antlers and bones, of course, are used for clothing and tools.
"The Sami people and the reindeer herding people, they used to use a lot of reindeer skin and hide to make handicraft," said Klemensson in another segment of her video blog.
Now, possibly for the first time ever, thousands of years' worth of traditional knowledge is being compiled into a new book about Arctic culinary traditions and indigenous food culture. But it's not just an ordinary cookbook.
"We call it, rather, a cookbook about people, " said Anders Oskal, director of the International Centre for Reindeer Husbandry in Norway.
Oskal actually prefers to call it a food book.
"Traditional food, traditional ways of preparing food, traditional dishes, and also modern dishes, newer dishes," Oskal said. "But we had a steady focus on what we might term the food systems of the Arctic indigenous peoples and the culinary traditions that go with it."
The project was commissioned by the Arctic Council with youth from the Arctic's various indigenous groups compiling the traditional knowledge.
"We need to have to some long-term responses to this, which is one reason why it's very sensible for us to work with youth," Oskal said. "We have to work on these issues today. If we start working on this in 20 years, 30 years, we're going to lose out. We'll be running next to the bicycle, to put it that way."
Oskal said they want to use traditional knowledge to build local economies from within.
"That's a pathway by which we can have a development based on own knowledge, our own premises and our own people," he said. "And trying to make the opportunities of a changing Arctic, opportunities for all."
James Gamble of the Aleut International Association is one of the indigenous representatives to the Arctic Council called Permanent Participants.
"It's not just about reindeer," Gamble said. "In the Aleutians, it's about pickled seal fin, and it's about other recipes from other Permanent Participants."
Gamble sees the food book as key in taking advantage of the latest opportunities in education and entrepreneurship that are opening up with potentially troubling changes in a warming Arctic.
"But can we take advantage of them? " Gamble asks. "There's going to be more shipping through the North Sea route. Does that mean that there's more opportunity, for instance, for bringing food products to different places and having an avenue to transport and sell things?"
Oskal said the food book is now being edited and will be unveiled at the Arctic Council's ministerial meeting in Fairbanks in May.