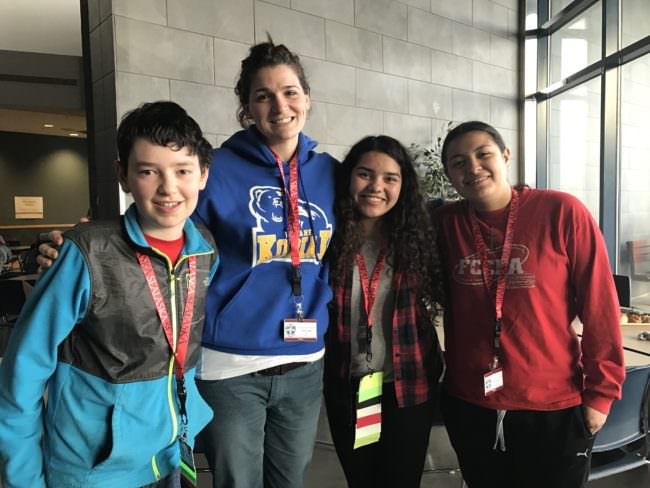 High schoolers from across the state wrapped up an annual student government conference at Juneau's Thunder Mountain High School this week. This year, they tackled a serious topic: gun violence at school.
Mark Barden addressed the auditorium full of students from across Alaska by video.
"In 2012, I lost my sweet little son Daniel in the Sandy Hook School Shooting in Newtown, Connecticut," he told them. "Daniel was just seven years old, and the youngest of our three children."
Following his loss, Barden founded an organization called Sandy Hook Promise.
"Through my work with Sandy Hook promise, I have learned that Daniel's death was preventable and that so many deaths to gun violence and other forms of violence are preventable, if we know the signs." he said.
Barden's address was part of a presentation by Paula Fynboh, Sandy Hook Promise's field director. Fynboh spoke to the students in person about preventing social isolation and recognizing the warning signs of violence.
"Most school shootings are planned at least six months ahead of time. And in 4 out of 5 cases, the attacker told somebody their plans before it happened," she explained.
After the presentation, students headed to the cafeteria to have dinner and discuss.
Lillian Martin attends Hutchinson High School in Fairbanks, and she said she thought the presentation was "pretty cool."
She said it's possible to feel lonely even when you're surrounded by peers.
"When I'm sitting in a big group it seems like sometimes I'm not really 'in' the group and I don't really have anyone to talk to," she said.  "So I think it's a really good idea to just go to someone who's sitting alone and just sit with them because it really helps out."
Simple acts, such as making sure no one eats lunch alone, are what Sandy Hook Promise teaches kids to do. That's in addition to speaking up about typical warning signs of violence.
Students at Kodiak High School have already started. In February they participated in Sandy Hook Promise's "Start With Hello" week– 5 days of events designed to foster inclusivity at school.
"On Monday, we decided to greet all of the students, and it went so great that we ended up staying for the rest of the week. Every morning, student council members would come in early in the morning and say hi," said student council member Esmerelda Lopez.
Lopez noticed some changes after the week was over.
"I've had a couple students come to me about a particular student. It reached administration… everybody's starting to speak up and that's what we needed," she said.
Solomon Himelbloom, the sophomore class secretary, put together a video to share with the conference attendees. In it, student council members at Kodiak High School give high fives to students as they walk onto campus before school starts.
"It had a positive impact on our school. And I hope that other schools, not only in Alaska, but other schools throughout the nation and maybe the world they echo what happened," said Himelbloom.
The Kodiak students say they will do more events in the future.