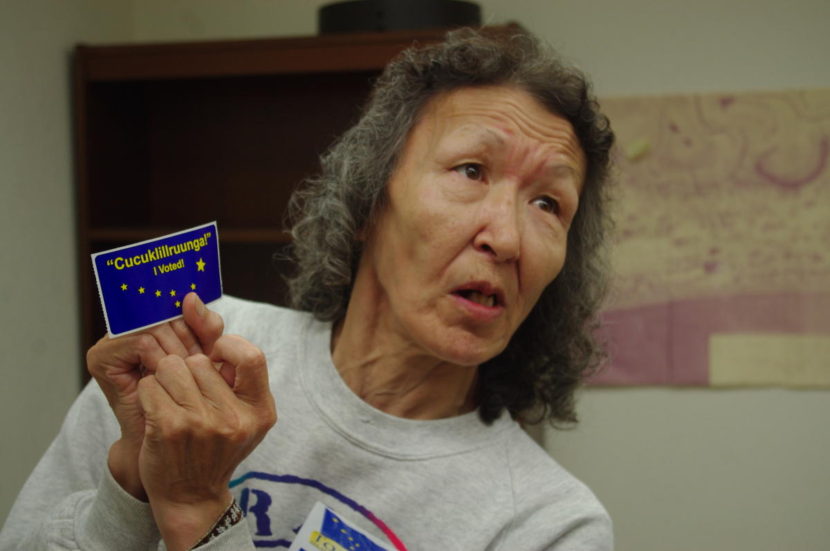 In the last Legislature, a Democrat-sponsored bill aimed at increasing voter turnout in Alaska, especially in the Bush. It didn't get a single hearing in the Republican-led House of Representatives.
Now, Rep. Chris Tuck, an Anchorage Democrat, is in a powerful position leading the new House majority, and has reintroduced the legislation and the bill is making some progress.
Cindy Allred works for Get Out the Native Vote, an organization that has been active registering and encouraging voting among Alaska Natives, many of whom live in rural areas.
"We do have a big concern that there are more challenges to registering to vote in rural Alaska, to voting in rural Alaska as well," she commented. "There are communities in Alaska that don't even have a polling station."
Get Out the Native Vote put their weight behind passing PFD voter registration and has been working with Tuck on House Bill 1.
"There's a couple of us who just got together and said "How can we help modernize Alaska's system? How can we try to make it more equitable?" said Allred.
Tuck's bill is comprehensive. It would give people the option to permanently vote by mail and allow for same day registration, among other things.
Grace Mulipola worked on Get Out the Native Vote in Bristol Bay.
"Some of the people are not there on election day, either because they have doctors appointments or they're out doing their subsistence. So, I think that's one of the biggest barriers in the rural areas," she said.
In addition to getting people registered to vote, Mulipola helped set up early voting stations in Bristol Bay, part of District 37, for the 2014 general election. According to Division of Elections data, general election turnout there has fluctuated. Increases in early voting sites and registration haven't always coincided with higher voter turnout.
Tuck's bill ensures that early voting stations stay the same year after year, but it doesn't directly address the number or placement of such voting sites. According to Division of Elections, since 2010 the number of early voting sites in Alaska has increased from 73 to 169.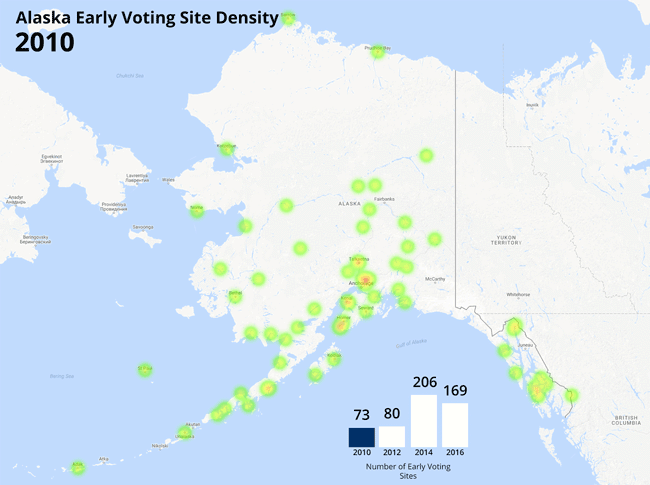 So why didn't this bill go anywhere last session? Tuck chalked it up to partisan politics.
"Well, we had a different makeup of the Legislature. We had a different majority, minority situation," he said. "This year, I went from being minority leader to majority leader. And uh… we're not going to be treating people the way we were treated because we weren't allowed to have our bills heard, even though some of them were good ideas."
Rural Alaska tends to vote blue, which means higher turnout in the Bush may help Democrats in statewide races.
Former Democratic U.S. Sen. Mark Begich invested heavily in rural Alaska in his 2014 campaign against Republican Dan Sullivan. His brother, Tom Begich worked on the campaign before being elected last year to represent District J in the Alaska Senate.
"In my brother's U.S. Senate race, early voting was a critical issue for us," said Tom Begich said.
The campaign hired organizers in 40 villages and set up 16 offices from Barrow to Bethel and put a big emphasis on early voting in hopes of increasing rural turnout.
"When we analyzed where there was early voting and where there wasn't at the time, we noted that where there wasn't early voting, turnouts tended to be a little bit lower," he noted.
The rural vote was instrumental in Begich's 2008 win against longtime Republican incumbent Ted Stevens, but Begich lost to Sullivan in in 2014, despite investing heavily in rural Alaska.
Early voting is only one part of Tuck's bill, but it has the potential to make voting more accessible for rural communities. For now, House Bill 1 is being workshopped in the House State Affairs Committee.