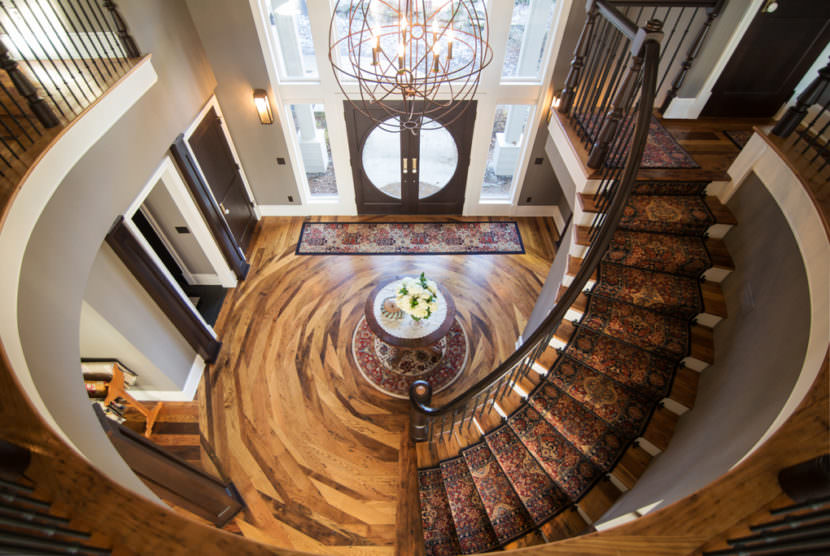 A Juneau McMansion's redesigned entryway was recently celebrated at the 17th Annual Northwest Design Awards in Seattle. Juneau's Bauer/Clifton Interiors took first place for most innovative design for their work. The entire home's remodel was inspired by something you might not expect.
If you've been to Salt, the Hangar Ballroom, downtown McGivney's or driven by the downtown Blockbuster remodel, you've seen work by Bauer/Clifton Interiors. Their office is downtown, and just inside the door is a wall-mounted image of the design that won the award.
"We're looking down in the center of an entryway in a home here in Juneau," said Jeremy Bauer, one of the firm's principal designers, standing in front of the picture.
The new entryway was part of a remodel of what they call an '80s McMansion in the valley.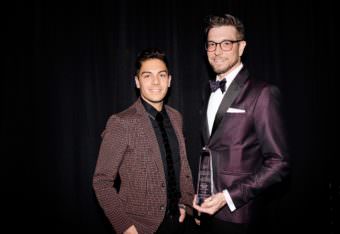 "And you can see that the round shape is a very prominent form in this entry here with the circular staircase coming up on one side. Definitely, you can see the challenge of laying a wood floor in straight patterns there — that we'd lose the essence, the importance of the circle," said Bauer.
Thinking in circles was just one of the design's considerations. Jason Clifton, the firm's other principal designer, said the clients' needs were a priority.
"We found that they have some really strong ties to family homesteads in the countryside — as do each of us. And so we were able to share those experiences, bond over those experiences, and come up with a plan to establish more of a farmhouse chic design," said Clifton.
And what is farmhouse chic?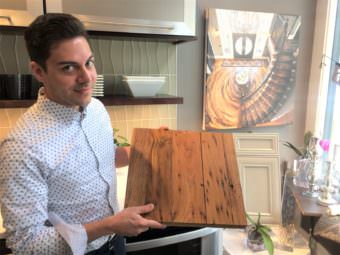 "It's a nice blend of some more historical pieces, heirlooms, antique furnishings, intermixed with the modern amenities of a brand new home."
But the biggest influence for the entryway might surprise you.
"Looking at the bottom of a woven basket," said Bauer. "It was something that the owner collected and was very fond of and we had one of them that we took as an inspirational piece that we had laying here on our island in our studio. That was the piece that we turned over and looked at, and it was when the light went off and went, 'OK, let's try doing this — let's try creating a woven wood floor,'" said Bauer.
With farmhouse chic in mind, the designers found reclaimed 150-year-old American chestnut wood flooring from an old farm in West Virginia. The reuse factor is something the designers like, too.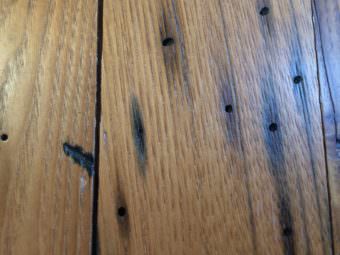 "We see that pile of trash getting bigger and bigger out there," said Bauer, "and I think that is something in the forefront of our minds — instead of something being thrown away can we reuse it and give it new life?"
And it looks cool too.
"And so the product itself isn't perfect, by any means, so it has quite a bit of character," said Clifton.
Clifton holds up a sample of the tan wood that's full of tarnished black holes made by nails and insects.
The planks' colors vary from light to dark brown, and their widths vary too. This added an additional challenge.
"Each and every one of those planks was laid out individually within CAD (computer aided design) with the dimensions, the angle cuts, the direction, everything pre-planned here within our office before installation was even considered."
If you didn't know a basket was its reference, one might also guess kaleidoscope or mandala or beehive. Even though weaving and basketry are several millennia old, they're still inspiring innovation.
As a professional courtesy, the duo won't disclose who the homeowner is.