Tons of scrap metal are piling up in Southeast Alaska's smaller cities. Some set up their own recycling or disposal programs. But a new effort aims to make it easier – and less costly – to get rid of the debris.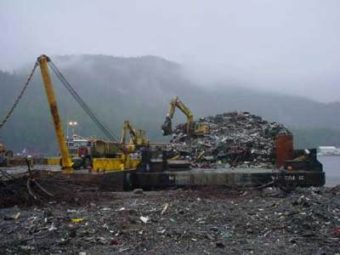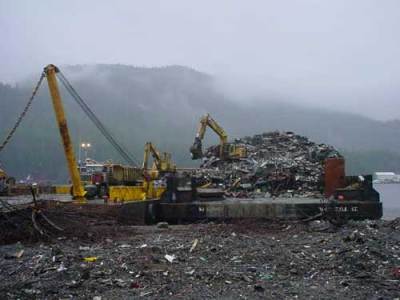 What do you do with a car not worth fixing? Or a broken range or an outdated wood stove?
If you're responsible, you take it to the landfill, if there is one. If you're not, you leave it on the street, or push it into a ditch, or a pit, or in cave country, even a sinkhole.
Wherever it ends up, someone needs to deal with it.
"In Klawock, we actually have about a 10-year stockpile of scrap metal that we haven't gotten rid of," said Leslie Isaacs,  city administrator for the southern Southeast community, on Prince of Wales Island. "There's a classification of white metal, which is your appliances and then there's junk vehicles and then ferrous and non-ferrous metals …"
The same is true in Thorne Bay, about 30 miles to the northeast.
City Administrator Wayne Brenner told a recent Southeast Conference Mid-Session Summit meeting that sometimes, folks leave more than metal.
"A lot of people when they do move out, they'll bring a freezer out to the solid waste site, a lot of times still full of frozen fish," he said.
The Southeast Alaska Regional Solid Waste Authority is taking on the problem. It's a coalition of regional governments that already set up a group discount for barging garbage south to a Washington state landfill.
Now, the authority, which is affiliated with Southeast Conference, is negotiating with Waste Management, a large trash-hauling company that already operates in Alaska. The plan is to send a barge to collect the scrap metal, then barge it south to be recycled.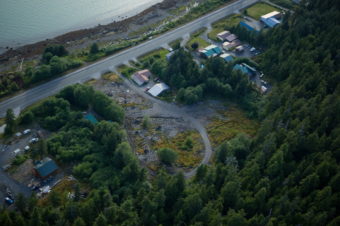 The authority thought it had an agreement with another company about two years ago. Petersburg Public Works Director Karl Hagerman said it didn't work out, because the value of scrap metal dropped by more than half.
"Now that we're seeing that price rising, the viability, the feasibility of a scrap metal trip for communities is there again," he said.
It won't happen immediately. But Hagerman said the communities want to be ready to respond quickly.
"When the price starts to plateau, that's the time when we seriously look at doing it, to know if there is going to be a cost or even a payment to the communities," he said.
The solid waste authority and the trash company will set a basic price for the service.
Thorne Bay's Brenner said each city will then have to negotiate supplemental contracts.
"Every community has a little bit different setup. They have a little bit different process in shipping. And some of us that are closer to the markets hopefully get a little better break than the ones further away," he said.
Petersburg, Wrangell and the Prince of Wales Island cities of Craig, Klawock, Thorne Bay, Kasaan, Hydaburg and Coffman Cove are involved.
Klawock's Isaacs said the group effort can make it work.
"If you can take the barge and make a complete circle through Southeast and stop in at every community, is there enough metal there to make it worth your while? And getting to Petersburg, getting to Klawock and sharing some of those fixed costs of running the barge and the equipment, it would make it a much more cost-effective procedure," he said.
No one's really sure how much metal needs to be moved. But Hagerman said the best guess so far is around 3,000 tons.