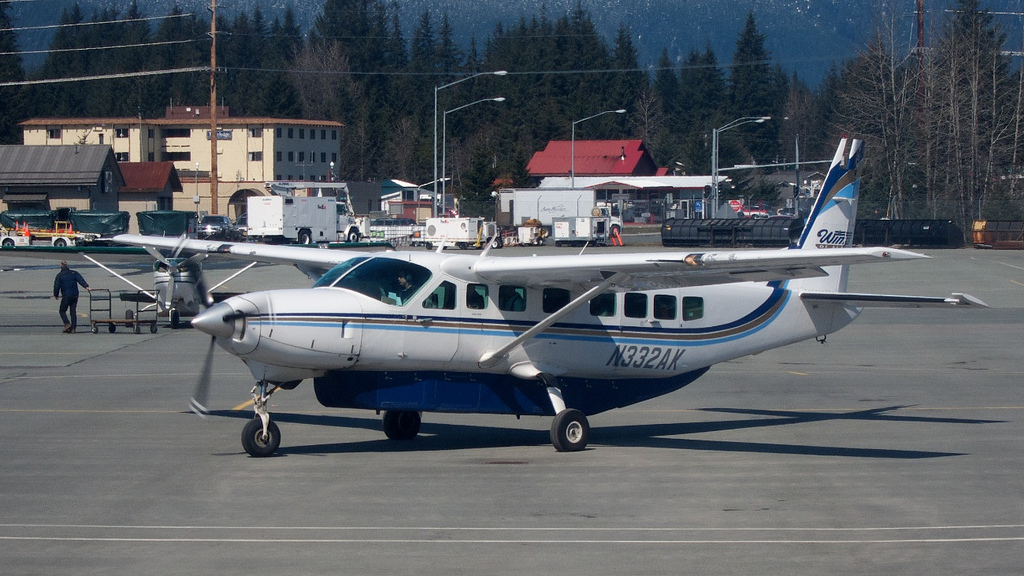 One of just two commuter airlines connecting small towns in Northern Southeast Alaska to Juneau has shut down.
In recent years, Wings of Alaska, which was founded in the 1980s, has changed hands and reduced its flight schedule.
Now, it is ending operations. That leaves just one commuter airline serving Haines, Skagway, Gustavus and Hoonah.
"It was a tough decision to shut down Wings," said Aldwin Harder, managing partner of Wings of Alaska and Fjord Flying. "Our intention was to bring competition to a market. It's heartbreaking for us all, we love the people who work for us, it was a great family. It was a really tough decision to make."
Wings went through some changes in ownership over the past couple years.
In 2015, the Portland-based Seaport Airlines sold Wings to the Gustavus-based Fjord Flying Services, a charter business.
Harder, who lives in Hoonah, took over management a few months later, at the beginning of 2016.
Harder did not want to comment further on the factors behind the closure.
He told the Juneau Empire that the decision was 'primarily an economic one.'
Frequent fliers in the Upper Lynn Canal say they started seeing changes to Wings' flight availability after it was purchased by Fjord at the end of 2015.
"Well, quite honestly, I thought they closed down last summer," said Skagway Borough Manager Scott Hahn.
Hahn estimates that he flies out of Skagway about once every other week.
"[Wings] kept saying, 'oh no we're not closed,'" Hahn said. "It seemed like there were fewer flights, anyway."
Haines resident Anne Marie Palmieri said she flies to Juneau about once a month for work. For a while, she flew almost exclusively with Wings.
"That had a lot to do with the local connection and customer service," Palmieri said. "Just knowing the people at the office was the draw for me."
But Palmieri said about a year and half ago, around the same time the airline changed ownership, she noticed a shift in Wings' schedule.
The flights were more limited, so Palmieri started flying with Alaska Seaplanes instead.
Seaplanes is the only other commuter airline flying between Haines, Skagway, Gustavus, Hoonah and Juneau.
Seaplanes also serves a handful of other communities that Wings did not.
With Wings' closure, Seaplanes now has a monopoly on the Northern Southeast commuter flight market.
"I don't know what effect it will have," Seaplanes General Manager Carl Ramseth told KHNS last week about news of Wings' closure. "I can tell you we aren't going to change our mission in connecting Southeast Alaska in the safest most reliable way that we can."
Seaplanes has already grown its fleet to include five Caravans, Ramseth said.
"So we now have the biggest fleet of turbine aircraft that the Juneau/Lynn Canal market has ever had," Ramseth said.
With the expanded fleet comes an expanded schedule.
Seaplanes' summer flight schedule is already "extensive," Ramseth said. But if the loss of Wings increases demand?
"We do have the ability to beef it up a little bit, yes," he said.
Ramseth and others with a lot of aviation experience in Southeast said this will be the first time in more than 20 years that Haines and Skagway have had only one commuter airline option.
Seaplanes having a monopoly on the market doesn't worry Palmieri, but she says Wings' departure does make her sad.
"Because I just had this personal connection, I felt, with that airline over the years," Palmieri said. "I'm just disappointed that they couldn't make a go of it."
There are still questions about whether Wings is gone for good, if the company plans to sell its assets, and what exactly led to its closure.
Aldwin Harder said there is a lot he is still figuring out, and he declined to comment beyond confirming that the company is shutting down.