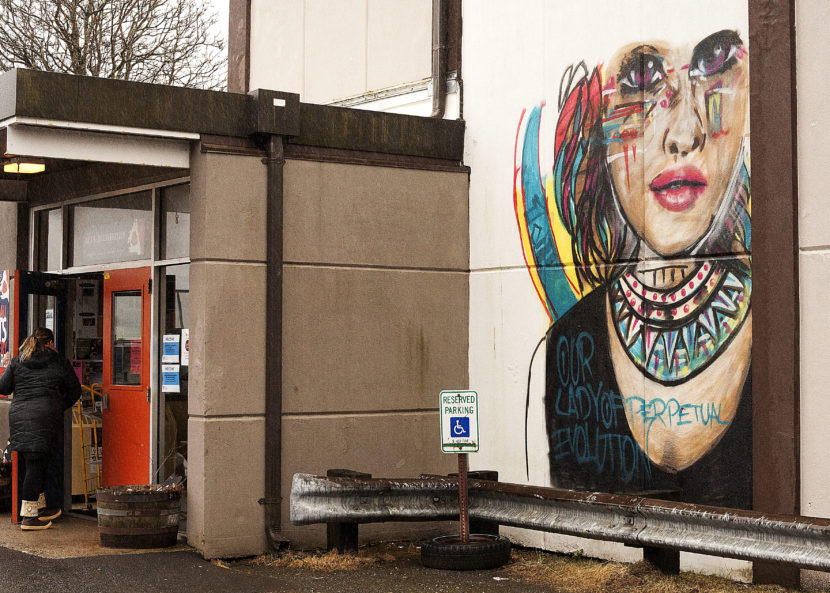 Welcome to Curious Juneau, starring you and your questions. Every episode we'll help you find an answer to your question. This episode we look into the street art mural on the JACC. You can listen to the full podcast here:
I see her sometimes in the morning while I'm walking to work. My commute-by-foot brings me down the steps along Fireweed Place, past Bullwinkle's Pizza, and by Centennial Hall. And, then, I see her.
We lock eyes for a moment. She's a 16-foot-tall mural next to the JACC's entrance.
"Our Lady of Perpetual Evolution."
In her current state, the mural is a portrait of a young woman wearing a black top. She has multi-color hair, and a detailed neckline that features triangles and small red circles. The words "Our Lady of Perpetual Evolution" are scrawled in a turquoise street tag across her right shoulder, with the word "perpetual" spilling over her flesh-toned chest. Most striking are the streaks of primary colors under her eyes, and her full red lips.
It caught Megan Ahleman's eye, too. She was leaving Centennial Hall after an event when she saw it. (Megan Ahleman is married to a 360 North employee and occasionally works for us on television productions.)
"It looked like it was in the early phases, but it looked like there was a face coming to fruition," she told Curious Juneau.
Anchorage artist Will Kozloff was chosen by the Alaska State Council of the Arts and the Alaska Humanities Forum to do the set pieces for the Governor's Awards for the Arts in January.
Kozloff said the wall was the product of having idle time.
"I'm looking at my schedule and I found one weird, spare day in my schedule for the time I was in Juneau," Kozloff said. "I was asking around for a wall to paint. … Nancy from the JACC, said, 'We have a wall!'"
So the 31-year-old began work on the mural that caught Ahleman's eye.
Kozloff doesn't usually sketch his work out before hand. Sometimes, like in this case, he uses pictures of friends as a creative jumping off point.
"For this one though, I drew up a general idea of what I was going to be doing, and then just kind of like diverted a little bit from there, but still kind of stuck with where I was going.
Kozloff wasn't prepared for the elements when he began painting in Juneau, he said.
"This is my first time actually being in Juneau before, so I enjoy you guys' warm weather but I was not prepared for the dampness that is just everything. … So I was like 'OK this might take longer than just one day.'"
Kozloff is able to travel with his spray paint caps, but he isn't able to fly with aerosol cans. He has to buy his paint locally.
"The paints – there's a difference between paint in Juneau, and paint in Anchorage, and paint in the Lower 48," he said. "Lower 48, it's all fancy, laser beam paint, you know, that … it handles, like, the pigments even out by themselves. In Anchorage we have decent paint, not perfect."
"Going to Juneau, it was just me hitting up Fred Meyer and just scooping up a bunch of $3 and $4 cans and going out and doing two or three layers to get the color and opacity that I was aiming for."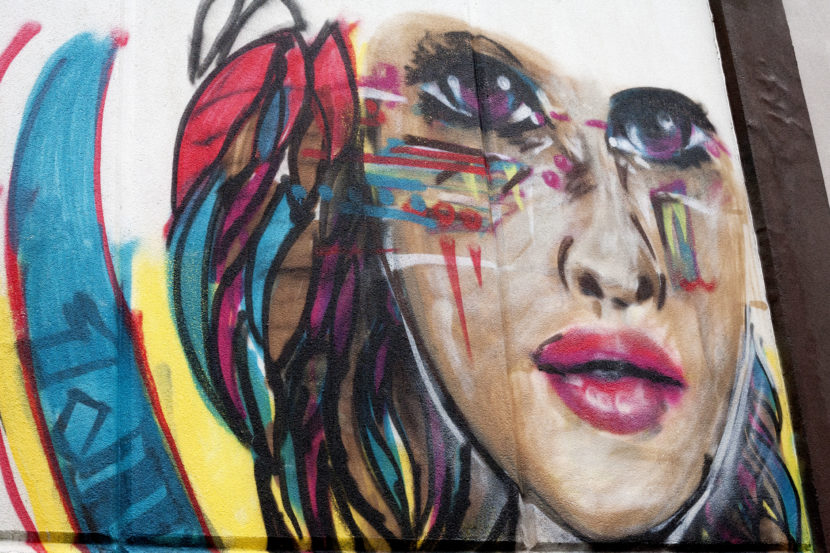 He has spent eight years working on his art.
Kozloff has made his living off his painting for the last eight months. Graffiti is his primary medium.
"It's the only one I know: I can't draw, I can't paint," he said. "It's partially 'cause I have some red-green color blind issues so a lot of the things like mixing colors just doesn't work out for me." 
"Mostly with spray paint it's all single color, so you're working with a limited palette and the name of the color is usually on it," Kozloff said. "There's a couple of blacks that look blue to me, or whatever. So, I'm just trusting the can."
But sometimes, particularly when he's closer to home, Kozloff has some help.
"My 3-year-old, he's not color blind so I'd have him, and he rolls with me for almost all my gigs, except for the Juneau one: He's my color guy," Kozloff said. "I'm like, 'Is this yellow or is this brown?' So I let him take care of all the color differentiation."
Kozloff says he plans to spend about a week in Juneau sometime after April to finish the JACC piece, and possibly work on some other walls as well.
"I actually have to go back and finish it up and maybe expand a bit, because for some reason I thought I could get a 16-foot painting done in one day," he said
See photos from the Kozloff's workshop: