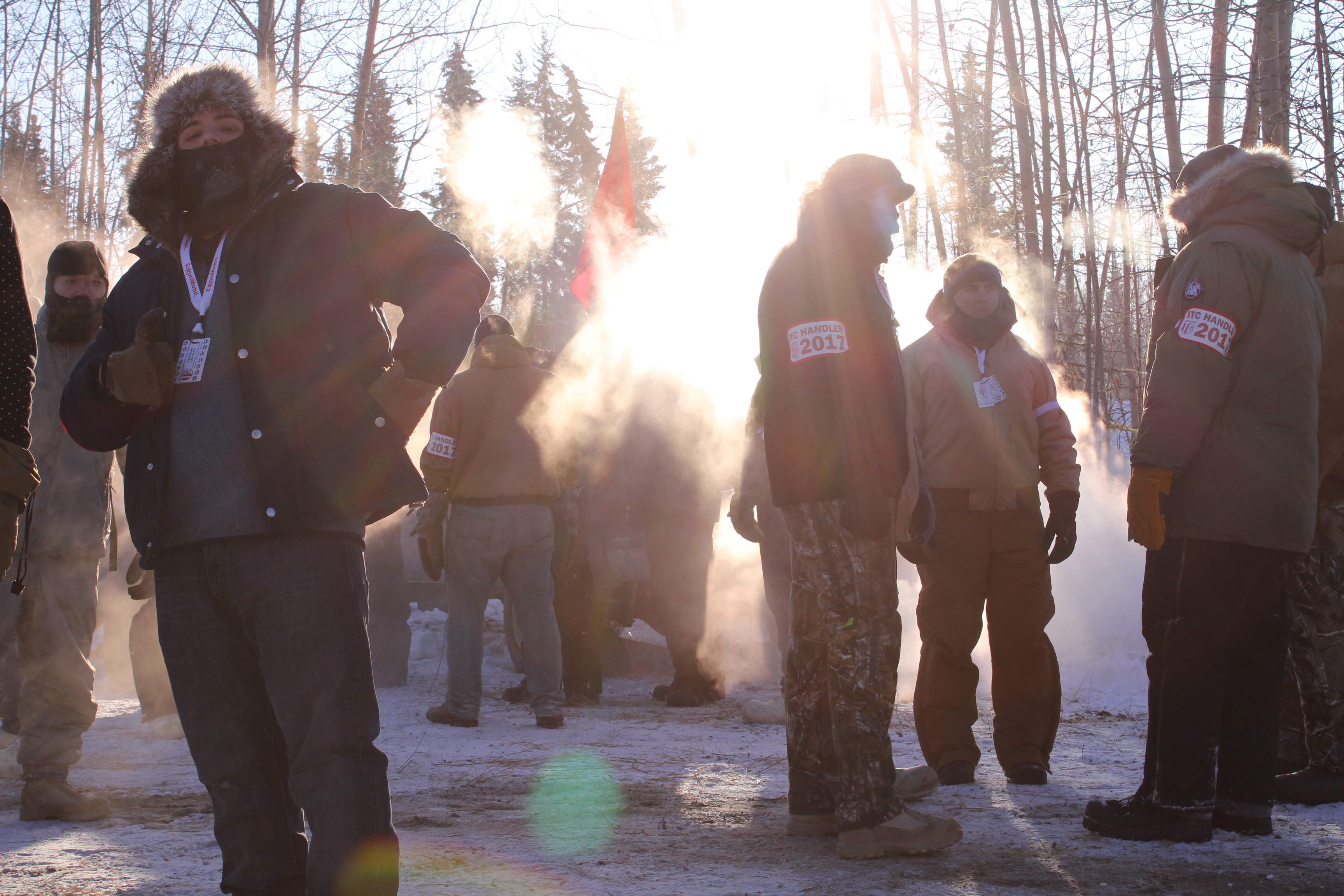 Mushers are on the rivers heading out of Fairbanks right now, as the 45th Iditarod starts in earnest.
This is the second time in three races that the restart has been in Fairbanks. And a lot of the mushers have vivid memories of the 2015 race, so this year, they're trying to pack accordingly.
It was chilly in Fairbanks, with overnight lows dipping toward 30 below. But by the time mushers were harnessing dogs and running through checklists the clear weather was easing toward a balmy zero degrees.
Though not running the race this year, four-time winner Lance Mackey was on hand, and said this year's serious winter in the Interior may prove strong factor to content with.
"The wind has been blowing all winter," Mackey said. "It snows when least expected. I've said many times – if these people haven't tried their snowshoes on they're gonna be hurtin'. 'Cause I think this is the year you might need 'em. Even to get off the trail to camp."
Trailbreakers have been adding passing lanes to the early part of the route heading toward Tanana where the snows have been the heaviest.
The long stretches in the first leg of the race will require most mushers to stop for rest between checkpoints, a break to feed and rest the dogs.
All around the parking lot that's been converted to a dog yard, mushers are attaching bails of straw to their sleds. Some on the baskets. Others, like veteran Pete Kaiser, were piling it into trailers hitched behind the sled.
"This just gives a little extra room for some of these long runs between checkpoints where we're gonna be stopping on the trail and camping, and requires a little more gear," Kaiser said.
What will not be hauled in a trailer this year is dogs.
A controversial rule change bars mushers from carrying dogs in trailers, throwing a wrench in many people's strategies from year's past, which involved regularly rotating animals through rest along runs.
Many people are experimenting with a workaround, most notably, returning champion Dallas Seavey.
"Without being able to carry dogs in trailers, we had to find a way to bridge that gap," Seavey said. "We just made a bigger sled."
Seavey is standing over what looks like the Batmobile of dog-sleds.
It's almost totally black, and instead of an external frame with a bag suspended from supports, this looks more like a plastic shell. It's about 10 percent bigger than a regular sled.
He had it custom built from Kevlar and carbon-fiber, and mounted to the runners behind where the musher stands is another heavy duty cube that could hold supplies or dogs.
According to the rules, as long as it's safe and fixed to the structure of the primary sled, you can use it for an animal.
"There's many sleds here that have the ability to carry just as many dogs as I do in the same way, they just don't have hard sides," Seavey said. "I like the hard sides because it helps protect the dogs, so that if there's just a piece of fabric between them and the great big world it's a little less than carbon fiber and Kevlar. I've got them in a little cocoon in there."
Hundreds of people took buses from the Carlson center to view the event at Pike's Landing.
Spectators lined the long shoot clapping as mushers rushed below celebratory arches, down onto the Cheena River, and on toward Nome.
---
You can follow Alaska Public Media's Iditarod coverage here, or listen to the Iditapod podcast below: