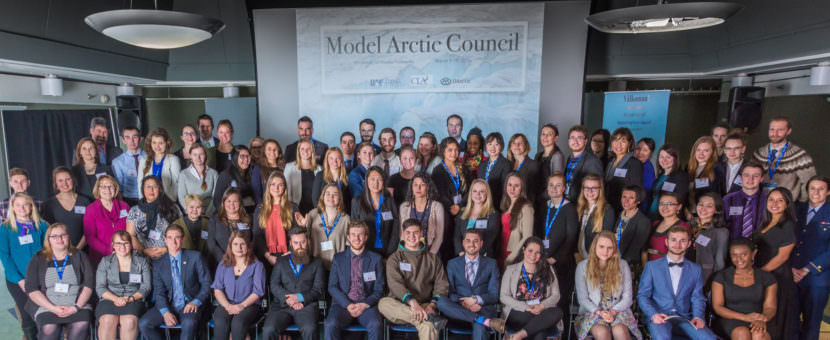 At the Model Arctic Council, tomorrow's Arctic leaders are already having an impact with helping shape today's Arctic policy.
The Arctic Council returns to Alaska with meetings in Juneau this week and in Fairbanks in May. Representatives from eight Arctic countries and six indigenous groups work on shaping Arctic policy.
To understand the work of the Arctic Council first-hand, a group of university students met in Fairbanks last spring to form a model council with real-world impacts.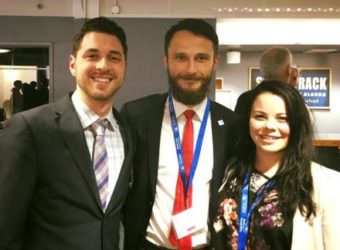 The Model Arctic Council is a simulation where future leaders in Arctic and international affairs hone their negotiation, communication, leadership, critical analysis and research skills. It's much like the Model United Nations in high school. But, this time, its college students role-playing representatives from circumpolar countries as they tackle problems together in a rapidly changing Arctic.
Sixty-three college students from 13 countries, ranging from Iceland to Venezuela, compressed as much as two years' worth of work into a little over a week.
Veronica Guido, an indigenous student with a degree in political science from York University in Toronto, said they either represented the Arctic Council's member states or non-voting representatives of the various circumpolar indigenous groups.
"You have the indigenous groups from Russia. You have the Saami Council, Inuit Circumpolar Council, Aleut, and you have the Arctic Athabaskan," Guido said. "Then I represented Gwich'in which is more of First Nations from Alaska and Canada. That was my role."
Mary Ehrlander, director of the Arctic and Northern Studies Program at the University of Alaska Fairbanks, was a faculty adviser to the group. She said they tried to match indigenous students to a role that was close to their ethnic background.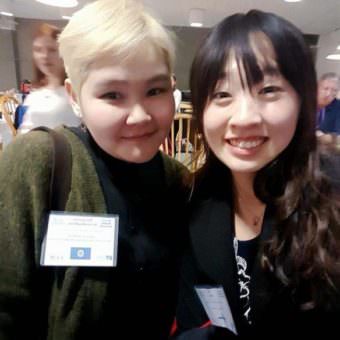 "Because we wanted to have authenticity in that way," Ehrlander said. "On the other hand, some of the students seem to have the greatest experience with trying to play a role that wasn't them at all. It was really a learning experience for them to take on that identity and try to perform it."
Students prepared research papers on topics such as sustainable cruise tourism in the Arctic, managing maritime traffic for marine resource development, and human health and well-being in the Arctic.
Eva Wu, an undergrad from McGill University in Canada studying the interplay between health and environment, said she was impressed by the level of preparation and critical analysis demonstrated by her fellow students.
"It was really amazing the amount of people and the variety of people who were in the room," Wu said. "They provided numerous different aspects and perspectives of each situation. That really was able to provide the entire program with a holistic focus. People would have expertise in various different areas."
The Model Arctic Council came up with list of priorities that could be considered by their real world counterparts this week in Juneau.
They include advocating for ratification of an international convention controlling vessel ballast water, the hiring of indigenous people for tourism activities, alternative fuel use in the Arctic, sharing updated hydrographic maps for safe navigation, protecting water sources for communities affected by climate change, and reducing suicide among indigenous groups.
.@USArcticYouth Amb Jonas Mackenzie shares story of his 1st whale hunt w/ #MAC2016 delegates @uafairbanks #ASSW2016 pic.twitter.com/cnzPjnX8sy

— US Arctic (@USArctic) March 14, 2016
Some students play the role of each country's representative to the Arctic Council, while others represent the various indigenous groups, called Permanent Participants, as they all discuss and debate the projects.
"I took my role very personally," said Guido, reflecting on her role as the Gwich'in representative. "It was really great to see other people respect that and stay in their role while still getting over the shock factor of having the actual Permanent Participants speak just as loudly or louder than the actual nation states. I enjoyed that part, that's for sure."
Piotr Graczyk, a faculty adviser from University of Tromsø The Arctic University of Norway, said most of the work and consensus building usually happens at the lowest level of the Arctic Council.
"The structure is quite different. And from one level, you go to another level. On the first level, working groups work on the projects," Graczyk said. "When they're approved and when there is consensus, you go to the next level, the level of the senior Arctic officials."
Once consensus was reached, students role-playing SAOs or each country's representatives to the Council vote on the proposals, but the Permanent Participants don't get to vote.
@UAFairbanks student delegate, Adam Zamudio, provides the US position regarding Northern suicide challenges#MAC2016 pic.twitter.com/Ur88LS4iLU

— Troy Bouffard (@ArcticTroy) March 11, 2016
Rhiannon Klein, who's studying public policy at the University of Saskatchewan, said it works much like the real world Arctic Council.
"The Arctic Council is not legally binding, necessarily," Klein said. "They don't have direct influence on making the policies at the government level in each of the countries, but they truly have an impact on shaping the policies that happen. I believe that the Arctic Council has quite a bit of sway within decision-makers in each of the Arctic state countries."
After 2016 Model Arctic Council, @saochair Amb Balton requested copy of students' Fairbanks Declaration @Arctic2016 pic.twitter.com/8RNnAz8Ytn

— Melody Brown Burkins (@mbbvt) March 15, 2016
Last spring's meeting of the Model Arctic Council coincided with the real Arctic Council meeting. Guido said Council members grabbed copies of their final document called the Fairbanks Declaration, as well as her fellow student's research.
"People approached them from the actual Arctic Council asking to read them further," Guido said. "So, I know a lot of students didn't expect anyone to read our position papers either."
Students were also approached by the Canadian Department of Foreign Affairs, Klein said.
"They've asked to see all the student's position papers as well, to pass them around the Ministry," Klein said. "It's just incredible to see that people are actually interested, too."
Students' proposals are now expected to show up on the agenda in future meetings of the real Arctic Council, including in Alaska this spring.