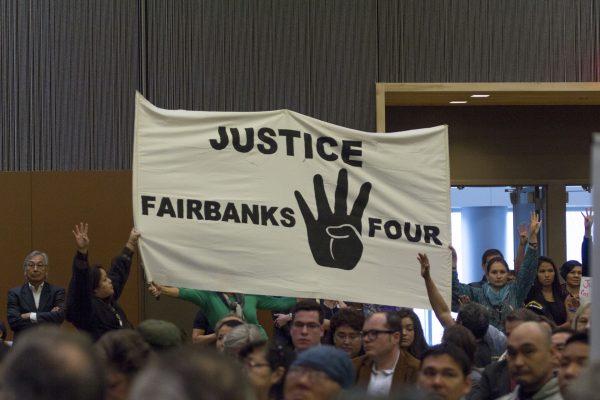 It took the work of journalists, lawyers, tribal leaders and citizens to release the Fairbanks Four after they wrongfully convicted on a murder charge and other serious crimes in 1997.
Now, an effort is underway to compensate the men for the 18 years they spent in prison in the form of two state House measures.
These bills would apply to others who are freed after a wrongful imprisonment, but the Fairbanks Four are the only ones who meet the conditions right now.
On Dec. 17, 2015, hundreds gathered at the Chief David Salmon Tribal Hall in Fairbanks to celebrate the release of the Fairbanks Four. That night three of the four men were released. The fourth, Marvin Roberts, was released on parole the summer before.
Attorney Bill Oberly led the effort to free the Fairbanks Four. After it was all over, he became involved in an effort to give Permanent Fund dividends back to the four men for the time they spent behind bars.
"Don't let the door hit ya' in the rear end on the way out is all they got for their 18 years of wrongful conviction," Oberly said. "It seems only fair that the dividends that were taken away from them wrongfully should be provided to them and give them a little monetary help trying to restart their lives."
Roberts wrote a Facebook post about what he thinks of the bill.
"What did the Facebook post say?" I asked.
"It's basically giving a first-hand account of what my first night in prison was like," he said.
Roberts wasn't willing to read the post aloud over the phone.
"I don't know. I don't think so," he said. "It was difficult for me to write it, so it would be more difficult for me to read it to you."
"I actually cried when I wrote certain parts of the story, 'cause that's how much, um, that's how deep that wound is," Roberts said.
The post is long, but here is a snippet:
"I told the Guard that I wasn't supposed to be in there, that I was innocent. Nobody heard me. I layed down on that torn mattress and had sad thoughts. Who could sleep in a situation like that? I prayed and asked God to get me out … please get me out. I prayed and still my spirit was breaking. I was hurting real bad. I don't know when I started crying or how long it lasted. My world was upside down. I'd love to say I was released the next day and that was that. No, this is not a happy ending. We spent over 18 years trapped in that nightmare."
He goes on to thank his supporters, and then he asks for people to please call their representatives to support two bills: One that would give them their dividends for the years they were wrongfully imprisoned (House Bill 127) and another that goes even further, requiring the state to pay $50,000 for each year of wrongful imprisonment, with a cap of $2 million (House Bill 118).
I asked Roberts what the bills would mean for him, if they pass.
"I realize now after being away for so long how valuable being with family is and, receiving all those back dividends would … I'd just be so happy. I'd be able to see my family. I'd be able to maybe start my own business. I'd be able to stay ahead of my bills. I mean, it would help out a lot." he said, adding that he was staring at his 6-month-old daughter as he spoke.
Roberts lives in Fairbanks. He has two jobs — he works at a company that makes and installs granite counter tops during the week and delivers pizza on the weekends.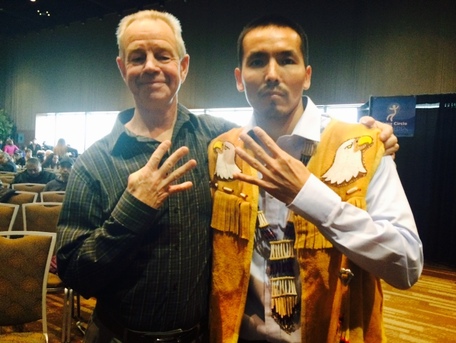 I asked him, "Do you think that this is part of carrying out justice?"
"I don't really know too much about all of that. All I know is, it would help us a lot," he said.
Oberly, who pushed to free the Fairbanks Four, has a stronger opinion.
"It is the right thing to do," he said. "These men should have gotten it because they shouldn't have been in prison, so it's the right thing to do at this point."
Last year, Oberly's effort to get dividends paid to the Fairbanks Four didn't really go anywhere. He's hopeful that this year will be different.