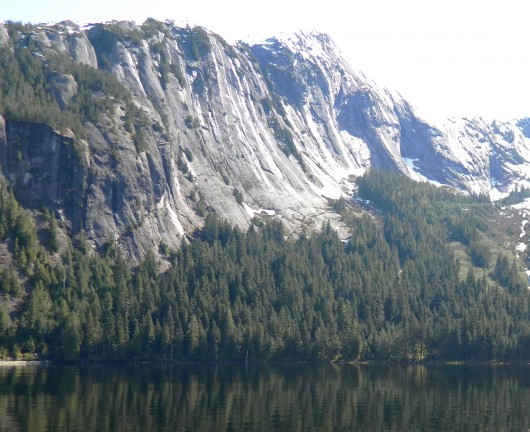 Alaska has five national monuments — public lands that are given special protections, and Republican U.S. Sen. Lisa Murkowski doesn't want anymore of the state added to that list.
She re-introduced a congressional bill in January to limit the Antiquities Act, which gives the president the sweeping authority to make those designations.
In Barack Obama's last year in office, some wondered whether the president would use the Antiquities Act to lock up offshore drilling leases in the Arctic Ocean. He did it a different way, but those types of land or water designations still have some Alaska legislators worried.
"It's clear to some degree the federal authorities are, in my opinion, overreaching," said Rep. Dan Saddler, a House Republican from Eagle River.
In a meeting Thursday at the capitol, legislators discussed a joint House resolution to back Murkowski's congressional bill: essentially, a letter of support to overhaul the Antiquities Act. The bill outlines that the president would need approval from Congress and the state before creating a national monument.
The Alaska Department of Natural Resources (DNR) thinks it's a good idea. Ed Fogels, a deputy commissioner with DNR, said the Antiquities Act was created more than 100 years ago to protect sacred and cultural sites from things like grave robbing.
"You know, we're seeing an expansion of that to where vast areas are put aside and it may not be necessarily in the spirit of that intent of the (Act)," Fogels said.
In a controversial decision, President Jimmy Carter created at least 11 National Monuments in Alaska in 1978. Congress later acted on a significant conservation bill that rolled some of those monuments into national parks. The Antiquities Act gave Carter the authority to make that decision quickly.
Erik Grafe, an attorney with Earthjustice, thinks it's an important tool for a president to have.
"Presidents from Teddy Roosevelt to George W. Bush to Obama have used that to protect things from large swaths of the ocean to the Statue of Liberty," Grafe said.
Grafe said the Antiquities Act can still be used the way it was intended because important sacred and cultural sites have a new threat.
"It's as relevant in Alaska as anywhere else and maybe even more so because of climate change," Grafe said.
But Ed Fogels, with DNR, said Alaska's current fiscal crisis is a reason to be concerned.
"Our economy is based on responsible natural resource development," Fogels said. "So, the less of that lands there is, the less of a land base we have to work with."
If Murkowski's bill makes it through Congress, it won't undo Alaska's existing national monuments, but it will create an extra step in the process and make it more difficult for the president to make sweeping designations.
States like Utah are going a step further, urging President Donald Trump to overturn national monument designations made under President Obama.