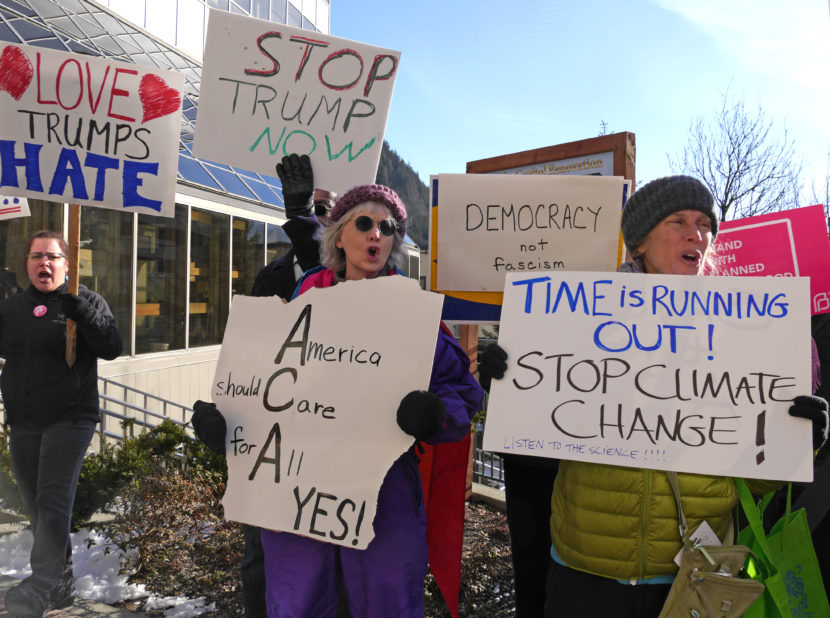 People across Alaska are asking U.S. Sens. Dan Sullivan and Lisa Murkowski to hold town hall meetings where they can express their opposition to policies being pursued by President Donald Trump. They're joining a national effort by Trump opponents who want Congress to act as a check on the president.
Roughly 60 protesters gathered Friday across from the Capitol on Fourth Street.
Protester Alicia Hughes-Skandijs of Juneau said she's disappointed that Sullivan and Murkowski didn't have meetings in Juneau this week that were open to the public — without charge.
"My ultimate aim would be to get them to agree to a town hall meeting," Hughes-Skandijs said.
Protesters across the country been attending public meetings held by members of Congress. They've criticized Trump's cabinet picks and they've demanded that Congress maintain the health coverage guarantees in the Affordable Care Act.
Sullivan said he holds meetings with stakeholder groups on specific issues, like health care. And he recently spoke at a public meeting held by the Board of Game.
Sullivan said his public outreach is aggressive.
"You know, I met with the Alaska Legal Services yesterday and the domestic violence coalition. And that was open to the public," Sullivan said.
But Sullivan is skeptical of holding town halls in the wake of national protests.
"If you're invited to a town hall for the sole purpose of being shouted down and shouted at … it's not a good use of anyone's time," Sullivan said. "You don't get constructive engagement, which is what is really important. And I think it's disrespectful to the Alaskans that I've seen by the hundreds who do want to have constructive dialogue."
Hughes-Skandijs said meetings with stakeholder groups don't amount to public access. She said Sullivan must be open to negative responses.
"As a public servant, you don't get to make that choice," she said. "You need to be available to your constituents. And if you're constituents are responding to you negatively, that's feedback that you need to hear."
Murkowski said she's puzzled by suggestions that she doesn't meet with enough Alaskans.
If a member of the public wants to meet her during a recess, she suggests calling one of her offices to find out when she'll next be at a public event. If they'd called when she was in Juneau recently, she expects her staff would have advised them to go to the Symphony of Seafood at Centennial Hall, which she said was free and open to the public.
"Probably 300 people gathered there, a mix of everybody from locals to out-of-towners, fisherman, bankers to moms, and everybody there is able to come up and talk to me," Murkowski said.
She said she has held town halls sporadically in the past on specific topics. When she's in a village, there's usually an open community meeting.
"Everybody, you know we got a little potluck going on," she said. "We don't call it a town hall. It's more like a 'Hey, Lisa's in town.' We're going to be talking about things that are going on in our communities. I do those all the time. We just don't call it a quote 'town hall.'"
Krisanne Rice of Sitka is newly retired and new to this kind of activism.
She's been trying for weeks to get a town hall in Sitka.
She began calling Murkowski's office a few weeks ago, and spoke with staff members. But nothing is scheduled.
"I'm having a very, very hard time understanding where our congressional members are coming from, and how and why, what information they're using to make their votes and the direction that we're going," Rice said.
Rice said she does not want a community shouting match. She thinks it is possible to have a town hall that does not devolve into one.
"I think the longer they delay the more likely I am to start shouting," she said. "Because they're not hearing."
Activists say that if Murkowski and Sullivan don't hold town hall meetings during this recess in Congress, then they'd like to see the senators hold them next time they're back in Alaska.
APRN's Liz Ruskin in Washington, D.C., contributed to this report.