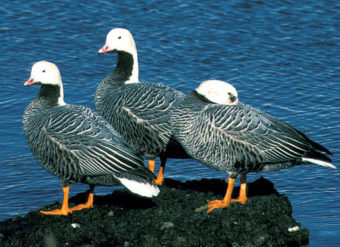 A subsistence harvest for Emperor Geese has been proposed this spring for the first time in 30 years. The population declined in the early 1980s. The last subsistence hunt took place in 1987. Jason Schamber, who is a wildlife biologist with Alaska Department of Fish and Game, says that the decades of conservation have paid off.
"Over the last 30 years the population has grown slowly at about three percent per year," says Schamber. "In 2015, it finally reached the level where managers felt that the population could sustain a harvest."
The Alaska Migratory Birds Co-Management Council developed a management plan for the spring, summer subsistence hunt, and agreed to adopt it for an initial three-year trial period beginning this year. The approved plan is a customary and traditional hunt, meaning that there will be no bag limit.
Still, the population remains susceptible to overhunting. Gayla Hoseth represents Bristol Bay on the AMBCC. She says that education will be key, along with monitoring and potential restrictions, if this trial run is to lead to a sustainable annual hunt.
"In Bristol Bay, we have our Yaquillrit Keutisti Council, and it's also known as Keeper of the Birds, meeting. We're going to be having a meeting here before April to talk about these kind of things, education outreach," Hoseth says. "We don't want to overharvest."
Education outreach will include presentations on conservation in some villages that hunt emperor geese and informational mailers.
In addition to the subsistence hunt, there will also be a fall and winter sport hunt. There will be an unrestricted number of permits, but there will be a limit of 1000 birds taken statewide. The specific limit for the Bristol Bay region is 150. The subsistence harvest is scheduled to open April 2 and run through August 31. The fall hunt is set to begin in September.
Proposed changes are open for public comment until March 13.