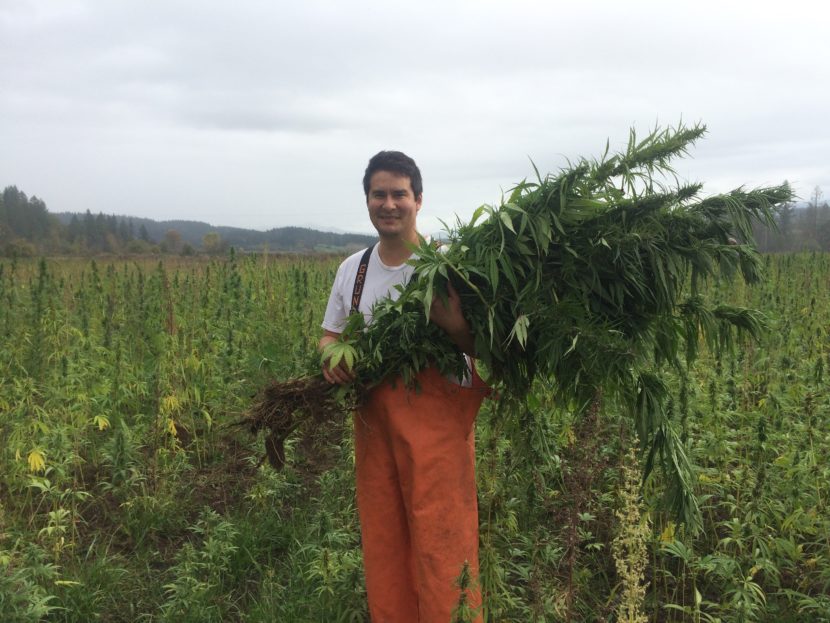 Alaska became the third state to legalize recreational marijuana in 2015, but it's not exactly ahead of the curve on hemp, which comes from the same plant.
Now, with growing pressure to diversify Alaska's economy, lawmakers are talking about legalizing hemp for commercial purposes — something at least 30 other states have already done.
For the past year, home builder Jack Bennett of Homer, Alaska, has been working on a model home that he sees as a potential solution to affordable housing and energy in rural parts of the state.
He's using building materials made from hemp.
"We acquired a facility for the year, imported the hemp insulation material and started to run experiments to build a brick for cold climate Alaska," he said.
There's just one problem: it's illegal to grow hemp in Alaska, so Bennett imports his product from the Netherlands.
He'd like to source the product locally.
The 2014 federal Farm Bill allows states to grow and harvest hemp through pilot programs.
Sen. Shelley Hughes is sponsoring legislation that would establish such a program in Alaska.
"I think this is one more opportunity for farmers and Alaskans … and that it's due time," she said at the bill's first hearing on Feb. 8.
But moving forward with the program is not as simple as waving a wand and making hemp legal. Lawmakers will have to decide on a regulatory framework that complies with federal regulations without stifling the industry before it even takes off.
Sen. Bill Wielechowski criticized the legislation at a Feb. 13 hearing.
"It's uh, requiring that individual to register. It's requiring that they list their global positioning coordinates where they're going to be producing the hemp. They've gotta register every year. They've got to pay fees for applications and the fees have to cover the regulatory costs," he said. "So, this is big government. I mean, this is extremely onerous."
Don Hart, a farmer from the Mat-Su Valley, also is concerned about over-regulating the new industry.
"In order to benefit the farmers in the state of Alaska, it would be better to be able to remove it entirely from AS 17.38," he said.  "It allows anyone who does not want to see hemp growing in Alaska to be able to raise the issue by initiative or to propose their borough, administrative or municipality to be able to exclude it."
The statute that Hart referred to, AS 17.38, lumps marijuana and hemp together under the same definition, allowing for local control over where the plant can be grown.
Alaska cultivated hemp until its ban in 1937 under the federal Marijuana Tax Act.
Bennett said the plant did well in Alaska, where it's not always easy to grow things.
He's committed to helping the industry grow.
"Alaska is, uh, it's said to be in a fiscal crisis, but it's a positive, it's our opportunity. It's our generation that gets to fix it. And hemp might not be the solution, but it's a solution," Bennett said. "Give them the freedom to farm, and let's find out."
The legislation will go to the Senate Judiciary Committee next, pending referral from Senate Resources.