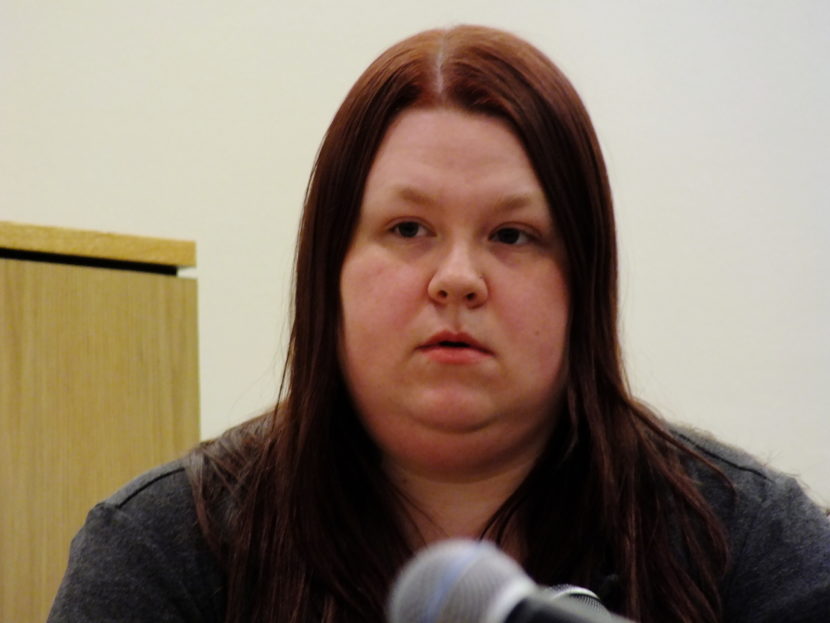 The prosecution's main witness took the stand Thursday in the Christopher Strawn homicide trial that's underway in Juneau Superior Court.
Tiffany Johnson, formerly known as Tiffany Albertson, testified about how she first met and befriended Brandon Cook, and how they helped each other in the weeks and months leading up to his death.
Strawn is accused of killing Cook in October 2015 while all three were working on Johnson's new trailer in Kodzoff Acres trailer park.
Johnson's testimony on Thursday primarily focused on how she first met Cook when they both worked at Wal-Mart. Johnson had two children and was already engaged to another man. Johnson said she and Cook were never romantically involved. Instead, their relationship was more like a brother and sister, always helping each other out.
"I'd give him rides," Johnson testified. "He usually took the bus or bike. So, I'd give him a ride. He'd help me out with my oldest all the time with babysitting. There's been times I was financially not OK. And he helped me out, to help me get on my feet. We were always there for each other. An ear to listen to, shoulder to lean on."
Both Cook and Johnson remained friends after Wal-Mart closed and Cook went on to work at Safeway and Alaska Air Cargo.
Just a week before Cook's death, Johnson put a down payment on the trailer at C-16 Kodzoff Acres. The trailer was trashed and thrashed by the previous tenant, and the trailer's owner offered to reimburse Johnson for cleaning and renovations. Cook and Strawn both helped her with the work.
Johnson is expected to continue her testimony Monday and detail what she saw. The prosecution has said she's the only eyewitness.
First responders testify
Other testimony on Thursday focused on Juneau police officers responding to the scene after 911 dispatchers received a call from Johnson about Cook being shot in her trailer in the evening of Oct. 20, 2015.
Sgt. Jeremy Weske was first on the scene. He and three other officers quickly searched the surrounding vegetation and vehicles before determining how to safely enter the trailer.
Johnson was hiding in a closet inside the trailer while on the phone to a 911 dispatcher. But it was unknown whether the shooter was also still inside.
"It's just that these things are happening seconds after each other. You're just kind of moving with it," Weske said. "So, to say that we come up with a solid plan? No. We knew we had to get her out of there. We knew that we had to make sure we didn't push the issue, but at the same time we had to move with some purpose and move quickly. But what we don't want to do is push the issue and endanger her anymore."
Detective Benjamin Beck, then a patrol officer, testified about how he and another officer sped to the scene from the downtown substation.
Beck helped Johnson out of the trailer after officers determined the shooter was no longer present.
Under questioning by prosecutor Amy Paige, Beck almost lost his composure on the stand when he recalled what Johnson said and how she acted.
"Frantic, um … trembling is how I would describe my interpretation of her when I first contacted her," Beck said.
"In that frantic state, did she say anything to you?" Paige asked.
"Yes," Beck answered.
"What did she say?"
"Get me out of here. Please, get me out of here. I can't stay here. Please, I have two babies … He could be anywhere … Get me out of here … Please."
Capital City Fire/Rescue firefighter and paramedic Paul Kelly testified about how he visually confirmed that Cook was dead. Kelly approached within 3 feet of the body in the trailer's kitchen, and he did not touch or disturb the body or other objects at the crime scene.
The prosecution hopes to rest its case by Thursday with Strawn's attorney saying she'll need at least a day to bring her own witnesses to the stand. It's impossible to predict how long a jury will deliberate on a verdict.
First seated juror dismissed from case
In a bizarre twist, trial proceedings on Thursday started with a juror being excused from the case because he suddenly realized that he had adopted the defendant's dog.
When a criminal trial starts, prospective jurors are normally screened and questioned about their relationships with the defendant, witnesses and attorneys in the case. Prospective jurors who show bias for or against any of the parties are normally dismissed from the jury pool.
In this case, one particular juror earlier noted that he didn't know anybody in the case and he was sworn in along with the rest of the jury on Wednesday. After opening statements and testimony from the first witness, the juror apparently realized that he was the new owner of Strawn's dog. The juror notified Judge Philip Pallenberg that, when he adopted the dog, all he was told was that the previous owner had allegedly shot another man.
Pallenberg suggested that the odds of such a chain of events to come together in a town of 30,000 people were probably astronomical.
Since it was unknown what going home to Strawn's former dog every night would have on that juror's objectivity and deliberations, the juror was dismissed.
The jury is now made up of five women and eight men, which is 12 jurors and an alternate.
(Spelling of Detective Benjamin Beck's name has been corrected.)