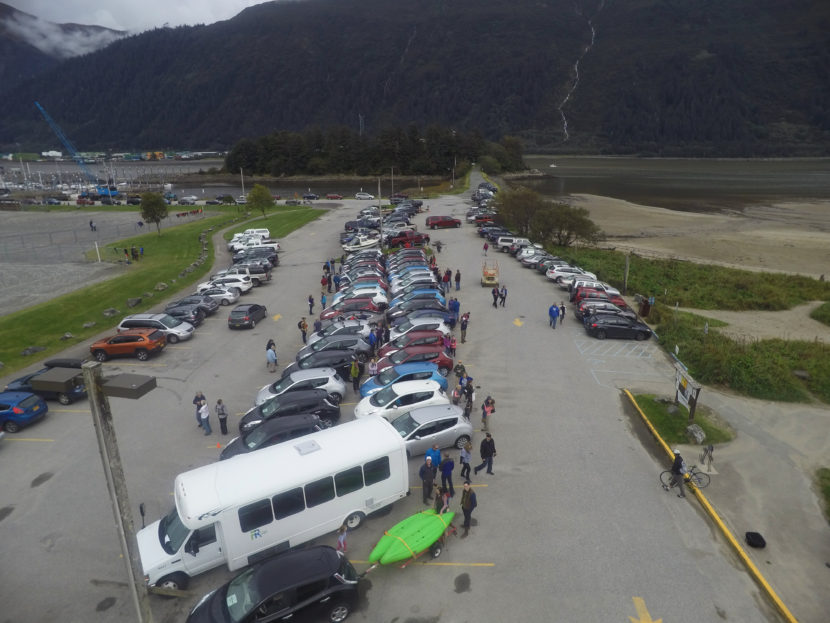 Juneau's privately-owned electric utility is trying to plan for a future that includes more electric cars. It's estimated there are over 100 fully electric vehicles in the city, with one or two arriving by ferry or barge each week. Even Teslas — the Porsche of electric vehicles — have been spotted in the capital city. As this new reality sets in, the state's regulatory commission is taking a closer look. It'll be reviewing how the utility is responding to its ratepayers and the influx of electric cars.
Juneau's car dealerships don't sell fully electric vehicles (EVs). There's no tax break for buying one here, like in Washington state. But Devon Kibby, the president of Juneau's Electric Vehicle Association, says that hasn't slowed the momentum.
"Even without these incentives, people are still buying electric vehicles," Kibby said.
Juneau's electric utility, Alaska Electric Light & Power (AEL&P), is trying to figure out a way to incentivize those drivers to charge at night. That's when the least amount of electricity is being used, so the cars are less of a burden on the the grid.
In November, the utility filed a request with the state's regulatory commission to offer a cheaper rate to electric vehicle owners who plug-in during those times — a program they could opt into.
"It's not necessarily a bad deal. It by no means is a bad deal," Kibby said. "We're just wondering if there's another way to allocate the benefits to better help EV adoption in Juneau."
In January, The state's regulatory commission approved AEL&P's nighttime charging rate. But the agency is also investigating how the utility makes those decisions. Kibby says the electric vehicle association wants a seat at the table, too. They want to ensure that best framework is being created to support the growing number of electric cars.
Kibby thinks the utility should offer the same nighttime charging hours, like its previous experimental program, and provide affordable limited energy from public fast-charging stations during the day.
"One of the things that often comes up when we have an incentive rate programs is that all customers are treated fairly by the proposal," said Alec Mesdag, a director at AEL&P.
The fast chargers can juice a Nissan Leaf in about 20 minutes, lessening the dreaded range-anxiety. With a typical charger — there are 10 of them in town — that can take about four hours.
The utility's Washington-based parent company, Avista, has installed fast chargers for electric cars down South. But Mesdag says Washington has a very different regulatory environment than Alaska. Namely, the Washington legislature passed a bill making it OK for the utility to pass on that expense to ratepayers.
Even though there are several electric vehicles in Juneau, Mesdag says, that doesn't mean there's the same type of demands as other cities.
"What we don't have in Juneau is a large number of people who would need to utilize that infrastructure," Mesdag said. "The current owners of electric vehicle owners find it more convenient to charge at home because they typically have off street parking."
Mesdag thinks there's still a lot to learn as more electric vehicles cruise into town.
The Regulatory Commission of Alaska is trying to navigate the new environment, too. Its next meeting on the matter is Friday, Feb. 10.