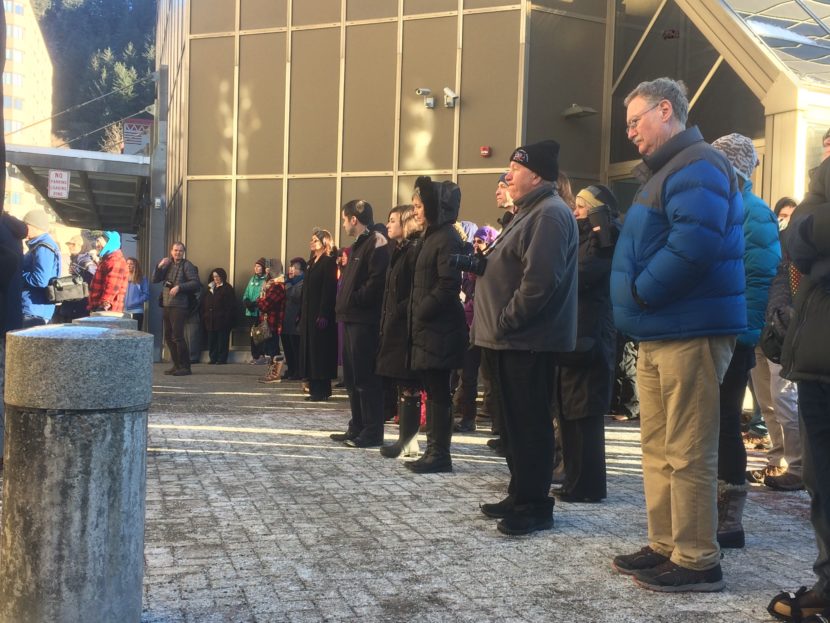 Two protests were held on the steps of the state capitol this weekend. The first on Friday, called for an end to abortion. Then Saturday, hundreds came out for the "Women's March on Juneau" to show support for women's rights.
The two protests were different in tone, message and especially in size.
On Friday, a little more than a few dozen anti-abortion supporters – including a number of state legislators – lined the Fourth Street sidewalk in front of the Alaska Capitol building.
Then on Saturday, hundreds filled the same street to demand equality for women.
The two protests had very little in common other than it was cold.
"I was worried that it was going to be a lot colder when we came," said Sid Heidersdorf, president of Alaskans for Life. "It was windy when we first came. That'd be one of the worst things, that cold wind."
His group and its supporters rallied at noon Friday for their annual protest of the Roe v. Wade Supreme Court decision. Sunday is the anniversary of the case that largely legalized abortion in the U.S.
"We're basically trying to show that we object to that and that's wrong, and we'd like to see it changed," Heidersdorf said.
The event's handful of speakers echoed Heidersdorf's feelings. The keynote speaker, Camille Pauley, is president of Healing the Culture, a Washington state anti-abortion nonprofit.
Pauley said anti-abortion advocates would stand up for what is right no matter what, that all human beings are valuable and that abortion can never lead people to happiness.
Ted Deats attended the protest and said he's been coming with his wife since she was pregnant with their son 30 years ago. He hopes the results of this last election year will mean serious change for U.S. abortion law.
"I think the change we would count on would be Supreme Court justices that believe in the equality of all men — born and unborn, and whatever they are," Deats said.
Deats and Heidersdorf also hope the state Legislature will pass more anti-abortion laws. Heidersdorf said the courts struck down or severely weakened anti-abortion laws from the past.
On Saturday, the location was the same but the scene had changed completely.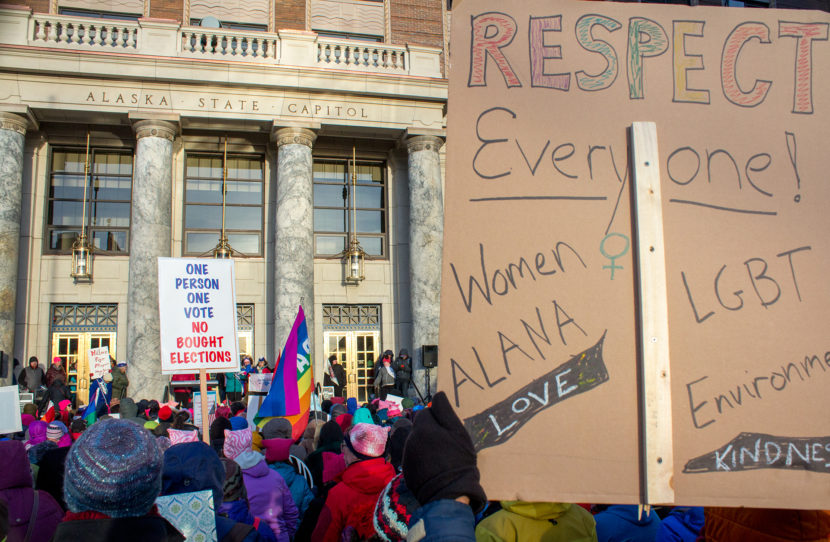 Hundreds of protesters carried signs calling for goals like the fair treatment of women, the protection of abortion rights, the protection of the disenfranchised and an end to gender violence.
Mandy Cole, deputy director of AWARE in Juneau, said the idea for the March on Juneau started with an AWARE employee and eventually the entire organization pitched in to help launch it.
AWARE is a women's advocacy group. Cole said the march was a show of solidarity with other women's marches around the country and the world.
"Well part of it is just capturing the energy of people who want to do well and want to help all of us live together peacefully and with care for our neighbors," Cole said.
She was "incredibly pleased" with the turnout, but wasn't sure how many people showed up.

"Maybe 500, 600, I'm not sure." (I'm) bad with gauging crowd sizes, I think," Cole said.
According to the march's Facebook event page, about 840 people said they went, but that number hasn't been confirmed.
A Juneau police officer said he didn't know how many people attended either protest. He said organizers for the women's march estimated 400 people would attend and he guessed they probably met that mark easily.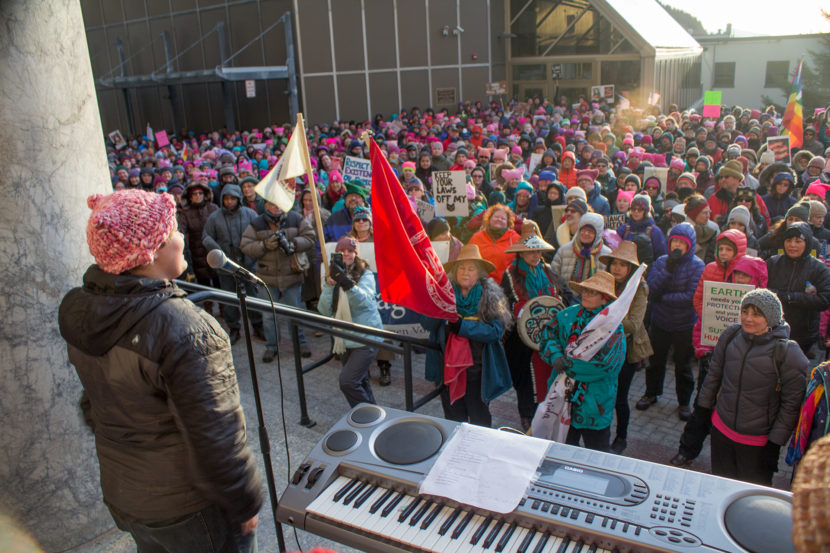 Before the actual march, a handful of supporters gave speeches and one recited a poem about the societal problems they wanted to change and their own visions for the future.
Afterward, the crowd hauled their signs to the Juneau Arts and Humanities Council building where community organizers were waiting.
Cole said they were "community agencies and organizers that are looking for volunteers to help give services, to help recruit others, to continue this type of energy of women's rights are human rights."
Marlowe Dunker followed the crowd. She carried a sign that said "Love trumps all" on one side. On the other, she had a list.
"'Women's rights, black lives matter, Planned Parenthood, the Muslim community, climate change, equality, our children's future and not my president.' And that is why I march," said Dunker.
She said her sign had a lot on it, but she felt like there was a lot at stake.
That feeling might be the number one thing Friday and Saturday's protesters had in common.