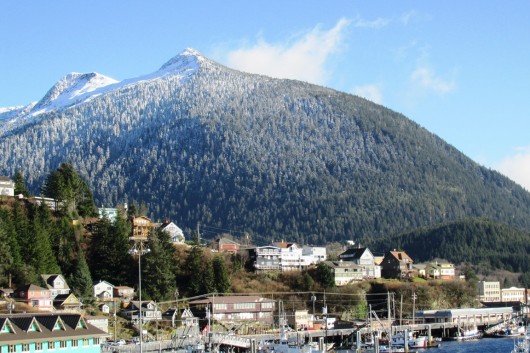 The Alaska Mental Health Trust Authority's Trust Land Office is no longer pursuing action toward timber sales on Deer Mountain or land in Petersburg.
The trust board meets next week – Jan. 25 and 26 – and in the meeting packet is a memo from Trust Land Office Executive Director John Morrison.
Morrison writes that while a federal land exchange deal wasn't approved by Congress during its last session, he is confident that the reintroduced bill will pass this year.
Therefore, Morrison writes, Trust Land Office  staff member are now focused on helping that bill make it through, and on introducing a complimentary bill in the state Legislature.
Last summer, the Trust Land Office announced that it planned to move forward with logging Deer Mountain and the Petersburg site if the land exchange wasn't approved by earlier this month. After public outcry and questions about the Trust Land Office's decision-making process, a final decision on that plan was delayed.
The federal legislation would put Mental Health Trust land on Deer Mountain and above homes in Petersburg under U.S. Forest Service control. In exchange, the Trust would receive federal land on Prince of Wales Island and in Ketchikan's Shelter Cove area for logging.
The Trust Land Office's decision to focus on the exchange and stop pursuing timber harvest on the controversial sites doesn't mean it can't happen. If the land trade is rejected or delayed by Congress, the state agency could still bring back the option of logging Deer Mountain.
Editor's note: KTOO's building sits on land leased from the Alaska Mental Health Trust Authority. KTOO has also applied for and received occasional grants for special reporting projects from the authority.