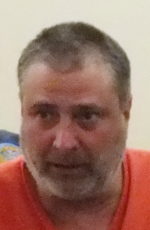 An Excursion Inlet homicide case is scheduled to be heard by a jury in four months, but the defense says it doesn't have the evidence it needs to go to trial.
Mark Anthony De Simone is accused of shooting 34-year-old Duilio Antonio "Tony" Rosales twice in the back of the head in May 2016.
De Simone appeared in Juneau Superior Court last week, now 54 years old with his hair grown out and grayer than in earlier appearances.
De Simone's attorney, public defender Tim Ayer, seemed frustrated about delays in getting processed evidence from the state crime lab as part of the pre-trial discovery process.
Assistant District Attorney Amy Paige says her office just received a report on fingerprint analysis, but not the laboratory analyst's notes and data. The backlogged lab is likely still working on DNA analysis. Paige also indicated that an Alaska State Trooper who investigated the homicide was recently reassigned to another post in Southcentral Alaska, complicating the handover of investigative notes and other potential evidence.
The trial is scheduled for May 15 with a pretrial hearing a week earlier.
De Simone, a former Arizona lawmaker, faces two counts of second-degree murder, and one count each of first-degree murder, manslaughter and criminally negligent homicide.