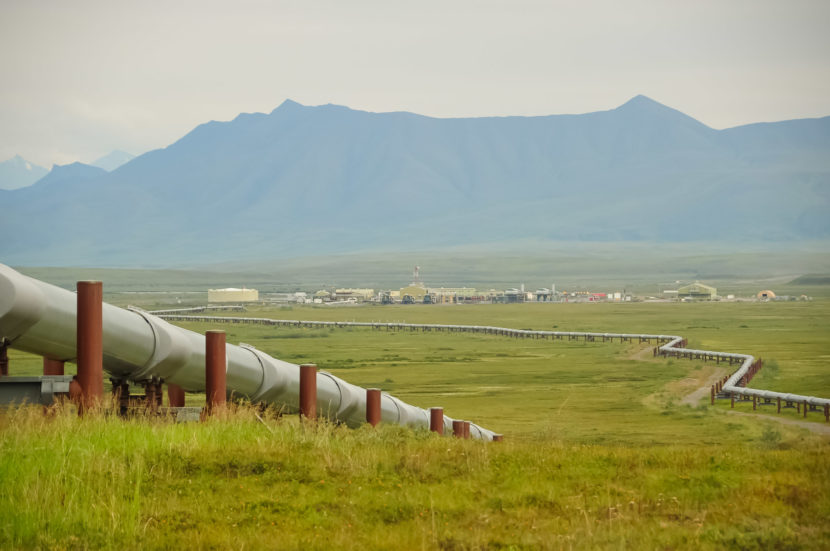 For the first time in over a decade, the operator of the Trans-Alaska Pipeline System announced a year-over-year increase in the amount of oil moving through the pipeline.
Last year, according to the Alyeska Pipeline Service Company, the pipeline moved about 517,500 barrels per day. That's a 1.8 percent increase from 2015. Alyeska president Tom Barrett said he's happy to kick off the pipeline's 40th year with the announcement.
"Every barrel that either stops the decline or slows it, or, as in the last year, increases, is very positive for us as an operator," Barrett said.
Oil flowing through the pipeline peaked in 1988 at 2 million barrels per day. It has declined steadily ever since, with small upticks in 1991, 2002 and now, 2016.
Alaska Department of Natural Resources deputy commissioner Mark Wiggin said he can't point to a single factor behind the increase. There was a full year of production for ConocoPhillips' first development in the National Petroleum Reserve-Alaska, at the CD5 drill site. The private company Hilcorp was also more active on the North Slope, drilling 10 wells at Milne Point. And, Wiggin said, fewer North Slope facilities were shut down for maintenance last year.
But Wiggin said the state isn't predicting that TAPS will return to its glory days, at least not anytime soon.
"The uptick that we witnessed in 2016, while very positive, and it's the direction we want it heading, surely does not suggest that we are heading back to the peak year in 1988," said Wiggin.
In December, Alaska's Department of Revenue predicted oil production from the North Slope will continue its decline. By 2025, the state forecasts production could dip below the 350,000 barrels-per-day.
If oil flows go even lower than that, below 300,000 barrels per day, Alyeska doesn't know if the pipeline can keep operating safely. Slow-moving oil and a cooler pipeline causes wax that exists naturally in the oil to build up. It's also likely that ice accumulation will become a bigger problem. Barrett says pipeline workers are already dealing with problems caused by slow-moving oil and cold weather.
"We've installed new pumps, we've installed methanol injection points, we've used [direct] fire heaters to manage at this lower speed — which is really not what we were designed for," said Barrett.
Barrett said he's hopeful production will increase this year, too, but Alyeska has to plan for all scenarios — including a continued decline in production.