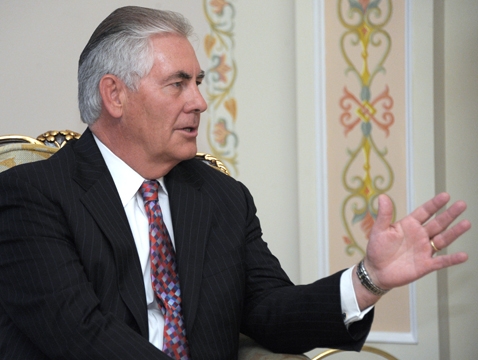 President-elect Donald Trump has chosen ExxonMobil CEO Rex Tillerson as his nominee for secretary of state.
National attention has focused on Tillerson's close ties to Russia, but he — and his company — also has a long history in Alaska.
For the last few years, Tillerson has perhaps been known best in Alaska for his public disagreements with Gov. Bill Walker over efforts to build a natural gas pipeline from the North Slope.
"I doubt the governor is going to be invited to any State Department formal dinners," said Larry Persily, a longtime industry observer.
Exxon holds the state's largest share of natural gas reserves, and was, until recently, the lead partner in the effort to build a gas line, a role the state is now taking over.  Last year, Tillerson, who said he's been involved in Alaska natural gas projects at Exxon since 1985,  told World Gas Intelligence that Alaska has been its own "worst enemy" on the pipeline project, saying the state changes its approach every time it changes governors. Gov. Walker has frequently fired back.
Exxon has feuded and negotiated with many Alaska governors over the years: over the gas pipeline, the development of the Point Thomson field, the value of the trans-Alaska pipeline, and of course, oil taxes.
Asked if Exxon under Tillerson was active in the state's perennial debates on the subject, Sen. Bert Stedman, R-Sitka, started to laugh.
"Oh yes, yes, yes," Stedman said. "Of course they are. All three major companies are."
Stedman is one of the legislature's experts on oil and gas issues. He said Exxon has its own style.
"You're not going to find a finer company than Exxon, at least that I've ever been around and worked around," Stedman said. "But they're tough negotiators."
"Exxon has the Exxon culture," he added. "Very formal, very straightforward."
Stedman said he'd be pleased to have a cabinet member that's familiar with Alaska and with the Arctic, which Tillerson certainly is. Exxon owns more than a third of Prudhoe Bay, the state's largest oil field, and operates the field at Point Thomson, which came online earlier this year. It's one of the companies that owns the trans-Alaska pipeline.
Exxon's long history in the state also includes its most famous black eye: the Exxon Valdez oil spill in Prince William Sound in 1989.
Lois Epstein, of The Wilderness Society, said that history still lingers.
"There's still a lot of concern in Alaska, over 25 years after the Exxon Valdez tragedy, the spill, that Prince William Sound hasn't fully recovered and that there was significant harm to the local economy," Epstein said.
Tillerson was CEO of ExxonMobil in 2008 when the U.S. Supreme Court slashed punitive damages for the spill from $5 billion to $500 million, reducing the pay out to many Alaskans.
When it comes to another environmental issue of interest in Alaska, Exxon's track record on climate change under Tillerson is complicated.
Last month, the company officially came out in support of the Paris agreement to cut global carbon emissions. That makes Tillerson potentially the only one of Trump's nominees so far to publicly hold that position. Epstein pointed out that as secretary of state, Tillerson would be one of the nation's top negotiators on international climate agreements.
"I do think the fact that ExxonMobil has endorsed the Paris climate agreement is a good thing, so at least in terms of climate change, we are cautiously hopeful with Mr. Tillerson," she said. "Particularly compared to some of the other nominees for the cabinet."
But Exxon is also under fire from environmentalists and some state attorneys general after reporting raised questions about whether the company understood the science behind climate change for decades internally while externally funding organizations that fanned doubts about it.