During World War II, the U.S. armed forces utilized Native languages as a way to transmit indecipherable messages in the Pacific Theater.
It was a code the Japanese were never able to break, and it's credited with saving the lives of thousands of troops.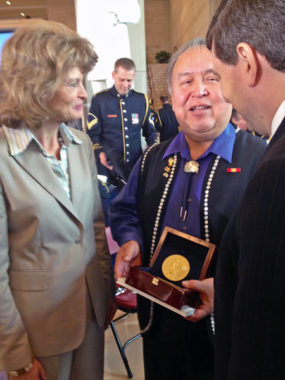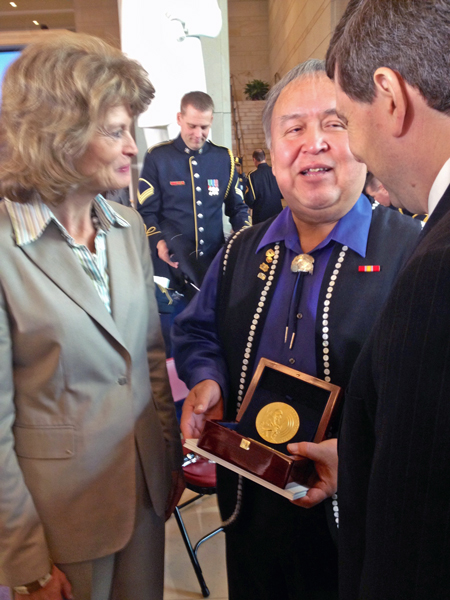 The Sealaska Heritage Institute is hosting a series of noon lectures honoring Native warriors — past and present.
Tuesday's lecture is about code talkers, a group of Native soldiers who helped transmit coded messages during World War II.
Rosita Worl is president of the Sealaska Heritage Institute.
"Of course, everybody's heard about the Navajo code talkers. And I think we were all proud of them," Worl said. "Whatever Native American group you were, I think, we were all very proud to know that the Navajo code talkers helped, you know, helped the United States and helped us to achieve victory."
The Navajo weren't the only code talkers.
Congress recognized 33 other Native groups in 2013 for their efforts during both world wars, including Tlingits.
The program was secret, but declassified in 1968.
"They were not aware, I guess, when that requirement was lifted, so they went to their graves without telling us," Worl said.
In 2013, the Congressional Gold Medal was awarded to the Central Council of the Tlingit and Haida Indian Tribes of Alaska at an event honoring more than 200 code talkers and their families.
Congress posthumously awarded five Tlingit men Congressional Silver Medals for their service as code talkers in World War II.
The honor came as a surprise to many, including the family of the code talkers.
"But for us it was people we knew. We grew up around these individuals but people will tell you that not once, not once did we ever hear that they talked, that they were code talkers," Worl said.
Ozzie Sheakley is the commander of Southeast Alaska Native Veterans. He will speak about the Tlingit code talkers during a lecture sponsored by the Sealaska Heritage Institute. It's part of a series honoring Native veterans during Native American Heritage Month.
The lecture will also feature Judith Avila, who wrote "Code Talker: The First and Only Memoir by One of the Original Navajo Code Talkers of WWII."
The lecture is noon Tuesday in the Walter Soboleff Building in downtown Juneau.
For more about the lecture series, go to SealaskaHeritage.org.
Correction: A previous version incorrectly identified the number of non-Navajo tribes honored for the service of Native code talkers. This version has been updated to correct the actual number.
---
Tripp Crouse is the digital media editor for KTOO. Tripp covers crime, courts and general assignment topics for KTOO. Follow @trippcrouse