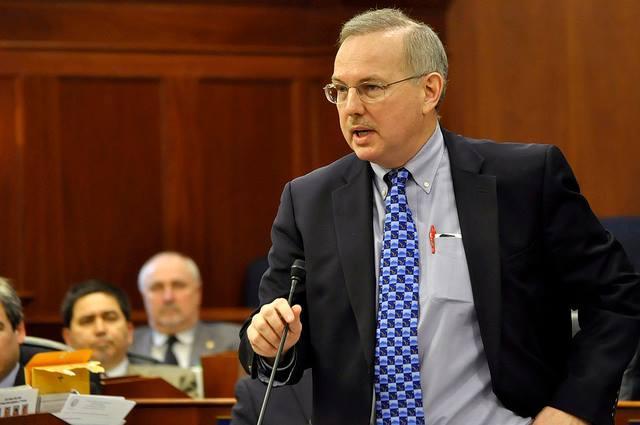 There is a new bipartisan majority caucus in Alaska's House of Representatives, and with it new leadership.
Rep. Bryce Edgmon of Dillingham has been tapped to be House Speaker, following his re-election Tuesday.
Edgmon will take the gavel from Republican Mike Chenault, a Republican from Nikiski.
The announcement was made Wednesday afternoon at a news conference in Anchorage, following weeks of speculation. The previous Republican-led majority caucus lost two members when Benjamin Nageak of Barrow and Bob Herron of Bethel were unseated by Democratic primary challengers who pledged not to caucus with the Republican-led majority caucus. On Tuesday, Republicans Liz Vasquez and Cathy Munoz lost their seats to Democrats.
The 22 members of the new Majority caucus are mostly Democrats, with three Republicans, and two independents.
The caucus will focus on addressing Alaska's fiscal crisis, Edgmon said.
"The severe drop in oil revenues, coupled with legislative inaction, has contributed to the current recession that threatens our economy, the livelihoods of thousands of Alaskans, and essential services like education and public safety," Speaker-elect Edgmon said. "The members of the new House Majority are dedicated to passing a legislative agenda that addresses the fiscal crisis and the root causes of the crisis."
The rest of the leadership team includes Rep. Chris Tuck (D-Anchorage), who will serve as Majority Leader. Rep. Gabrielle LeDoux (R-Anchorage) will chair the Rules Committee. Rep. Louise Stutes (R-Kodiak) will be Majority Whip, and Reps. Neil Foster (D-Nome) and Paul Seaton (R-Homer) will be co-chairs of the Finance Committee.
Members formed their team during meetings Wednesday in Anchorage, following Tuesday's election.
The 30th Alaska Legislature will convene January 17, 2017, in Juneau.