Alaska's campaign finance watchdog group held a hearing Tuesday morning on a complaint against former Skagway Assemblyman Dan Henry. The complaint against Henry involves incomplete public office financial disclosure forms. During the hearing, Henry said he misunderstood what information is required on those filings.
Candidates for elected office and public officials in Alaska are required to file financial disclosure statements with the Alaska Public Offices Commission. The statements ask candidates to describe their income for the previous year.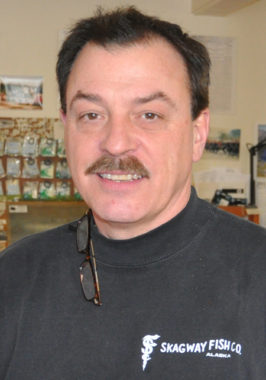 Henry is the owner of the Skagway Fish Company restaurant. On the income filings in question, from 2010 to 2013, he identified himself as such. But the line where he was to write how much he earned from the restaurant, he left blank. He instead checked a box that said "none," indicating he had not earned over $1,000 from the restaurant.
At the APOC hearing, Henry said he misunderstood what the income disclosure statement was asking. He said he thought he was meant to disclose individual purchases over $1,000. For example, if a customer bought a $2,000 meal. He said, since he sells fish and chips, he didn't have any purchases over $1,000 to disclose. So, he checked "none."
Henry was first elected to public office in the late 1990s. He says from that very first filing, this was his understanding of how he was supposed to report his income. He says year after year, he checked the "none" box, and no one told him he was doing it wrong. Until 2013, when he says an APOC staff person reached out and told him otherwise. Then, Henry says, he started reporting over $100,000 in earnings from the restaurant.
Essentially, Henry contends his incomplete filings were an innocent mistake.
His lawyer, Robert Bundy, also testified to the commission. Bundy said Henry didn't go to law school, and to a layperson, the disclosure forms are easy to misunderstand.
The APOC complaint against Henry came from Skagway resident Roger Griffin. Griffin lodged the complaint after news early this year that Henry pleaded guilty to federal tax charges. Henry was convicted of four misdemeanor counts of willfully failing to file his income taxes. The plea deal included information about Henry also failing to disclose his income on public office filings.
APOC staff conducted an investigation into Griffin's complaint. They concluded that Henry's statements from 2011 through 2013 are incomplete and that the amount of income that went unreported "appears to be substantial." Staff said there wasn't evidence to say whether this was done deliberately or inadvertently. Nonetheless, the staff report said Henry, an elected public official, submitted incomplete documents meant to provide transparency to his constituents.
"Staff considers this a real harm to the public," the report says.
APOC staff recommended a fine of $22,000. That is half of the maximum penalty allowed for the violations.
But Griffin asked the commission to levy the full $44,000 fine. He said Henry violated the public trust.
Griffin told the commission that initially, he was going to accept the staff recommendation. But he said a letter Henry wrote in the Skagway News following his sentencing on the federal tax charges changed his mind. Griffin called the letter "unrepentant."
Whether the commission agrees with Griffin, its staff, or believes Henry's explanation, remains to be seen. The commission will make a decision within 10 days.
In the meantime, Henry has just about a week before he must report to federal prison to serve a year-long sentence for his failure to file income taxes. He turned in a letter of resignation from his Skagway Assembly seat last week.