She's a nurse. He likes to fly fish. They both brag about their grandchildren.
And they're running against each other in what's been called the nastiest election in Alaska this cycle.
The Anchorage race between Republican Cathy Giessel and independent Vince Beltrami could help determine the balance of power in the state Senate and how Alaska takes on its fiscal crisis.
Giessel, who is 64, has been in the legislature since 2011. She's a staunch oil industry supporter and chairs the Senate Resources Committee. If re-elected, she and her colleagues will face hard choices to square away Alaska's finances, on issues like spending cuts, oil taxes and whether to institute an income or sales tax.
But as Giessel talked with voters while knocking doors this week in East Anchorage, there's one thing she wanted to get straight.
"What the Senate Majority, which has been controlled by Republicans for the last 4 years has done is … brought state spending down," Giessel said.
This election, Giessel is battling attacks claiming the legislature didn't do enough to solve the state's budget shortfall. An ad paid for by Together for Alaska, a political group backing her opponent, states, "Giessel and her do-nothing legislature have sat on their hands, despite being called back into session more times than any legislature in our history."
Giessel argues the legislature has acted, but she acknowledges to voters that the problem isn't solved.
"I understand their frustration," said Giessel. "I also understand when they say to me, there's more to be done — I agree."
While knocking doors, Giessel is asking voters if they'd prefer a sales tax or an income tax, proposals that once might have been political suicide in Alaska. She said she'd consider backing either with enough evidence. But she added getting to a long-term solution will involve some complicated math.
"Eleven, 21 and one: to pass anything…it takes 11 senators, 21 representatives and one governor," said Giessel.
Her challenger, independent Vince Beltrami thinks if voters subtract Giessel and add him instead, the legislature can fix the budget.
Beltrami is 54, and has been president of the AFL-CIO, the state's top labor organization, since 2006. It's his first run for office, but he's been involved in state politics for years.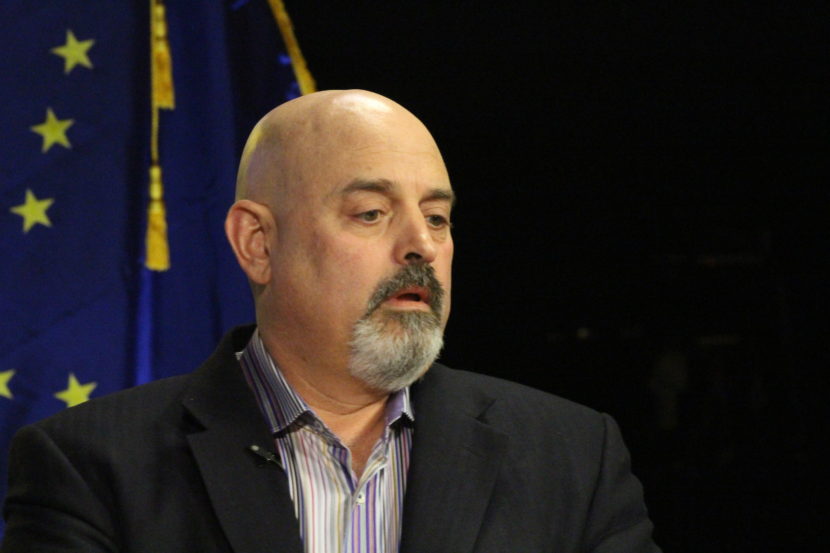 Like Giessel, Beltrami is out knocking doors. I asked how far he's walked.
"I can tell you exactly because I have a Fitbit thing!" Beltrami said.
So far, he's logged over 500 miles. Another 150 or so, and Beltrami estimates he will have walked to Juneau.
But he still has a steep climb. He was a registered Democrat until he switched to an independent in 2014. A big part of his district is conservative and home to many oil executives. Scroll down Giessel's campaign contributor list, you'll see names like Hilcorp, Caelus Energy, ConocoPhillips. Beltrami said he's pro-development too. He's for drilling in the Arctic National Wildlife Refuge, for example.
But when oil taxes come up again, Beltrami said, "I'm going to be a little more discerning, I'm going to ask harder questions, because we have a constitutional obligation to make sure we get the best value for our resources that we can."
Giessel may have more oil industry supporters, but Beltrami has his own loyal following. Look at his list of contributors: UA Local 375, Laborer's Local 942, IBEW Local 1547. Union support helped Beltrami raise more money than his opponent between August and October, almost catching up to Giessel's war chest.
And that has Republicans worried.
"Strike one!" a baseball-themed ad paid for by conservative political group The Truth Alaska begins. "Beltrami has batted well this year, and if he can fill the bases, public unions will control the state legislature."
Republicans argue Beltrami will put union interests ahead of his constituents. Beltrami disagrees of course, saying he'd take time off as AFL-CIO president while the legislature is in session, although he won't step down.
Beltrami said, "people will always say you're a union guy, so you're going to look out for the unions. Well, we have oil guys who are looking out for oil."
Conservative commentator Casey Reynolds, editor of the political blog the Midnight Sun, called the race between Giessel and Beltrami, "ground zero in the battles that we are having in Alaska."
"I would say it's probably the premiere race that's going on," said Reynolds.
That's because Democrats need just a few wins, and they could cobble together a coalition with moderate Republicans to take control of the state Senate. That means this race in East Anchorage could determine how Alaska addresses its budget woes.