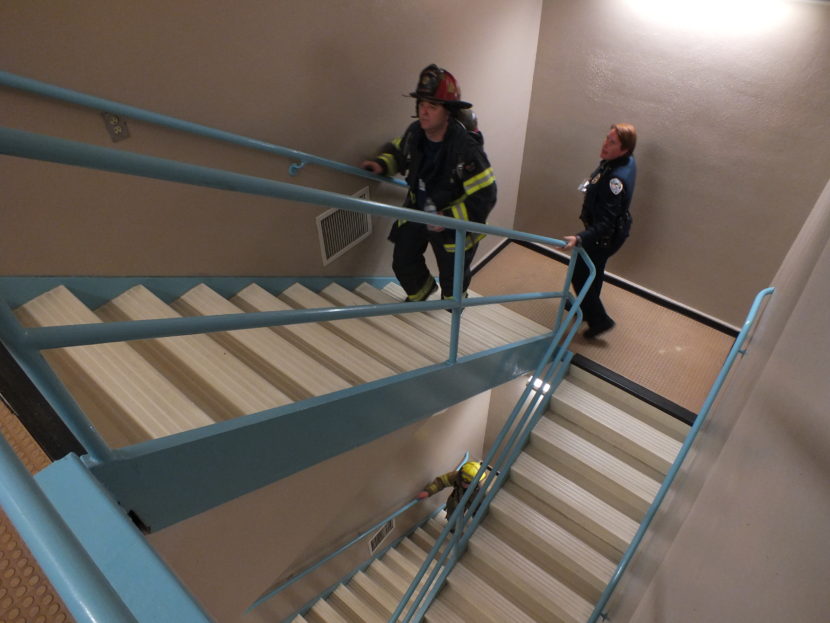 A couple dozen firefighters, law enforcement officers and their family members participated in the annual 9/11 Memorial Stair Climb on Saturday at the Juneau federal building.
Each participant hiked the 10 flights of the building 11 times for a total of 110 floors, the number of floors in the World Trade Center.
Some of the Juneau participants started out the stair climb in full firefighter bunker or turnout gear — helmet, boots, protective coats and self-contained breathing apparatus. Capt. Todd Cameron of Capital City Fire/Rescue said that could add as much as a 100 pounds to a firefighter's weight.
Cameron said a total of $1,500 raised by the Juneau stair climbers will go to National Fallen Firefighters Foundation. Cameron said an average of 100 firefighters nationally die in the line duty every year, usually after getting lost or trapped in a house fire, getting hit by a vehicle while responding to a highway accident, or other medical conditions.
The 9/11 Memorial Stair Climb is held in honor of the 343 firefighters and 60 police officers who died during the collapse of the World Trade Center towers on Sept. 11, 2001.
Click on any photo to see a slideshow with captions:
Related story:
Juneau rotary club holds annual 9/11 memorial service
Related story from 2013 featuring video:
Juneau firefighters, officers climb to remember those who perished during 9/11