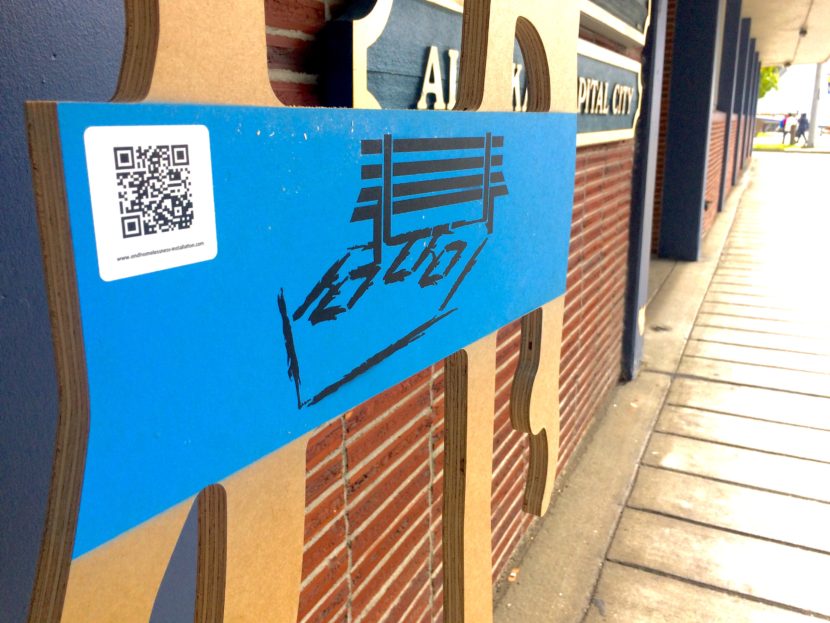 It's a nice afternoon in Juneau as Michael Spoon stands in front of Juneau's City Hall looking at the abstract figure.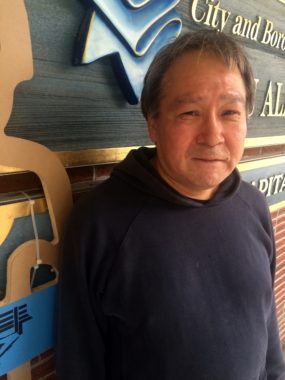 "You can tell it's a humanoid form. What is this? A bench?" Spoon asks.
The figure is a little taller than Spoon, who's been homeless in Juneau since December. It's a plywood cut-out of a person that is part of a national effort to bring awareness to homelessness. The social art project began in Charleston, South Carolina, where the city collaborated with a design firm to create 430 plywood figures — the estimated number of homeless people in the city at the time.
The figures were placed in a park in front of their City Hall. Now, the project has gone national and every state capital has been asked to put a figure in front of their city hall in solidarity.
The figure is hollow to symbolize the invisibility of homeless people, and there's an image of a bench with a house as a shadow near the figure's belt line. Spoon didn't sleep on a bench last night, but close.
"I was sleeping up behind a restaurant this morning. It was blowing like 35, 45 mph and rainin' — layin' on cardboard — I had cardboard covering me. I still froze," Spoon says.
Spoon says he's been homeless in Juneau 6 or 7 times before, and in several other cities.
"Sitka, back in my hometown, Seward, Alaska, Anchorage, Alaska, Seattle, Portland, Oregon, on the outskirts of Portland, Oregon, Grimshaw, Milwaukee, Gladstone …"
The figure is next to the large City Hall sign board tourists like to take pictures with. A couple walks by, cameras in hand. Spoon asks the man for a smoke. The man, with a cigarette in his mouth, shakes his head no.
"That's another issue around here, too, is the drugs," says Spoon. "I'm an alcoholic but I try and take a break from it once in a while and keep on trying to find work."
He also says that violence is an issue, but that it's the same everywhere. Overall, Spoon says that Juneau seems better than some other places.
"You get to wash your clothes and take a shower at the Glory Hole, and they get fed three times a day," says Spoon. "These other cities I was in, you only got to eat once a day, and you could never use the shower 'cause someone was always in there — beat you to it or something."
I ask him what advice he has for Juneau.
"Just keep trying I guess. Find enough resources of what's around you and try to use 'em. They're starting to do the housing thing and stuff. I missed (out by) 5 minutes. Some guy beat me by 5 minutes — he was the last guy to sign up for the housing," answered Spoon.
The housing Spoon is referring to is Juneau's housing first facility now under construction in Lemon Creek. The 32-unit building, which should be done in May 2017, is meant for people like Spoon. The idea is that with a stable living environment, people can then address their addictions, get medical attention, find work.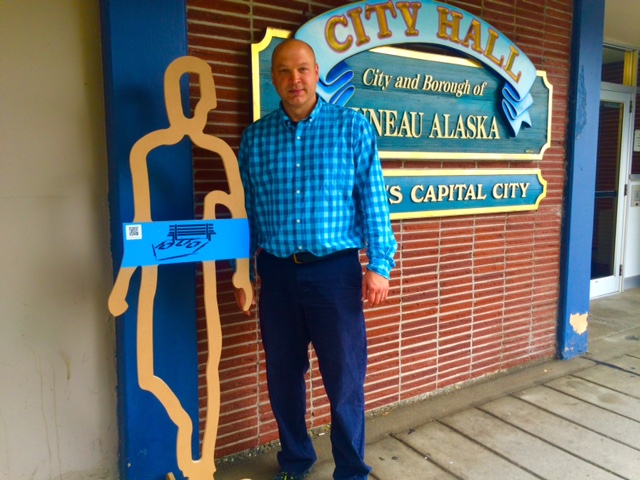 "We've had a great community effort in the last five years," says Scott Ciambor, Juneau's chief housing officer. He's among a group of organizers and planners that have made the housing first project a reality.
"This is kind of showing that, unlike the figurine which is supposed to represent invisibility and not seeing homeless people as part of communities, we've gotten past that hurdle and are making active choices for solutions," he says.
If Juneau were to fully emulate Charleston's project, we'd put out 216 figures — maybe in Marine Park. That's the number of homeless people counted in Juneau in January. Ciambor is proud of the 32-unit housing first project, but he says we still have more work to do.
"Realistically, that is a small sample targeted to those who are most vulnerable," Ciambor says. "So there's still opportunities slightly up the spectrum, more low-income, affordable housing, more supported housing that is not as intensive as that project. And some more private market rentals that social service providers can connect with to put some of their clients in."
A couple walks by and I ask them what they think of the figure. Beyond the shape of a person, they're not sure what it is and they don't know how to use the QR code that links to the project website. I explain it to them. It turns out I am preaching to the choir. Eddie Snell is off a cruise ship from Florida and is active in his community's efforts to fight homelessness.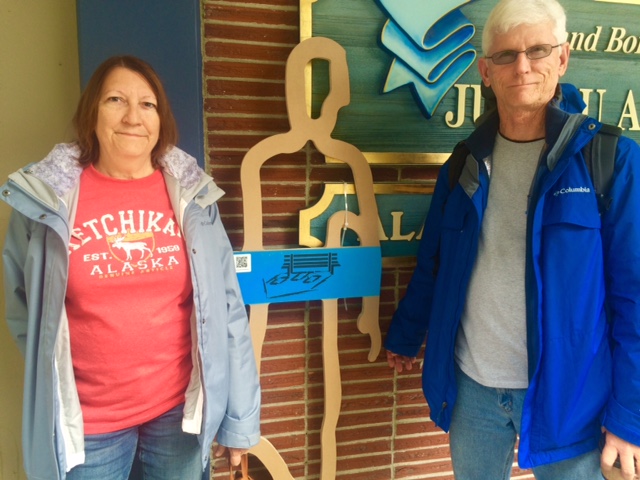 "We should not have large numbers of people roaming the streets without receiving some type of help in this country with all the resources we have," Snell says.
Spoon agrees, but unlike Snell he doesn't have a stateroom.
"I don't know where I am going to sleep tonight," Spoon says.
Ciambor took a picture of the figure and sent it to the project organizers in Charleston. So far, Juneau, Little Rock and Santa Fe have participated. To see the figure, the pictures in this story will have to do — it was stolen the night after I did these interviews. Ciambor has mixed emotions about the theft. He's glad it has a new home, but he'd like it back.