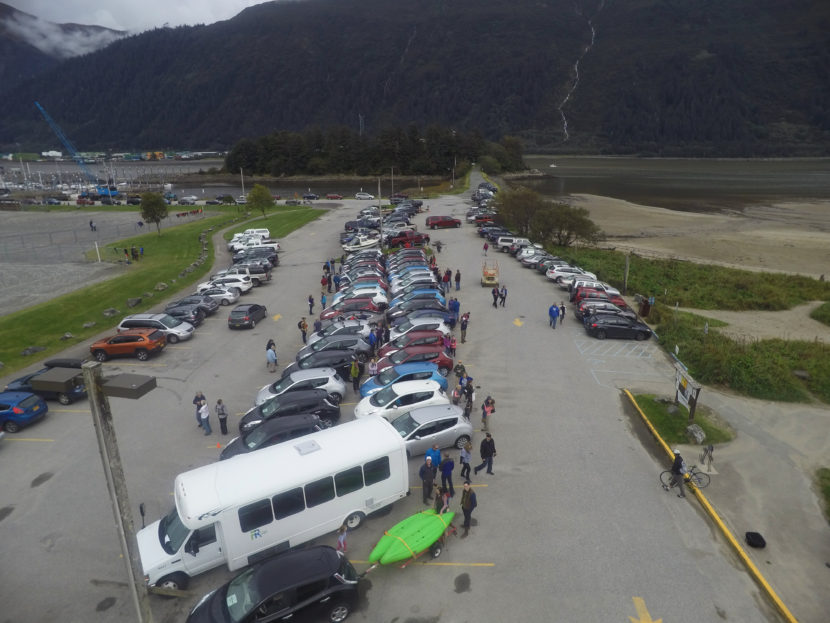 If the capital city were a state, then it ranks with places like California when it comes to the number of electric vehicles per capita on the road.
And Juneau's EVs owners love to show off.
This past weekend, the quiet cars rolled into a local park so the public could take a glimpse.
In total, there are about 80 fully electric vehicles on the roads of Juneau — running off hydropower rather than gasoline. More than 40 of those were parked at Savikko Park in Douglas on Saturday at an electric vehicle get-together.
Clusters of people ogled an espresso-colored car. They talked to the sharply dressed owner, instead of walking their dogs on the nearby trail.
This isn't just any electric vehicle.
It's a new Tesla with a price tag of over $109,000.
Myron Klein says, typically, his car doesn't get this type of attention. 
"Not too much. I usually don't drive it to places with lots of people," Klein said.
Klein hasn't had the car very long, so he's still getting comfortable with busy parking lots.
It's one of two confirmed Tesla's in town, and there's a rumor of a third.
The upscale EV has a longer range than, say, the Nissan Leaf. But with 10 public charging stations, plugging in isn't a huge problem. There's a limited road system, after all.
What can be a burdensome, though, for those wanting to join this growing club is getting the cars to Juneau and maintenance.
There's no Tesla or Nissan dealer in town.
Still, that didn't stop Kyle Cuzzort from purchasing his blue Nissan Leaf.
He says he did tons lots of research before buying it.
"I do like to do numbers. That's what I do," Cuzzort said. "I did the math once and figured how much weight I would lose if I walked the stairs everyday. Two pounds a year."
Cuzzort took a deep dive into electric vehicle forums and learned the car's battery could work well in a mild Southeast climate.
He's owned the car for about three years now.
And compared to what he used to drive, he says powering the Leaf costs much less than what he used to spend on gas. It pencils out to about $25 bucks month.
"What we save in gas, we could take a vacation every year," he said.
When Cuzzort bought his Leaf around 2013, there were only about seven in town.
Now that number has ballooned far beyond that and the Juneau branch of the Electric Vehicle Association is looking to boost the numbers even more.
This fall, a Nissan tech is traveling to Juneau to service its cars with recall issues. And the association is looking at organizing a "group buy" of Nissan Leafs. It could help offset some of the costs of barging the vehicles here.
Although, Cuzzort clearly loves his car. I can see he's eyeing the Tesla.
"I would want one," he said.
He explains if you drive a decent amount of miles, owning a Tesla could be cheaper than owning a minivan — or at least that's what he's heard on his forum. A less expensive Tesla model is expected to launch later next year.