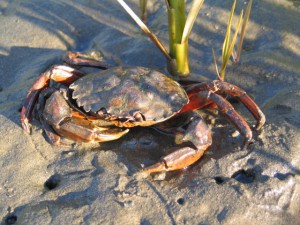 Last week, an invasive species known as the European green crab was found in Puget Sound. The marine-focused environmental group that found the crab, Washington Sea Grant, is still trying to find out if it was just a lone crab, or if a population has been established.
While the alarms are sounding in Washington State, green crab populations are already establishing themselves off British Columbia's coast and are moving further north.
Alaska Fish & Game Invasive Species Coordinator, Tammy Davis, said the green crab found in Puget Sound last week isn't a concern for Southeast Alaska.
"The finding in Puget Sound is concerning to Puget Sound. That doesn't concern me as much as the detection as new green crab populations farther north along the coast of British Columbia," said Davis. Sean McDonald, a research scientist
Sean McDonald, a research scientist for the University of Washington, said green crab is native to the northeast Atlantic Ocean and has established itself all over the world.
"They spread to a number of different locations including east and west coast North America, Patagonia, Australia, Tasmania, South Africa as well," said McDonald.
He said these invaders were found in San Francisco Bay in 1989 and have been moving farther north ever since.
Its northbound movement is a concern for two reasons, it populates areas quickly, and it's an extremely efficient predator.
"When you pack a lot of crabs into a small space and they're all looking for food, they can be a little destructive," said McDonald.
They dig holes searching for food in marshes, eelgrass beds and can decimate populations of "clams, snails and other small organisms."
"Those impacts could cascade through our local ecosystem. These pocket estuaries and marsh habitats are also very important nursery grounds for a lot of other animals and important stopover areas for migrating birds," said McDonald.
"And, so you can see where impacts to these habitats could actually have profound impacts to the overall ecosystem if left unchecked."
Eelgrass beds provide habitat for juvenile salmon and other wildlife life in Southeast such as waterfowl and shellfish. Fish & Game's Davis said the crab's progress is actually much closer to Southeast than Puget Sound.
She says it's been known to inhabit the inland waters of Vancouver Island for years, but it's just in the last few years that they've been detected in Fish Egg Inlet in Queen Charlotte Sound.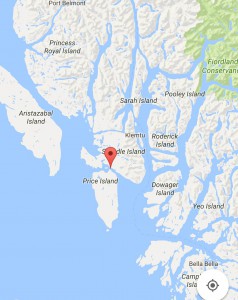 Davis learned from the Department of Fisheries and Oceans Canada this summer that an established population was found in Higgins Passage between Prince and Swindle Islands, about 240 miles south of Metlakatla.
Populations are finding their way north during its larval stage, carried by ocean currents and fishing and shipping vessels.
Davis said if a population was detected in Southeast waters, Fish and Game would attempt to eradicate them.
"Well we have a response kit located in Ketchikan and we have one here in Juneau. What we would attempt to do is trap them out," she said.
She said baited traps would be set during low tide cycles. Thomas Terriault, a research scientist for Fisheries and Oceans Canada said it experimented with the approach on Vancouver Island, but without success.
"We haven't been able to deplete a crab population. We've been able to shift the age structure and composition of the population, but we haven't been able to knock it out completely," said Terriault.
He said remote locations like Higgins Passage make it even more difficult to mitigate populations. Currently, British Columbia isn't trapping the crabs in Fish Egg Inlet or Higgins Passage, making Davis nervous about the future.
The Smithsonian oversees a monitoring program on the Pacific Coast and in Southeast. Several environmental, state and federal agencies participate in that program.
Davis said they currently trap in search of green crab in Ketchikan and Sitka during the summer months.
She said if anyone sees unusual species or plants, they can always send a picture to Fish & Game's invasive species department, or call the hotline.