A pioneer of Alaska mushing, who along with her husband, Earl, helped establish the oldest kennel for Siberian huskies in the world, has died.
Natalie Norris of Willow, Alaska, died Sunday, Aug. 28, 2016, "peacefully and in the presence of family," according to a Anadyr Siberians Facebook page post.
Norris grew up in Lake Placid, New York, in the 1920s, when it was still common to see people driving dog teams.
She began collecting dogs at a young age, eventually competing in sled-dog races across New England.
Norris made the rare, bold move to Alaska in 1946 as a young, unmarried woman, taking with her nine dogs.
"Shortly before her move, Grandma was featured on the cover of this national magazine," granddaughter Lisbet Norris said in a phone interview. "It was a picture of her, in her parka with one of her big beautiful Malamutes. And somebody mailed that magazine to my grandfather."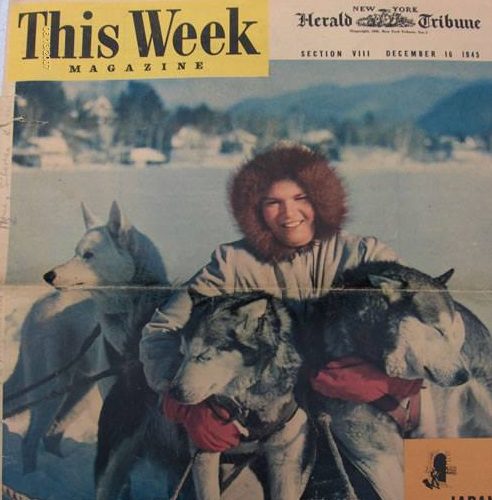 "(Earl Norris) was already in Alaska. And when he read that she was planning on moving out there — soon as possible — he immediately wrote to her and offered to help in any way that he could. I think he was quite smitten by her photo," Norris said with a slight laugh.
So smitten, in fact, that he met her at the dock, and not long after they married.
From the beginning, Norris's life in Alaska was an inseparable mix of family, dogs, and the outdoors.
The young couple established their Anadyr Siberian husky kennel the same year they wed.
They raised their three children on a 120-acre homestead in Anchorage before moving to Willow in 1967, where the kennel has remained ever since.
Throughout, Natalie continued racing dogs.
"She was one of the earliest competitors of the Fur Rondy race in Anchorage," Lisbet Norris said. Decades later, in the 1970s, Natlie won the Women's Open North American. "That was kind of the culmination of her racing career."
Norris's real focus and passion was on Siberian huskies as a breed.
She traveled the world judging competitions and lecturing on the line's traits.
Breeding and mushing Siberian huskies has stayed part of the Norris family itself. The kennel is now run by Norris's son, J.P., and her granddaughter, Lisbet, has finished the Iditarod the last three years.
"They're athletes," Lisbet said of the family's huskies, "and we believe that training and conditioning them for racing is the best benchmark for the breed."
Lisbet Norris was extremely close with her grandmother, living in the same house with her for several years until just a few months ago.
It was her grandmother's character, more than accomplishments, that have had the greatest influence on her.
"She was really the epitome of a pioneer woman. She was so gracious and kind to everybody that walked into that house. And she was a mentor to so many, including myself," Norris said through tears. "I take a lot of comfort in knowing that I'm following in her footsteps today."
Instead of holding a formal service, the family is planning a picnic this spring, "accessible by dog team, skis, or snowmachines," along the nearby trails named for Natalie and Earl Norris.
Natalie Norris was preceded in death by her husband, Earl Norris, who died in 2001 at the age of 81.