A Ravenstail and Chilkat robe with more than 40 collaborators is under final assembly in Juneau. The robe will be part of the Huna Tribal House opening ceremony this Thursday in Glacier Bay National Park.
Listen to the story here:
Project leader, artist and weaver Clarissa Rizal organized the project and said the inspiration came from a conversation with Klawock weaver Suzi Williams.
"We were having this conversation about Chilkat weaving. I told her 'That's all I've been seeing is Chilkat weaving this, Chilkat weaving that. Anything Chilkat,' and she laughs," Rizal said.
"She goes, 'I've been thinking about knitting and crocheting.' She says, 'You know those granny square, crocheted granny squares back in the 60s and 70s?' She says, 'You ever do that?' And I says, 'Yeah I made one of those for my mother,'" said Rizal.
Rizal said the image of the robe came to her like a vision.
"It's a Ravenstail-Chilkat robe made by different weavers across the Northwest coast, up and down the coast right!" Rizal said. "And she (Williams) says, 'Oh my god. And,' she says, 'It's going to be used for canoe gatherings.'"
In the spring of this year, Rizal made the vision a reality.
She used her blog, Facebook and other means to officially invite Northwest Coast weavers to create and submit their own granny squares.
She crowd sourced it. The blog detailed an overview of the robe and the individual 5- by 5-inch square pieces — up to 54 of them.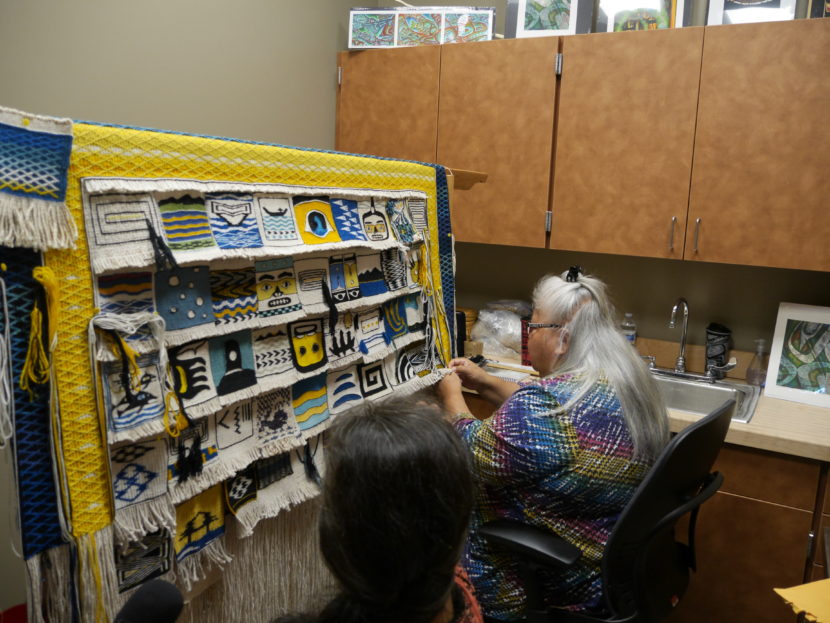 "When those pieces first started coming in, it just hit me like a ton of bricks, like, oh my god, these people trust me? And, oh my god, I get to touch and feel each one of these and hold them in my hand, right? I get to hold them in my hand. And just feel the energy of each piece. And the love for weaving, the energy of each piece. I am so privileged to be the one who gets to hold these," Rizal said.
Rizal is at work at the Walter Soboleff Center finishing the robe with help from fellow weavers and artists like Della Cheney and Rizal's daughter, Lily Hope. 41 artists ended up contributing squares, and, with less than 72 hours to go, Rizal estimated she had some 50 hours of work left before the Huna Tribal House opening in Glacier Bay.
"I call myself 'cutting it close Clarissa,'" Rizal said.
At the Huna Tribal House opening, the robe will be worn in ceremony to commemorate the clan house and Wayne Price's dugout canoes.
That's just the beginning of the robe's tour, which will include a stop at the White House. Rizal is a National Endowment for the Arts fellow and will dine with President Barack Obama.
"So I imagine, is that I would like to put this robe on him. Wouldn't that be cool?" Rizal said.
After touring with Rizal, and when the robe is not in use, it will be housed at The Evergreen State College in Olympia, Washington. Rizal hopes is will inspire weavers for decades to come.
The National Park Service is streaming coverage of the Huna Tribal House opening on Thursday and 360 North tentatively plans to carry this coverage on television.