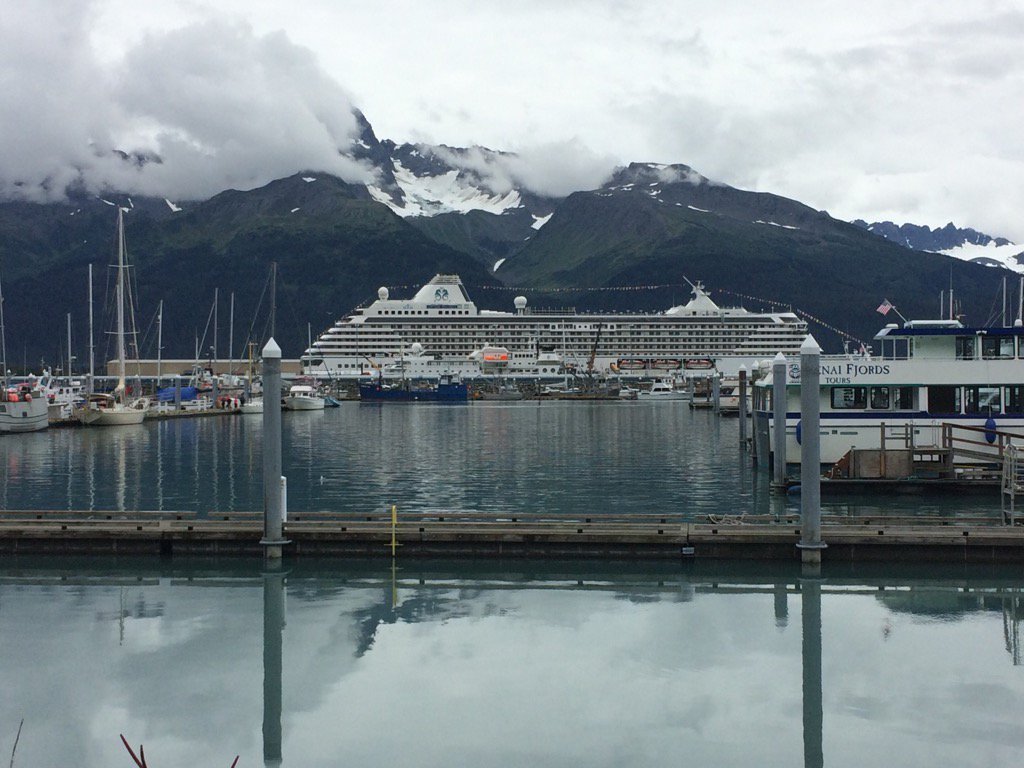 The cruise ship Crystal Serenity cast off from Seward Tuesday for a first-of-it's kind trip through the Arctic's Northwest Passage to New York City. It's the first luxury liner to attempt the route — and the largest passenger ship by far.
Many people are wondering if it's a sign of what's to come, as the Arctic sees increasingly ice-free summers.
Rachel Waldholz, from Alaska's Energy Desk was in Seward as passengers boarded the ship.
TOWNSEND: Rachel, remind us why this is a big deal. There's been a lot of attention to it nationally, internationally. Why is it a big deal?
WALDHOLZ: Well, it's a big deal because this is a big ship. It can carry more than 1,600 people, including more than 1,000 passengers and more than 600 crew. A ship of that kind hasn't attempted to cross through the Arctic before. And it's in a region that hasn't seen anything remotely on this scale before, it's not sure the region is prepared for that. There just isn't the kind of infrastructure or search and rescue capabilities. The towns it's visiting haven't seen this kind of tourism and cruise companies haven't proven yet that they can handle the Arctic safely. This is really the first test. And to that end, it's been a real wake-up call for authorities about getting ready for more shipping traffic in the Arctic. The U.S. Coast Guard and military actually have a joint exercise planned with Canadian forces next week in the Bering Strait, and they will simulate rescuing 250 people from a cruise ship, and it'll happen just a few days after the Crystal Serenity passes through the region.
TOWNSEND: Have you been able to get aboard the ship? What's it like?
WALDHOLZ: Well, I haven't been able to get on yet. I have a tour scheduled for 3 p.m. and I'm really excited because it's supposed to be super top-end luxery cruise ship. The basic stateroom is more than $20,000 — the highest end penthouse — which comes with personal butler service — is listed at more than $120,000. So this is really a very high-end cruise. It has as many as eight restaurants, a casino, a dance club, a spa, designer boutiques. That's probably good, because this is a long trip and there aren't that many places to stop along the way. It will take more than a month to travel from Seward to New York City. It's stopping in Kodiak, Unalaska and Nome on its way, as well as several stops in Canada and Greenland.