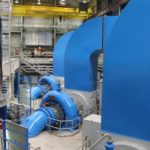 The Sitka Electric Department has discovered corrosion in the three new blue lake turbines.
Gilbert Gilkes and Gordon Ltd. manufactured the turbines and installed them in 2014.
"We disassembled partially the three blue lake turbines prior to the end of the warranty period,"  said utility director Bryan Bertacchi, informing the Assembly of the issue during its last meeting on Aug. 9. "I just wanted to let the Assembly know that we found kind of unexpected levels of cavitation, erosion, and some corrosion that we didn't expect."
Bertacchi also told the Assembly, "There's no imminent failure that's going to occur. This is a long-term issue. And we're working with Gilkes, the turbine manufacturer, to try to resolve it. So we had Gilkes' (technicians) here from England just a couple of weeks ago."
The corrosion was discovered at the base, where the impeller is located, Bertacchi said.
Gilkes is studying computer models of the turbines. Using that information, Bertacchi said the department will ascertain what repairs are required, whether there was fault by Gilkes, and how the warranty may cover that.
Bertacchi said the issue was discovered during an inventory of the city's electrical system.
"Blue Lake (Dam) is a very important asset for the community," he said in a phone interview. "The community spent a lot of money on Blue Lake and we want to make sure it lasts for 30 to 50 years. We were trying to be proactive, before the warranty is over and while the manufacturer still has significant responsibility. We wanted to make sure the turbines were in top notch condition."
The electric department nipped another power issue in the bud last winter, replacing a 35-year-old transformer at the Marine Street Substation in danger of failure.
The second transformer, which the Assembly approved, is in construction and will be shipped within the next two months.