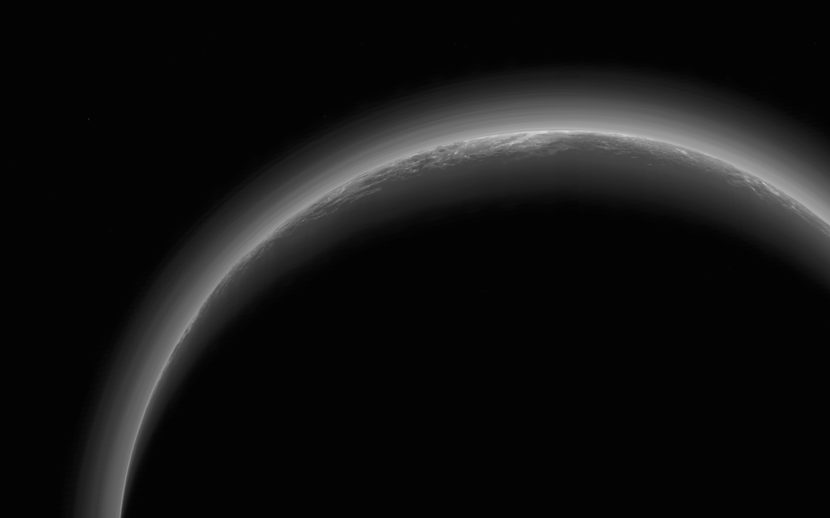 An Alaskan assigned to the New Horizons science team says the distant dwarf planet Pluto has an atmosphere that is much different than what they earlier imagined.
"The expectation was a very expanded, puffed up atmosphere," said Peter Delamere of the University of Alaska Fairbanks' Geophysical Institute. "When New Horizons arrived, we found something very different. It was a very compressed, somewhat colder atmosphere. But with the new measurements, they discovered some new sort of compounds within the atmosphere."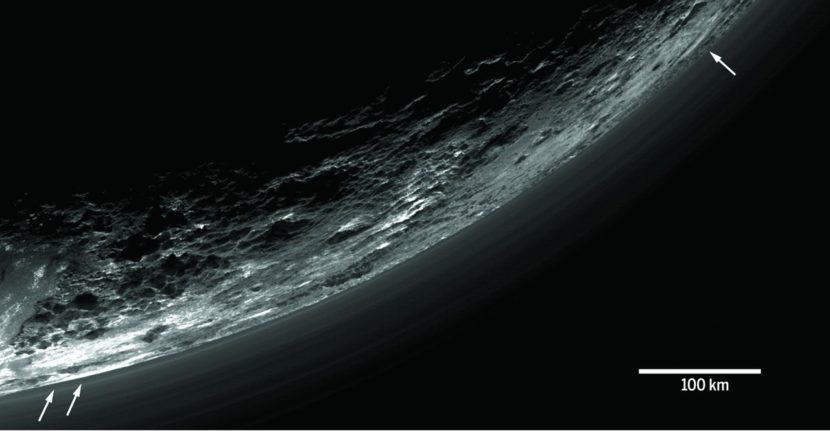 Delamere is part of the New Horizons science team that recently had three papers published on their latest research. The first two papers describing Pluto's atmosphere and how it interacts with the space environment were published in the journal Science while a third paper focusing on the solar wind interactions was published in the Journal of Geophysical Research – Space Physics by the American Geophysical Union.
The New Horizons probe was launched in January 2006 and flew by Pluto and its moons in July 2015. Scientists are still analyzing the data that was sent back to Earth for months after the probe's closest approach.
Delamere specializes in space physics or how the various particles in space interact with each other.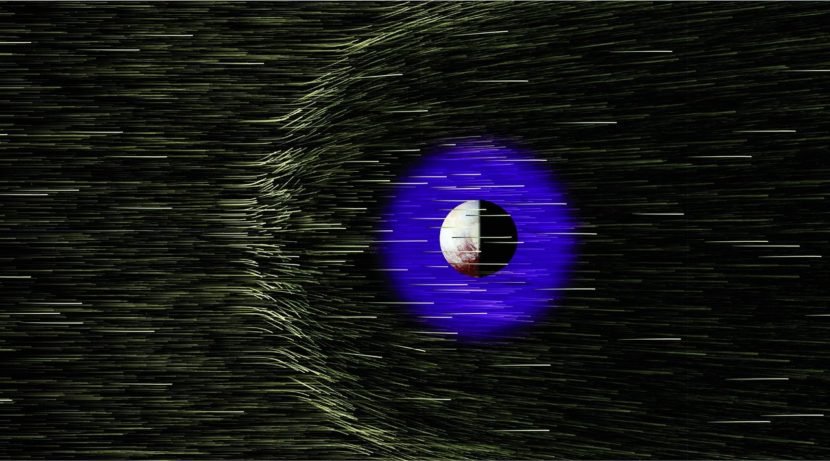 Imagine how air would flow around the fuselage of a speeding airplane and you would have a good idea of how plasma or charged particles from the solar wind might flow around a planet, only at much greater velocities. Planets like Earth and Jupiter, for example, have a very strong magnetic field which can shield the atmosphere and deflect the solar wind around it. The size or bluntness of the planetary object can determine the size and extent of the bow shock just upstream of the planet.
Pluto, however, does not have a magnetic field.
"As it turns out, the apparent or what it looks like a bow shock crossing didn't occur until essentially you were on top of Pluto," Delamere said. "It's almost as if it is an attached shock, if it is a shock at all. It's not clear."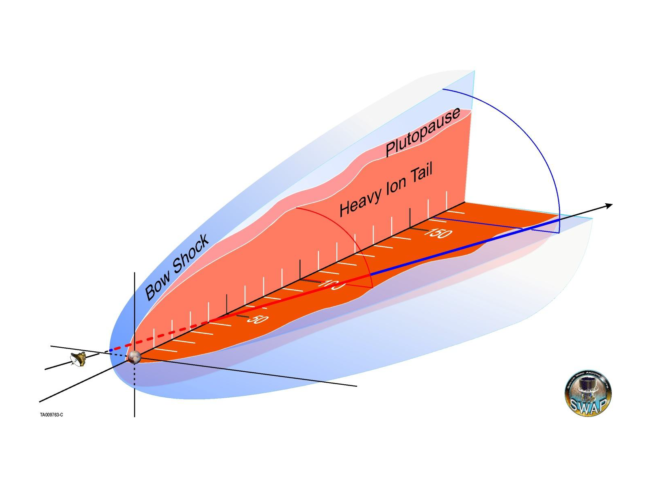 Delamere said they discovered that Pluto's atmosphere is much more compressed that previously thought. Aside from nitrogen and methane, the cooler-than-expected atmosphere likely has additional compounds that may act as a heat or energy sink.
"Normally, like a methane molecule may absorb solar UV radiation and heat. So, you can puff an atmosphere up if you've got a way of heating it," he said.
Delamere also said they discovered that Pluto's atmosphere, very tenuous when compared to Earth's, is being stripped away by the solar wind at an unexpectedly high rate.
"It's a big number. It's a few times 1025 particles per second, for example, that may fly off of this planet. But it's just a tiny, tiny amount of mass per second that is stripped from the atmosphere," Delamere said. "And, so, over the age of Pluto, it's a negligible amount of Pluto's mass that is ultimately lost that way."
He suspects the atmosphere may be sustained by sublimation of the planet's surface ice.
"You can just go straight to the gaseous state. So, if you have particle bombardment on an icy surface or you have just sublimation by illuminating it with solar radiation, you can form an atmosphere that way. These particles become airborne and, with the weak gravity, they have some dwell time," Delamere said. "It may be a fairly collisionless atmosphere. You can imagine it really very tenuous so that it's not like our atmosphere which is a very dense and collisional fluid medium."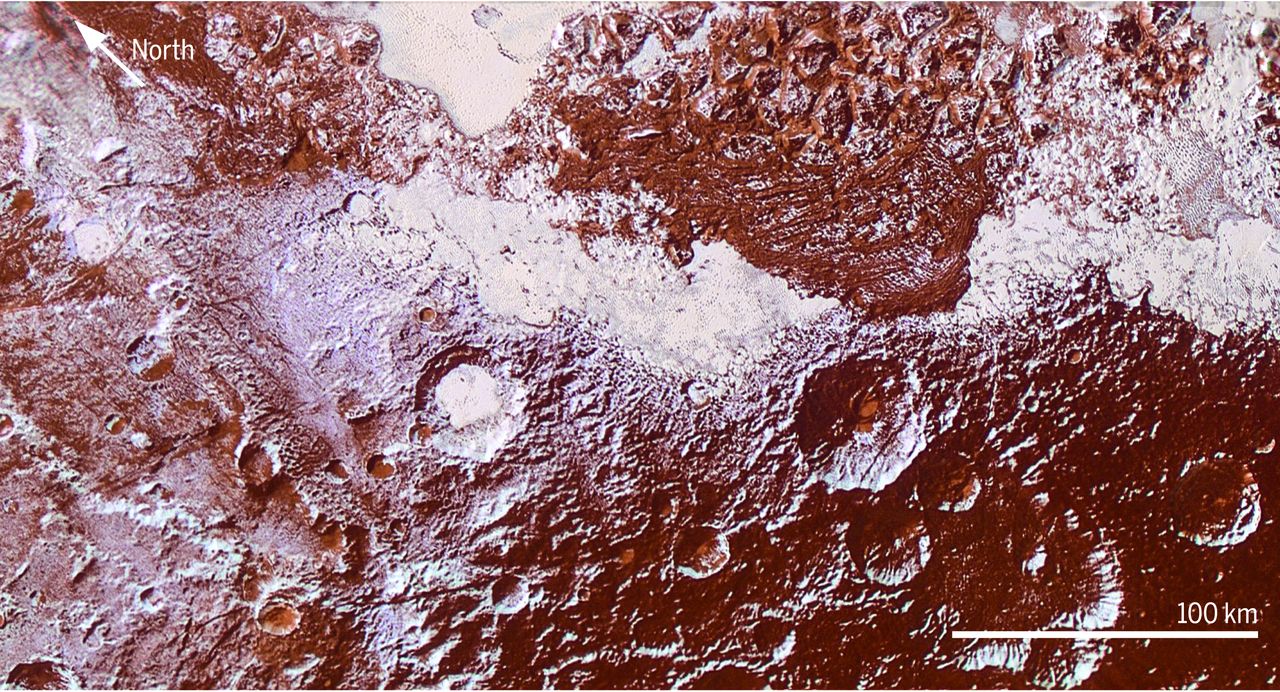 Although geology and glaciology are not his specialties, Delamere said he's also fascinated by the images that suggest a rich geologic history from when the dwarf planet was perhaps much warmer.
"When you look at the surface images, you see things that look like glaciers, like lakes, maybe even rivers. These are nitrogen ices and you realize, well, the surface temperature isn't that far below the melting point for nitrogen," Delamere said. "So, perhaps at some point in the past, these nitrogen ices were liquid and there were rivers and lakes and whatnot."
The New Horizons probe has several instruments designed to measure particles. They include a dust detector built by students at the University of Colorado, the Solar Wind at Pluto or SWAP instrument that measures low energy ionized particles, and a high energy instrument called Pluto Energetic Particle Spectrometer Science Investigation or PEPSSI.
Pluto is currently 56 AU or astronomical units from the Sun. Each AU corresponds to the approximate mean distance from the Earth to the Sun, or about 93 million miles.
The New Horizons probe is still speeding on a course out of the solar system and is headed for a fly-by of the Kuiper belt object called 2014 MU69 in early 2019.