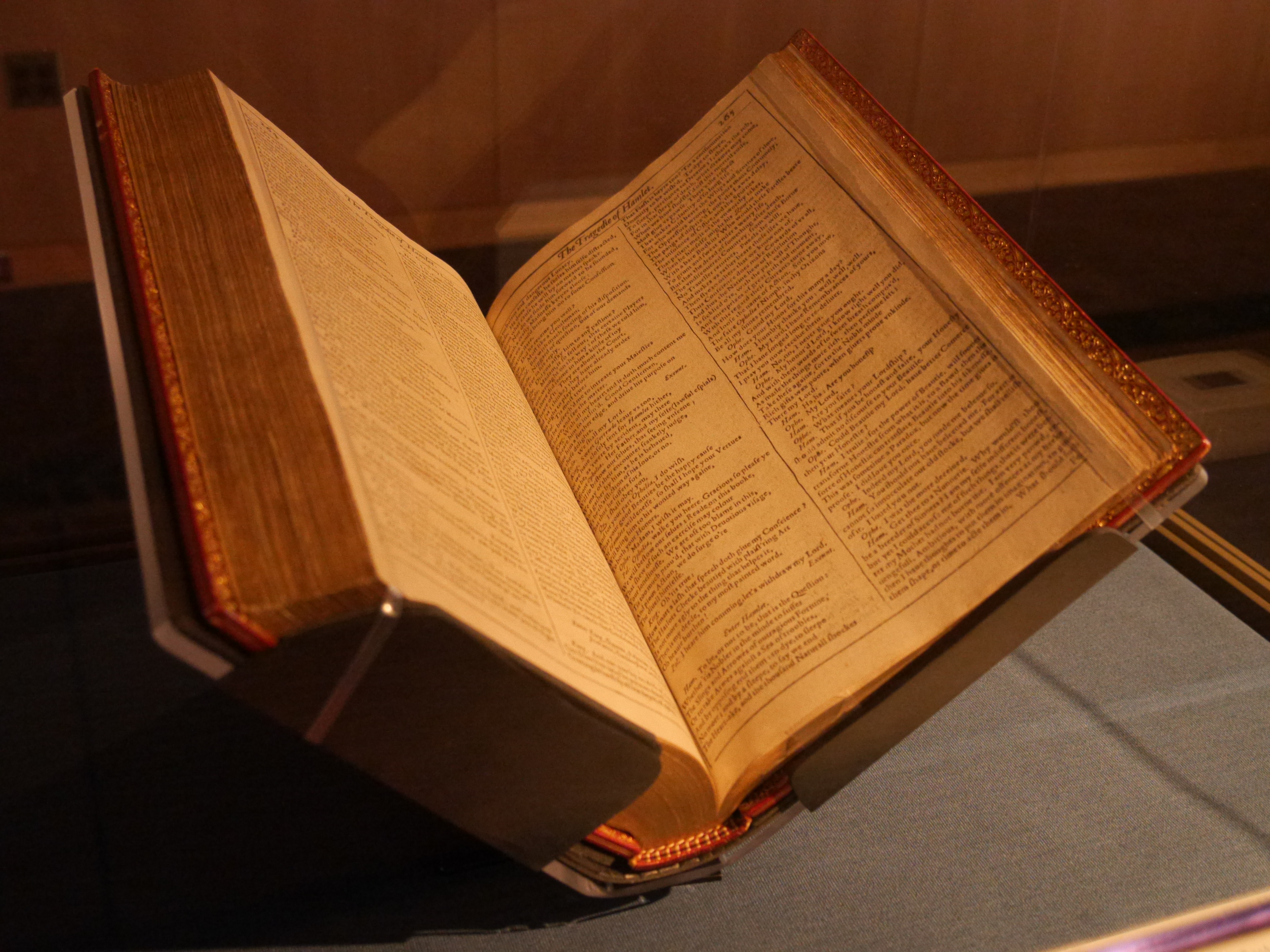 A nearly 400-year-old book is on display in the Alaska State Library in Juneau. And it's not just any old book, it's the First Folio—the first printed collection of Shakespeare's plays that brought his work to the world even after his death.
In the backroom of the Rockwell bar downtown, above the music and among glasses of amber ale and wine, a dozen actors are reading "Cymbeline," one of Shakespeare's lesser known plays.
There's an evil queen, forbidden love, epic battles and long-lost relatives. Local Shakespeare company, Theatre in the Rough, is reading all 36 of the bard's plays within the next month. It's because the book that brought the world Shakespeare's work—including this play–is here in Juneau.
The First Folio is a collection of all of Shakespeare's work. Two of Shakespeare's buddies created it seven years after he died. The nearly 400-year-old book provides a written record of half of Shakespeare's plays that would've otherwise disappeared–such as "Macbeth" and "The Tempest."
Freya Anderson is the state librarian who helped get the book here, and a proud Shakespeare geek.
"A lot of what we know today is because of the First Folio," she said.
Inside Alaska State Library that room that holds the First Folio, a thin veil of light casts on the book, which visitors can view in its glass encasement. For Shakespeare fans, this is their Holy Grail.
"I mentioned before it's not quite a religious experience," she said, "but I'd put it in the top three library-related experiences in my life."
She said the process of getting it to Juneau has been years in the making, and on Tuesday the book went on display.
The library applied for a grant ahead of the First Folio's visit, before the library even finished construction.
That's because the First Folio belongs to the Folger Shakespeare Library in Washington, D.C., and the one in Juneau isn't the only copy. Of the 253 remaining in the world, the library has 82. This year, they're touring six copies of the First Folio to reach every state and some territories, to celebrate the playwright's 400th birthday.
Just outside the library, Jim Hale is beginning to prepare for an upcoming lecture on the First Folio. The Shakespeare scholar said seeing the collection is seeing a piece of history.
"Shakespeare's informed western culture over the last 400 years and this is an artifact of that. It preserves some of our greatest literature, some of our greatest plays," Hale said. "We wouldn't have 'The Tempest' without this book. I couldn't imagine a world without 'The Tempest.'"
The First Folio will be on display until Aug. 24.
For a list of all the Shakespeare events happening in Juneau, visit the state library and museum website.