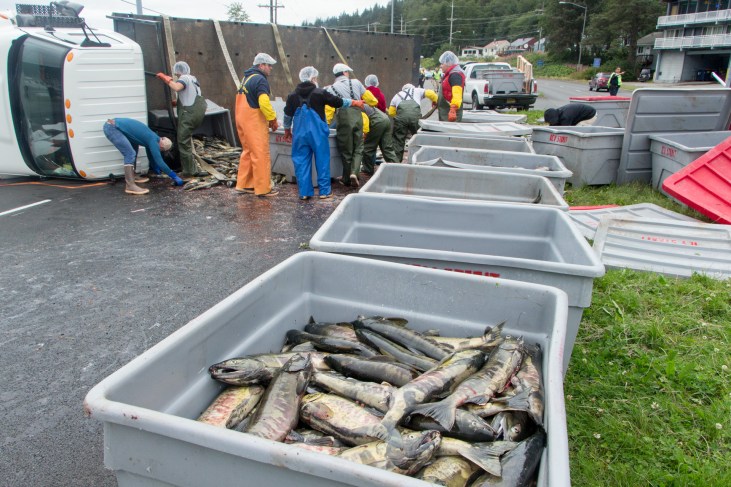 An assembly line of workers collected piles of chum salmon that spilled onto Egan Drive near Highland Avenue after a truck tipped over about 3:30 Monday afternoon. The incident took place near Juneau-Douglas High School and the Breakwater Hotel.
The truck was carrying totes of fish.
"So when the vehicle rolled over onto its side, it lost its load and the fish were spilled over the intersection. The inbound lanes of Egan Drive were completely blocked," Juneau Police Lieutenant David Campbell said.
Traffic backed up for several hours while police diverted vehicles. Drivers were asked to avoid the area if they could. Outbound lanes were shut down to just one lane of traffic while a tow truck was called to the scene to remove the overturned vehicle.
Egan Drive was fully reopened by 7 p.m. Capital City Fire and Rescue hosed down the highway to remove the slime.
Chuck Bill, CEO of Bartlett Regional Hospital confirmed that the truck driver was evaluated and then released.
Police and witnesses estimated the weight as between 10,000 and 16,000 pounds. Several people at the scene said the spilled salmon were considered contaminated and unfit for human consumption.
Note: This report has been updated with additional information. A new report is posted here.