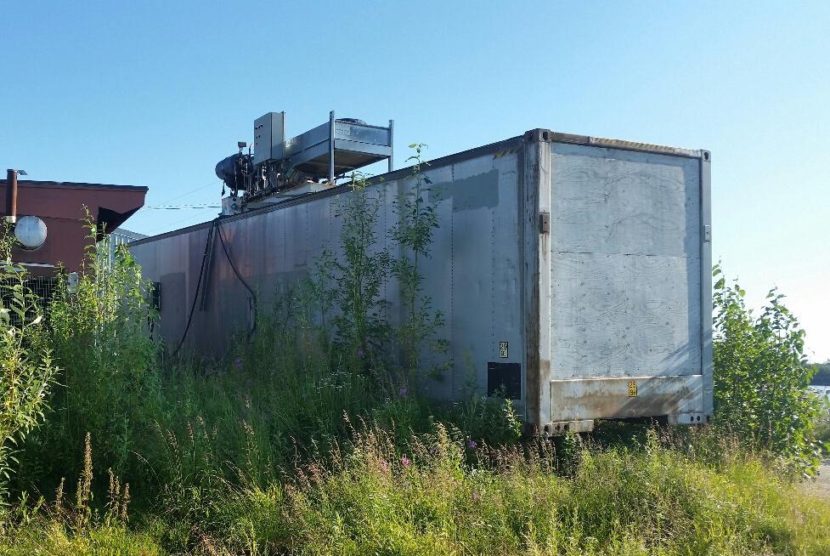 The first commercial fishing opening for fall chum started Wednesday for Marshall and Russian Mission, but still no solution has been found for the villages' broken ice machine, forcing fishermen to either stop fishing or travel 60 miles and back to the village of St. Mary's to get ice.
Marshall's Maserculiq Native Corp. owns the machine but has made no effort to fix it since the compressor quit working two weeks ago. Replacing the part would cost $15,000.
Ten fishermen testified at the Maserculiq monthly board meeting Tuesday, asking the corporation to replace or repair the ice maker's compressor. One of the fishermen was Nick P. Andrew Jr.
"Majority of the fishermen stated lost fishing time, used the words 'affecting the economy,' and basically stating that for a lot of fishermen this is their only income opportunity," Andrew said.
Andrew is also the Marshall tribal administrator and said he's applying for a grant to buy a new machine that would be owned and operated by the tribe. If awarded, the grant he's considering would deliver in fiscal year 2018.
Maserculiq board member Lena Sergie said the corporation is trying to find ways to purchase a new ice machine but haven't solidified anything so far.
St. Mary's-based Boreal Fisheries can buy the chum, but only with the right ice.  Owners Randy and Edna Crawford won't send a boat to pick up the fish unless it's in flake ice, which fishermen can't make at home and which Edna calls a necessary industry standard.
"It has to be flake ice," Edna Crawford said, "because that's the only way you're going to keep the temperature of the fish down, especially with the weather we've had over here."
Since the machine broke, Marshall commercial fisherman Leonard Fitka Sr. has missed two fishing openings. He's been boating the four and a half hours to fetch ice and fears the trips are unsustainable.
"Fishermen are working harder, staying up longer, (spending) more time away from family. It's hurting the economy," Fitka said.
Fishermen in Russian Mission travel even further for ice. Myron Edwards, a commercial fisherman there, said with gas over $4 a gallon he won't make a profit, and he doesn't know when he's going to fish next.
"We're not too sure how we're going to do this," Edwards said. "Some of us don't have enough money to pay for gas to pitch in for one boat to go all the way up to Boreal to pick up ice."
The Crawfords, who own Boreal, have known the commercial fishermen in Marshall and Russian Mission for decades and have built a close relationship with them. Boreal has provided free labor multiple times to fix their ice machine, and last year the Crawfords donated a generator. They run a small operation and Randy Crawford said they've done all they can.
"Edna and I are really frustrated because we've put so much effort into it, and we can give no more," he said.
Boreal pays an average of $400,000 a year to Marshall fishermen. Randy said it's an important part of the Marshall economy and he wants Maserculiq to invest in its community.
Marshall commercial fisherman Nick Andrew Jr. had sent letters to shareholders and fishermen in Marshall and Russian Mission asking them to attend Tuesday's meeting.
"We are imploring the village corporation for them to take ownership and invest in the ice machine," Andrew said.
The Maserculiq CEO and board members did not respond to KYUK's emails asking about the machine.