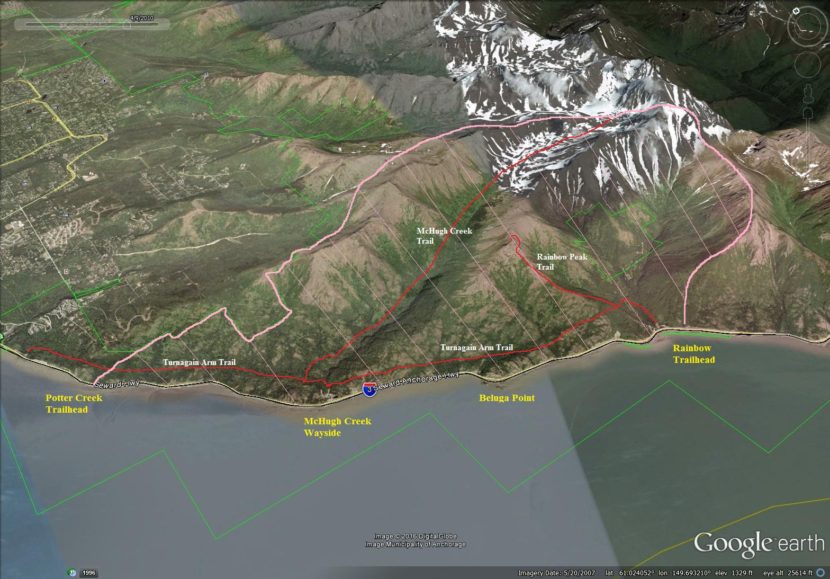 The McHugh Fire burning in the Anchorage area close to the Seward Highway is now estimated at 350 acres. Earlier estimates on Tuesday said it had grown to more than 500 acres, but fire officials downgraded the size based on better mapping.
Division of Forestry spokesperson Lori Wiertsema said the main thing people need to know is to avoid the area. Traffic is backed up for one to two hours in each direction. Only a single lane is open on the Seward Highway and motorists are being led through by pilot cars, but Wiertsema says they do not plan to close to road. The Anchorage Police Department had sent out a community-wide alert earlier in the afternoon saying a closure was possible.
Crews are battling the fire to prevent it from damaging structures in nearby neighborhoods. They are clearing vegetation around homes and laying out some pumps and hoses as preventative measures.
Lindsay Fagrelius lives in Rainbow Valley, the neighborhood closest to the flames. She decided on her own to evacuate and was waiting it out at the Brown Bear Saloon.
"The trees and brush are so dense up there I almost think it's hopeless," Fagrelius said. She used to work as a firefighter in Montana. "I think if it goes through, it's going to burn pretty hot."
Fagrelius, who also had to evacuate because of the Funny River Fire on the Kenai two years ago, says she woke up, heard the news and started clearing brush from around the cabin she rents. Then she packed up her instruments, skis and dog and headed out.
She said she was worried she could get stuck if the fire moved over the road, and she didn't get the notice to evacuate.
"Cell reception is so crummy (up there). I was worried I wouldn't find out right away if there was an evacuation."
Anchorage Fire Marshal Cleo Hill said it's been more than 30 years since there was a fire this size near the homes along the Hillside, and they are very concerned because of the extremely dry conditions.
"Right now we're monitoring Rainbow Valley, which is down by the McHugh Creek fire, but should the weather change and the wind head into Anchorage, we'll be monitoring Potter Valley and south Hillside area."
Anchorage Police Department and the Alaska State Troopers will notify community members of any evacuations via Nixle alerts if necessary.
Meteorologist Dave Snider with the National Weather Service said the dynamic terrain along the coast where the fire is burning complicates where the wind is feeding the flames, and makes it tricky for crews working in the area. Conditions will likely continue to feed the fire until a new weather system arrives, he said.
There could be rain early Thursday morning, but Snider cautions that only about a tenth of an inch of precipitation is expected. However, along with it should come more humidity and lower temperatures.
A red flag warning had been issued through 10 p.m. Tuesday because of high winds, low humidity and high temperatures.
There is also a burn ban in place for Anchorage. Only closed barbecues and fish smokers are allowed. Parts of Chugach State Park near the fire, including the Turnagain Arm Trail, are closed to public use.