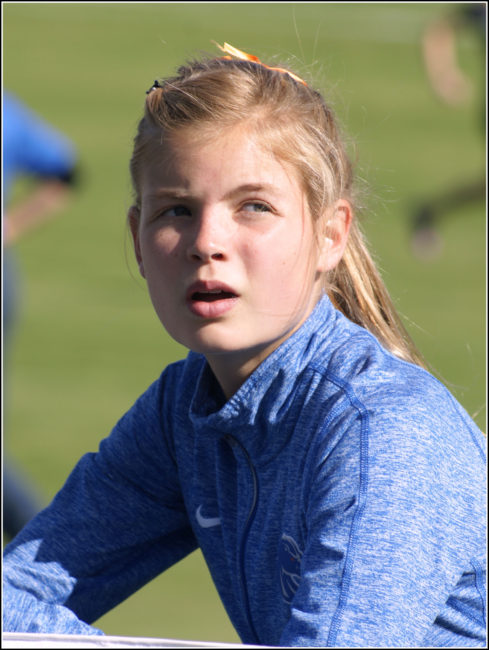 Soldotna's Allie Ostrander has advanced to the finals in the U.S. Olympic Trials this week. If Ostrander places in the top three on Sunday, she'll be off to Rio this summer. Even if she doesn't, she'll still consider the race a win.
In less time than it takes to grill a steak, Soldotna's Allie Ostrander crossed the finish line in the women's 5,000-meter semifinals at the U.S. Olympic Trials on Thursday in Eugene, Oregon. Her 15-minute, 27.13-second time secures her a slot in the finals and a shot at the 2016 Summer Olympics in Brazil.
"I did as well as I was hoping to do. The preliminary was just about making it on to finals. So, I was able to do that without being really stressed and worrying about time qualification and anything like that," Ostrander said.
Not only was her fourth-place finish astonishing, so is the fact that she's competing at Hayward Field at all. Ostrander is only 19, having just finished her freshman year at Boise State University in Idaho. She was the only collegian among the 23 women in the 5K. And this was her first race in four months, coming back from an overuse knee injury in March.
"I didn't know exactly what to expect going in, due to the time I had to take off for my injury, so I was just happy to get back out on the track and feel good and be able to qualify for the finals," Ostrander said.
Ostrander says she didn't feel any twinge of injury nagging at her knee or her mind. She was able to give the race her all. That, actually, was far easier than having to not give her all for so many weeks of reduced training.
"The self-control is definitely harder and the cross-training, because when you're not running you have to work so much harder than when you actually are running," she said.
Ostrander's parents, Paul and Teri, are in Eugene to watch Allie run. Paul says he thought Allie looked great.
"The main thing we were hoping was just that she was going to run well. She was questioning where her fitness was and, of course, we didn't know where it was. And she just wanted know and show to herself that she could run fast. And she did, of course — ran better than I had hoped," Paul Ostrander said.
Teri coached Allie in her record-breaking high school running career at Kenai Central High School.
"Teri was a nervous wreck because she was afraid (Allie) was going to get boxed in because she was back in, like, ninth or 10th place for a lot of the race and was in that inside lane and there were runners all around her. And Teri was afraid someone was going to make a move and she wouldn't be able to respond," Paul Ostrander said.
But she did. With four laps left, Ostrander started picking off runners. She ran her last lap in 65 seconds. That's less time than it takes to toast a hamburger bun on the grill.
"We always had thought that she would be more of a 10K runner, you know — longer distances. She's shown that she has a lot more speed than people think that she had. And so she's able to run, you know, the 5K, since it's kind of a shorter, long-distance race, and she's able to hang with the speed that she has," Paul Ostrander said.
Those familiar with Ostrander in Alaska shouldn't be surprised by her speed. In high school, she won three cross-country titles, set records in 1,600 and 3,200 meters and even won a national cross-country race while still a senior. She also notched six straight junior girls wins on Mount Marathon, setting a new record and beating all the boys in her final juniors race. In the women's division last year, she finished second and still broke the 25-year course record.
Ostrander chose to skip the mountain race in Seward this Fourth of July, in favor of the trails in Oregon.
"It was a little sad watching the live stream and not being there on the mountain because I do love the race, but after my race yesterday I'm sure that I made the right decision," Ostrander said.
Ostrander says whatever happens Sunday, she's thankful to just be in Oregon, able to run.
"I'm just really excited. It's basically a bonus run. I can't wait to get back out there and just give everything I can," she said.
Back in Soldotna, Ostrander is a local celebrity, and an inspiration for others to be active. She started a summer community running program in 2012, called the Salmon Run Series, which now draws more than 100 people every week, rain or shine. On the organization's Facebook page, posts about upcoming courses or race results are lost in the sea of Ostrander updates and well wishes.
"I'm just really thankful for all the support, not just from my family, who's here, which is awesome, but also from everyone in the community through social media. It's so cool to have such a friendly, supportive community behind me," Ostrander said.
A top three finish will advance Ostrander to the Olympics. The final is at 5:28 p.m. Mountain Time on Sunday.