Bethel's Senior Center is closing its doors. Orutsararmuit Native Council, or ONC, runs the program and will keep many of its services. But starting next month, it will no longer offer a space for seniors to gather, talk, and eat. Seniors will remain fed and supported, but they could be spending a lot more time alone.
It's 9:30 in the morning at the ONC Senior Center. Albert Kawagley and I are waiting for a half hour for the other elders to show up.
Kawagley: I'm 67, going on 68, a young man yet. [Laughs]
Albert's been coming to the center every Monday, Wednesday, and Friday for six years. He said many of the elders grew up in Bethel and have known each other since childhood.
KYUK: What will you miss most when this closes down?
Kawagley: My friends, playing cards with my friends here and not just watching the four walls that surround me.
The closure is happening July 1. At that time, elders will no longer have a place to eat lunch, talk and play bingo three days a week.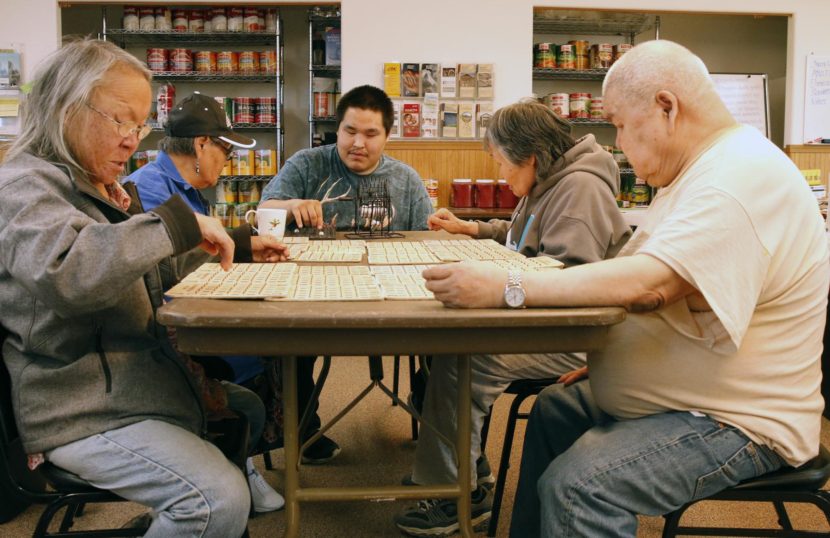 Program Director Nikki Hoffman said ONC is closing the center to prevent a $200,000 budget deficit.
"What I fear with the loss of this program is a risk for isolation and loneliness and their primary care providers could increase risk for burnout," Hoffman said.
The program mainly runs off state grants but the funding problem isn't with the state's budget cuts. It's with the Senior Center itself, housed in the Lion's Club building.
"The grant award that we get for the adult day is $111,000," Hoffman said. "75% of that would be used directly for the facility."
Three positions are also being cut. One of those, the Program Manager, is held by Denise Kinegak.
"And so this is what they do," Kinegak said. "They usually come in, wash up, and then they head over here. Check our the birds, of course. Whenever we get new food donations, they're always quick to check out what we have, so they know what's in stock."
The birds are about a dozen ducks and geese lying on a table—subsistence donations that will be taken home and used for future lunches.
The elders move to different parts of the room. Most get a snack. Some start a game of Rummy or begin quilting. Others watch Jeopardy. I approach one elder, eating a pastry and wearing a big red sun hat.
Catherine Peters is 82. "Or am I 83?" she laughs. Peters said she lives with her son who works during the day. She can't cook or leave the house by herself. All this, she said, makes the Senior Center so important.
"Sometimes we're lonesome at home," Peters said. "Our families can't be all the time with us in the home. I'll miss talking with my friends here. Even if I can't see or hear, they come to me, and that makes my day happy and cheerful."
ONC Senior Services will still deliver a meal to 50 seniors around Bethel Monday through Friday. And ONC will still drive seniors to the post office, bank, and grocery stores, but that route will happen once instead of three times a week. They'll also continue helping elders with paperwork like paying bills and requesting prescription refills.
ONC's long-term goal is to build a Senior Center of its own and give its elders a place to gather and eat throughout the week. As of now, there are no set plans for making that happen.