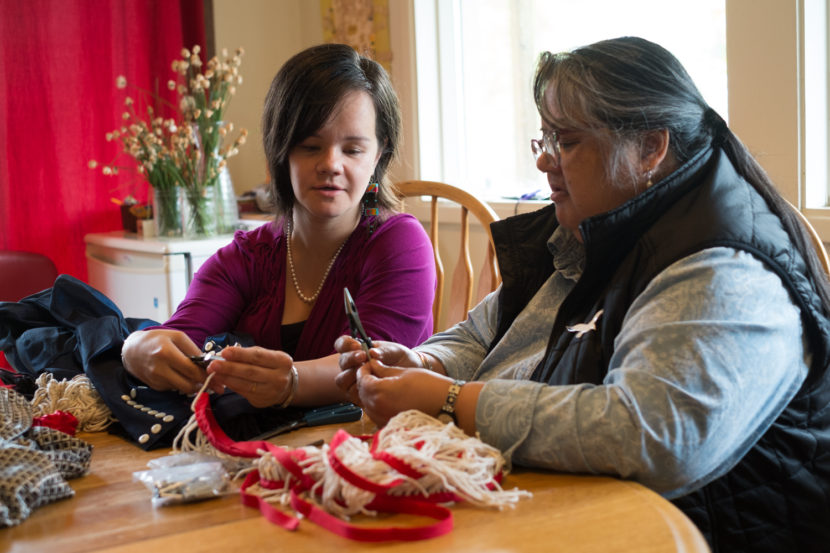 At a kitchen table in a Douglas home, Lily Hope arranges buttons into a basketry pattern on a silky blue dress. Her auntie Deanna Lampe cuts fibers of cedar and wool spun together. They're two of the 17 Alaska Native artists whose pieces willl be showcased at a Sealaska Heritage Institute's Native Fashion Show Friday, a first for Celebration.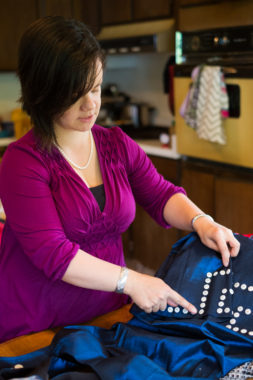 "We've always been sewers," said Lampe.
"Beadmakers and earring makers," said Hope. "I think I've been sewing buttons since I was 9. That's the hazard of having a family that makes art." 
The duo is busy crafting three ensembles for Celebration's first Native Fashion Show. The looks range from business casual to show-stopping red carpet glamour — all  incorporating elements of traditional regalia including formline, Chilkat weaving and beadwork.
But as mall retailers adopt Native designs, the cultures that created them  haven't been treated with respect. From clothing chains like Urban Outfitters using the Navajo name and patterns without permission, to the rise of costume headdresses at music festivals. Hope said the misuse of and appropriation of Native design is one reason they're participating in the fashion show.
"I would say that's part of the motivation for making these pieces, is to create an authentic fashion show from indigenous peoples using indigenous designs and materials," Hope said. "To say, 'Hey this is how you're supposed to do it. This is the honorable way to do it.' And do it right and make it pop, and make them go, 'Oh, I want that.'"
"And the way they're doing it, they're not really respecting the tribe or the culture," Lampe said. "They're just remaking something they've seen on TV from the '40s which is pretty much what a lot of that stuff was,  that stuff that they had in black and white movies. That was just kinda gross. But –"
Hope finishes the thought.
"–They didn't know any better back then, and it seems like they don't know any better now."
Their pieces include aspects of traditional dress, but they can't exactly imagine their ancestors wearing them. Lily and her aunt think about it a moment, laugh, and say one piece especially would be over the top for them.
But, "I think our ancestors would be like, 'Hey, look at that! They've taken the modern fashion and indigenized it.' I bet they'd be like, 'That's pretty cool,'" Hope said.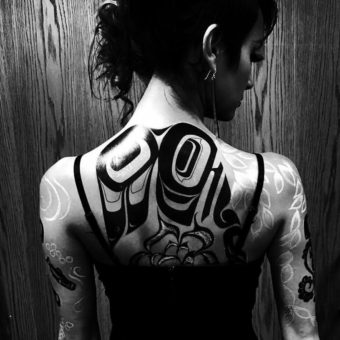 Crystal Worl is one of the designers and an organizer behind the fashion show. She said she was inspired by similar shows at the Sante Fe Indian Market.
"It's actually influenced a lot of artists, a lot of young people to get into fashion, whether it be through jewelry, through textile," Worl said. "They're very fashion forward and it brings a lot of attention to the concept that indigenous people identify themselves the way they have always done it. With regalia, but now we're doing it to new mediums and they're applying it in different ways. This whole fresh interpretation of what it is to be indigenous."
Worl said appropriation of Native American designs isn't just an American thing.
"And I've seen it all over the world. In Mexico, in France, in Thailand and China," Worl said. "For some reason, it's really hot in in China to be hipster and wear knockoff moccasins, wearing these weird looking totem poles on shirts. It's so weird."

Worl said there are respectful ways for non-Native people to incorporate elements of Native fashion into their wardrobe.
"People should care, and it's not to say, 'No you can't do this, that's not what it's about. It's to teach people that, there is a cool hip way of rocking indigenous design and here's how you do it," she said. "If you're really into Northwest Coast formline design, the best way to study it or learn about it or wear that design is to learn or study from an indigenous community. Or to buy from an indigenous artist who made it for the purpose of sale. Because I don't know of any indigenous artist who would make a headdress to sell it for someone to wear at a rave or party, like, that's weird to me."
For her part, Worl will be painting models with her adaption to Tlingit body art. It combines formline, Athabascan floral patterns and contemporary shapes from nature, like leaves and herring eggs.
"Formline is about the flow, where the eye moves, the movement between thick and thin lines," she said. "Where things connect and how they flow and the balance of positive and negative space. Just that technique is helping me apply it to the body. Basically building a design that architecturally fits the human body."
Worl, Hope and Lampe will watch their models take the catwalk in the Walter Soboleff Center Friday evening. The Native Fashion Show is at 6 p.m. in the Walter Soboleff Buliding. Live television coverage of the show will air on 360 North.
Live television coverage of Celebration on 360 North and 360north.org begins at 6 p.m. Wednesday. Celebration coverage continues from 9 a.m. to 10 p.m. through Saturday. For more Celebration news coverage, go to ktoo.org/celebration.