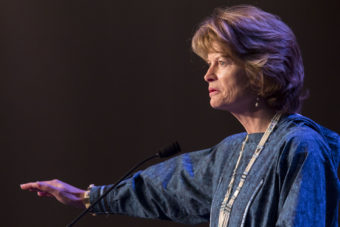 A U.S. Senate bill introduced last week would allow Alaska Natives in five Southeast communities to form urban corporations. Haines, Ketchikan, Petersburg, Tenakee, and Wrangell each stand to gain about 23,000 acres of land if the bill passes. But the legislation, which has been introduced before, does not come without controversy.
In 1971, more than 200 Native corporations formed under the Alaska Native Claims Settlement Act, known as ANCSA. But, Haines (Chilkoot Tribe), Ketchikan, Petersburg, Tenakee, and Wrangell were left out of the landmark legislation.
The Alaska Native Claims Settlement Improvement Act was introduced May 26 by Alaska Sens. Lisa Murkowski and Dan Sullivan. It would award those "landless" Native groups 23,040 acres of land each.
Leo Barlow represents both the Southeast and Wrangell Landless Coalitions. He says many in these communities have benefited from Southeast's regional Native corporation, Sealaska, which pays dividends. But they lack the benefits provided by a local corporation.
"Other village corporations in the region that have received such a settlement have done a lot of things with their land. They've been able to do a lot of economic activates to the benefit of their shareholders. Start businesses, eco-tourism, start hotels a lot of relied on resource development on the land as a mean of providing an economic income."
If passed, the improvement act would allow the five corporations to pick land of historic, cultural and commercial value, but would not allow conservation lands to be awarded.
The Southeast Alaska Conservation Council or SEACC is opposing the bill. Spokeswoman Emily Ferry says the group is concerned about the commercial activity.
"We don't know how they would be managed. The land would be selected by Native corporations — these new Native corporations and the Secretary of the Interior — and as we know from the past, lands that were transferred to Native corporations previously were heavily logged."
Ferry says SEACC called upon Murkowski to include the general public by holding hearings on the issue. SEACC would also like more environmental protection, particularly forest preservation, added to the bill.
"We would like to see a dialogue about how that can happen," Ferry said. "That's partly why we're calling on Senator Murkowski to come to SE Alaska to open up a dialog, hold hearings, to talk with communities. Both the people who would benefit from this legislation and the communities who rely on our public land to go hunt and fish and enjoy the fact that we get to live in a spectacular place where we have vibrant runs of wild fish."
Murkowski's office did not respond to requests for comment or information.
The local corporations would have surface rights that would allow logging and other surface-based economic activity, but Barlow says he doesn't expect any excessive clear-cutting.
"Obviously, there are timber resources that could be harvested," Barlow said. "The whole goal would be to do that on a sustainable basis, not like the old days when there were large extensive clear-cuts all across the Tongass and Southeast Alaska."
Barlow says the corporations could also focus on eco and cultural tourism to bring in money and says he thinks Natives would not be the only ones to see benefits.
"It actually benefits the whole community. As you can see throughout Southeast Alaska, a lot of the employment created by other corporations throughout the region goes to Natives and non-Natives alike. It would have a tremendous impact on the region and the economy of the whole Southeast panhandle."
The ANCSA improvement bill is not the first legislative attempt at providing "landless" communities corporate status. The current version combines several Senate and House bills from decades past. Another section of the bill would allow Sealaska to exchange 23,000 acres of land on Admiralty Island for about 14,000 acres of more commercially viable land and could also award Native Vietnam veterans land as well.
SEACC spokeswoman Emily Ferry says the conservation group will wait for Senator Murkowski's response before stepping up efforts to oppose the bill. Both Murkowski and Sullivan were unavailable for comment for this story.