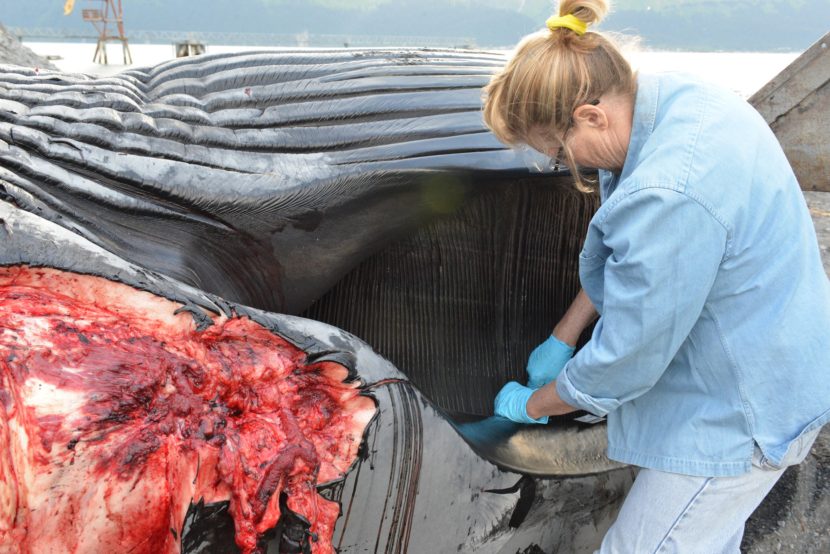 It could take weeks or months before scientists know what killed a fin whale stuck on the bow of a Holland America cruiseship. The whale carcass was found Sunday when the cruiseship docked in Seward.
Julie Speegle, spokesperson for the National Oceanic and Atmospheric Administration, says the endangered juvenile fin whale was about 50 feet long. It was moved to a nearby beach where a two-day necropsy took place.
Speegle said the lead pathologist took a number of tissue samples to determine the cause of death.
"Some of the samples she took were intended to be tested for exposure to harmful algal blooms, which means if those tests (come) back positive it could be related to the unusual mortality event of large whales," Speegle said.
Last year, nine fin whales were found dead in Southcentral Alaska waters. Speegle said NOAA doesn't know what caused the whale deaths, but algal blooms — caused by warming ocean temperatures — are the leading theory.
"The harmful algal blooms have a toxin in them that get into the phytoplankton, which the whales eat, which then introduces the toxin to the whale."
Essentially, poisoning the whale.
Speegle says the fin whale discovered Sunday could have died from natural causes. A predatory killer whale could have harmed it, or it could have died from illness.
There's also the possibility the cruise ship struck it at sea. Speegle says Holland America reported that they didn't notice anything when they entered Resurrection Bay.
Holland America could not be reached for comment.