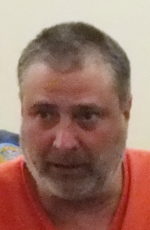 Murder, manslaughter and criminally negligent homicide charges have been filed against a Juneau man who allegedly shot a man in Excursion Inlet.
Mark Anthony DeSimone, 53, faces a total of five charges in connection with the Sunday evening incident near a cabin located on the beach. Bail was set at $500,000 cash during a Tuesday afternoon hearing in Juneau District Court.
According to court documents filed by the district attorney's office, Duilio Antonio "Tony" Rosales, 34, died after being shot twice at the back of the head.
Rosales was apparently sitting on a picnic bench taking off his boots and he rolled or fell to the ground when he was shot, according to the documents.
Rosales had an empty gun holster on his right hip. Assistant District Attorney Amy Paige said in court that Rosales' own firearm was still stowed in his backpack.
Immediately after the shooting, DeSimone allegedly told another man at the scene, "I shot Tony. I shot him. It's my fault."
An Alaska State Trooper arriving at the scene by air was greeted by six men. Four of the men were standing on the beach in front of the cabin with their hands over their heads, another was helping secure the scene, and the last man, identified as DeSimone, was sitting on a rock away from the others.
One of the men at the scene handed the trooper a .41 Magnum double action revolver that was believed to be used in the shooting. Paige said it is a difficult weapon to fire and requires 8 pounds of pressure to pull the trigger just once.
"You have to mean it to fire it twice," Paige said. She also explained the autopsy revealed stippling on the back of Rosales' neck, which indicated that the weapon was fired at extremely close range. Paige called it an execution-style homicide.
After he was escorted into court on Tuesday afternoon, DeSimone slightly turned his body away and avoided the gaze of Rosales' family and friends who watched from the back of the courtroom. Rosales' widow, Maria, later posed a question to DeSimone asking, "Why did you do this to my husband? Why do this?" She sobbed uncontrollably as she described how her husband was a religious man and worked hard to support his family.
"Please answer me. Answer my question," Rosales cried.
DeSimone did not respond.
Paige said DeSimone told investigators that he was a former state lawmaker in Arizona. At first, she said they took DeSimone's claim with a grain of salt. But after a little checking, they confirmed that DeSimone did serve in the Arizona House of Representatives until he was forced to resign. DeSimone was arrested in June 2008 for assaulting his wife while his young daughter watched. The final disposition of that case is still unclear.
Paige described DeSimone as a drifter or couch surfer who may have arrived in the Juneau area within the last month. She said DeSimone worked for Jewel Box owner Bill Young as a day laborer while Tony Rosales also worked for Young as a jeweler at the store. Paige said Young hosted the group during a hunting trip over the weekend.
DeSimone was not required to enter a plea during a first felony appearance on Tuesday. Instead, he will likely do that during an arraignment hearing in Superior Court if a grand jury returns with an indictment against him.
Even if DeSimone makes bail, he is to be released into the custody of a pre-approved third-party custodian. DeSimone is not to drink alcohol and he cannot have contact with witnesses in the case.
Public defender Tim Ayer reserved argument for lowering the bail amount until more evidence comes in.
According to KHNS radio, Excursion Inlet is a secluded community about 40 miles west of Juneau in the Haines Borough. There is a year-round population of less than a dozen, but a cannery draws a larger, seasonal population each year.