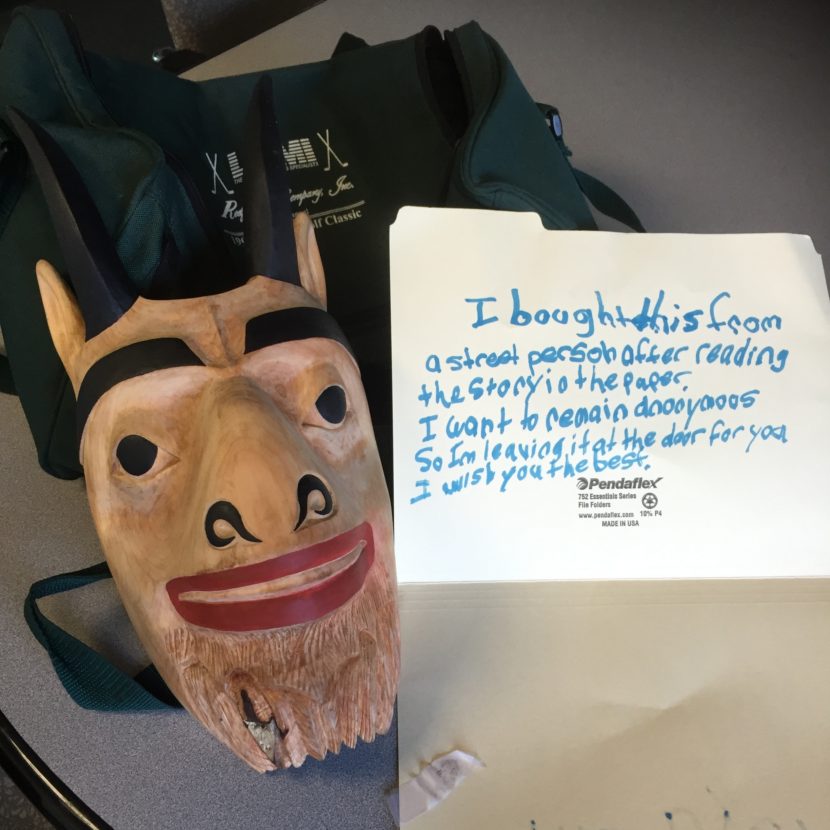 Juneau artist Sheila Dyer has her goat mask hanging on her wall again after it disappeared from a public exhibit.
Dyer created the mask while attending a recent Pacific Northwest Coast carving class at the University of Alaska Southeast.
"So, there aren't a lot of goat masks for starters," Dyer said. "And then, mine, I didn't paint the same way as anyone else in the class and there's a knot in the beard. So, no other mask would be identical."
The mask was put on display along with other student art during an exhibit at the Juneau Arts and Culture Center, but it was reported missing during the close of the show earlier this month.
Dyer said she and her son put out notices on social media about the stolen mask and contacted local media organizations, including the Juneau Empire, which did a short story last week.
Then this week, Dyer said she was contacted Wednesday by JACC officials who reported the mask had been placed in a small piece of luggage and left at the doorstep with a handwritten message.
"Maybe that meant that the person that took it was unable to sell it or maybe they felt bad," Dyer said. "But either way, it resulted in getting returned. So, that's wonderful!"
Dyer said it was her first carving and she isn't sure she would ever be able to replicate such work again. She credits her instructor, Duane Bosch, who also provided the design from an original mask he made out of cottonwood.
"So, when he makes the mask before he holds the class, he's considering the whole time how the master-apprentice teaching scenario would progress to be able to have an apprentice produce this mask and have it be successful," Dyer said. "So, I consider that he was very successful because I love that mask. I think it turned out very beautiful."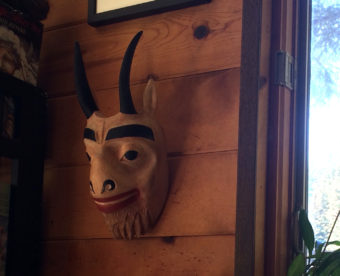 Dyer believes her mask was taken off the wall in the JACC gallery during a busy period about a week before the show closed. She had two other pieces in the show that were not in the style of Pacific Northwest Coast art and were not stolen.
Juneau Arts and Humanities Council Executive Director Nancy DeCherney told the Juneau Empire that surveillance cameras malfunctioned during the theft. They also planned to install more cameras around the building.
This isn't the first time that an artist's creation went missing during a public showing, and Dyer worries that thieves may be targeting such pieces for eventual sale. She said another UAS student created two carved masks that were reported stolen from another venue during last holiday season's Gallery Walk.