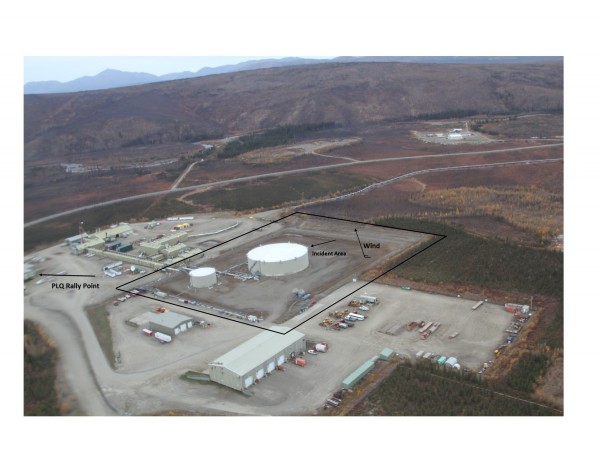 A worker with a hand wrench sparked the fire last month that shut down the trans-Alaska pipeline for nine hours.
The April 20 fire forced the evacuation of more than 50 people working at a remote pump station near Coldfoot, at the edge of the Brooks Range.
Alyeska Pipeline Service Co., which operates the pipeline, is investigating the cause of the fire. Spokeswoman Michelle Egan said the technician was working at the top of an oil storage tank with an adjustable wrench, removing nuts from a panel in preparation for an inspection planned later that week. His wrench, she said, simply slipped.
"That hand-tool slipped and struck a hard object, and that likely caused a spark," Egan said. "Then he saw flames, about 3 inches of flames around the outside of the panel that he was working on."
The storage tank has vents that allow crude oil vapors to escape, and the spark likely ignited those, she said.
The company has strict regulations for most work around tanks, especially with power tools. But it wasn't clear that work with a hand-tool could cause a fire.
"Clearly we did not anticipate that with this kind of work that he was doing that vapors would be present and this could occur," Egan said.
The company is reexamining its regulations.
By the time the technician had climbed down from the tank to retrieve a fire extinguisher, the fire was too large for him to control by himself, Egan said. The full pipeline was shut down within minutes.
An on-site fire crew initially held off to see if the fire would go out by itself. When the crew did finally go in, just after midnight, the fire was extinguished within minutes.
The pipeline itself was restarted before the fire was put out. Egan said by that point, operators were confident the pump station was isolated from the full pipeline.
Alyeska is continuing its investigation. The full results expected within the next few weeks but will not be released publicly.