Donald Trump has dealt Ted Cruz perhaps a fatal blow by defeating him in the Indiana GOP primary.
As soon as polls in the Hoosier State closed at 7 p.m. EDT, the Associated Press projected that the billionaire real estate mogul would easily beat the Texas senator. The Democratic race remains too close to call.
With his victory, Trump has crossed the 1,000-delegate threshold. He's 84 percent of the way to getting the 1,237 delegates he needs, and he needs just 37 percent of the remaining delegates to get there. It was already mathematically impossible for either Cruz or Ohio Sen. John Kasich to get a majority of delegates on the first convention ballot.
Indiana emerged as a must-win for Cruz and the #NeverTrump forces who were set on stopping the controversial GOP front-runner from getting the Republican nomination. Anti-Trump groups spent $2.8 million on TV in Indiana, while Cruz's campaign and his allies combined to spend $3.3 million on air. Trump's campaign spent under $1 million.
Their work to stop Trump was for naught, though. If he sweeps all 57 Indiana delegates tonight, his path to the GOP nomination will be very clear.
"Obviously Trump's victory in Indiana makes the road ahead more challenging," #NeverTrump senior adviser Rory Cooper said in a statement. "We will continue to seek opportunities to oppose his nomination and to draw a clear line between him and the values of the conservative cause. If nominated, he will lose in historic fashion; threaten down-ballot campaigns and likely usher in a Clinton presidency."
Even after Kasich signaled last week he wouldn't compete in Indiana as part of a quasi-alliance with Cruz's campaign, the Texas senator couldn't catch Trump in polls. Kasich instead focused on the Oregon and Washington primaries later this month, and Tuesday night after polls closed he said he would remain in the race.
"Tonight's results are not going to alter Gov. Kasich's campaign plans. Our strategy has been and continues to be one that involves winning the nomination at an open convention," Kasich's chief strategist, John Weaver, wrote in a memo to reporters.
Cruz tried to salvage his White House hopes by naming onetime rival Carly Fiorina as his running mate last week, but the unusual move didn't boost his numbers in the state. He even had the backing of Indiana Gov. Mike Pence, but the Republican's lukewarm endorsement didn't give him the jolt he needed, either.
Trump trotted out key Hoosier State endorsements of his own, including legendary (and controversial) former Indiana University basketball coach Bobby Knight.
The GOP race devolved into even more vitriol Tuesday on the campaign trail, underscoring just why many Republicans worry about the volatility of Trump as their general-election nominee.
Trump began doubling down on a tabloid story that alleged Cruz's father had ties to President John F. Kennedy's assassin, Lee Harvey Oswald. In response, Cruz blasted Trump as a "pathological liar, "utterly amoral" and a "narcissist."
Katie Packer, chair of the anti-Trump Our Principles PAC, said in a statement that comments like those are why the group will continue to press on despite the daunting math against Cruz.
"A substantial number of delegates remain up for grabs in this highly unpredictable year," Packer said. "In addition, there is more than a month before the California primary — more time for Trump to continue to disqualify himself in the eyes of voters, as he did yet again today spreading absurd tabloid lies about Ted Cruz's father and the JFK assassination."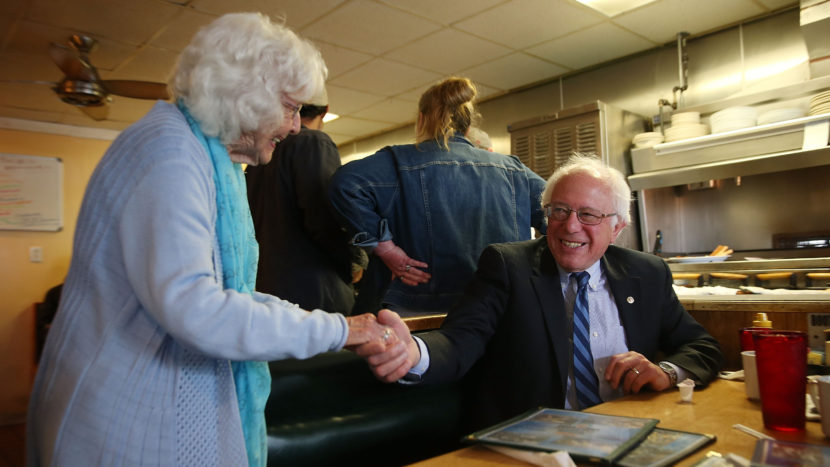 On the Democratic side, both Hillary Clinton and Bernie Sanders were in a tight contest. But even if the Vermont senator does win, the delegates he picks up most likely won't be enough to stop Clinton. The 83 delegates up for grabs will be distributed proportionally, but Sanders still trails the former secretary of state by 327 pledged delegates.
According to NPR's calculations, even if Sanders does get a narrow win, it won't blunt Clinton's delegate lead enough. Going into Tuesday, Sanders needs 65 percent of all remaining pledged delegates for a pledged majority. Including superdelegates, Clinton is 91 percent of the way to the 2,383 she needs. And as NPR's Arnie Seipel has calculated, even if all superdelegates voted the way their states did, Clinton would still have a 200-plus superdelegate lead over Sanders, with a 500 total delegate lead.
Copyright 2016 NPR. To see more, visit http://www.npr.org/.