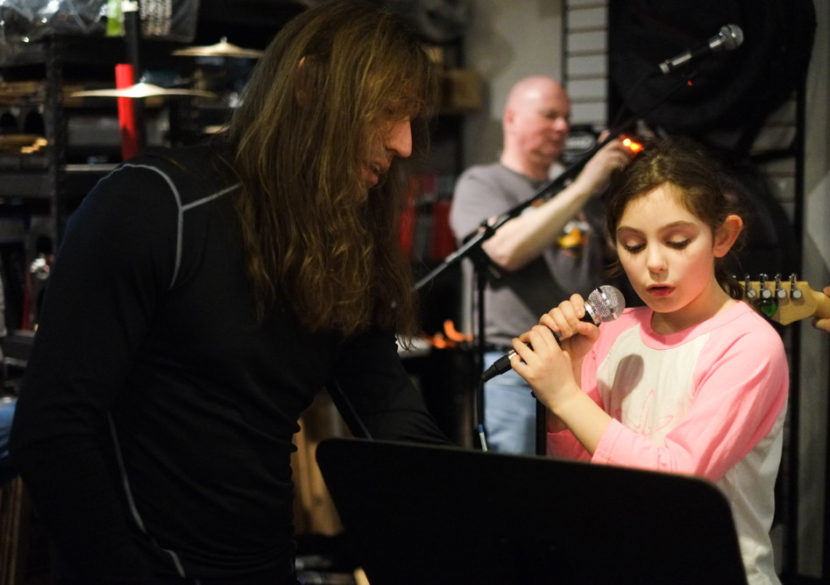 The 42nd Alaska Folk Festival is underway in Juneau this week. The lineup has always been diverse, but this year, one band's lead singer says she doesn't even know what folk music is.
It's rehearsal night at Alaska Music One, a music retailer in the valley. Cadence Ward is the 9-year-old front woman for 3, 2, 1 …, which includes Nicole Adams, 13, on keyboard and guitar, William Smoker, 14, on bass, Morgan Burd, 14, on lead guitar and Teilhard Buzzell, 14, on drums.
The band's name comes from there being three boys, two girls and one band.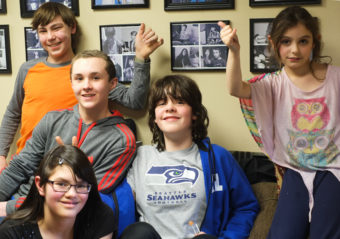 "I am kind of nervous 'cause it's a big deal, and I remember saying when I was little, 'I wanna be up there, and now my dream is coming true," Cadence says of the band's upcoming debut performance.
They may sound like just another teen garage band, but this group has help from local musicians Ward F. Ward and Paul McDermott. They direct the School of Rock Sessions and mentor the band, which was founded two years ago.
The band's changed over time, and now has a fresh new guitar player and Cadence on lead vocals.
The kids' ages and musical abilities vary. They rehearse every Saturday night as part of the program. Ward and McDermott used to only teach private lessons before starting Rock Camp and the School of Rock Sessions.
These kids are definitely rock and rollers. Nicole is into Journey and Styx, but Morgan favors Ed Sheeran and Slipknot. Teilhard digs Lynyrd Skynyrd, and Cadence's influences are Taylor Swift and The Beatles.
"I don't really know what folk music is," Cadence says.
Bass player William goes for AC/DC and Metallica.
"It's a language (William) understands," says William's dad, Andy Smoker. "He started out with the Juneau Youth Choir, and playing in the band at Harborview and Dzantik'i Heeni. But, of course, that's school band — this is rock and roll."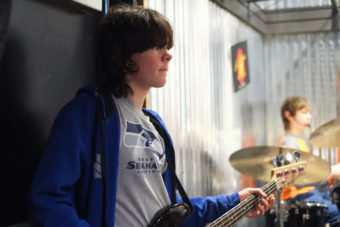 Smoker says the experience has been a labor of love for the adults.
"Paul and Ward have just been wonderful to these kids," Smoker says. "They've really given them the instruction and support. I think it's very inspirational."
Ward's background is in behavioral health and counseling, and he brings some of that perspective to the School of Rock.
"As a musician, what you're really trying to create is memorable experiences for people," Ward says. "That means you just accept people where they are and you assess their strengths and appreciate them for who they are — strengths and weaknesses. You work with their strengths and help them develop to the best they can be."
But McDermott says it's easy to be patient with his students.
"We've all made mistakes as musicians; we've all come from the same level they've come and so you can look back and see where you've been and you've progressed," McDermott says. "I see them as just evolving into better musicians and with our help we can kind of guide them through so they don't make the same mistakes we did."
For Ward and McDermott, success just means getting out there — and leaving it all on the Centennial Hall stage.
As the practice goes on, some songs are strong — and some are becoming strong.
The group plays at 8:45 p.m. at Centennial Hall on Tuesday of Folk Fest.