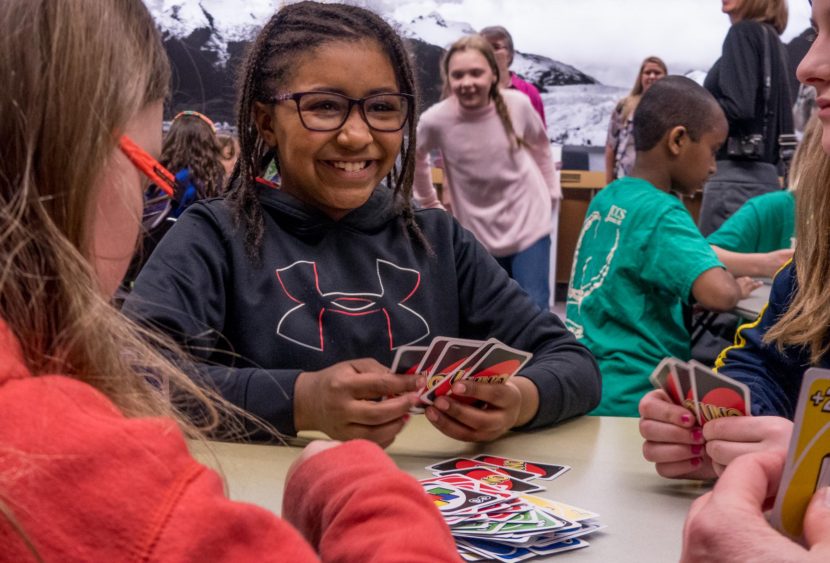 The residents of Juneau got a surprise Friday when the city was renamed after an iconic Mattel game. About 25 kids got to go to city hall to witness the "historic" event and, of course, play with the namesake. So, what happens when a municipal government cooperates with a toy company's publicity stunt?
You might have played it growing up or even as an adult: the card game with primary colors and big block font. Now, at least for Friday, we don't live in Juneau, Alaska.
 "I live in UNO, Alaska. I live in UNO, Alaska. Me, too!" shout a chorus of children.
That's right. UNO, Alaska. Like the classic card game. All the students seemed to be enjoying taking a break from class.
"We're playing UNO. It's a very epic game!" said 8 year-old Peyton Edmunds.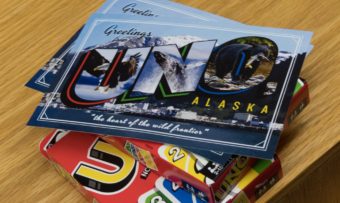 Tom Schwartz, a fourth and fifth-grade teacher at the Juneau Community Charter School, said on a typical day, this is the student's math time.
"I told my kids we were coming on a math fieldtrip. And we were going to help them to do some accounting down here. So they were surprised to walk in and find out this is what we were actually doing," Schwartz said.
The city's Facebook page also reflected the name change, but that wasn't the extent of it.
"Well, we've got the sign on city hall that says 'Welcome to the city of UNO, Alaska.' Our web page says UNO," said Kim Kiefer, the city manager.
She got a phone call recently from Mattel — the same company that makes Barbie.
"It's like, what? You're from where? Why are you calling?" Kiefer said.
The reason: Mattel is adding new cards to UNO's deck. The company even flew in Candice Jacobson, a company representative, to explain the "wild cards."
"What that means is we've added three blank cards into the deck, and you can basically make it whatever you want, so it can be anything from 'show me your hand' to 'jump in the lake,'" Jacobson said.
She says Mattel initially thought of "wild" Alaska's capital when it came to a way to promote the new edition. And, as a measure of goodwill, the company donated $15,000 to the Juneau Community Foundation Mayor Fisk Memorial Fund. Jacobson presented a giant check.
"This is an April Fool's Day prank. But the check is not a joke," Jacobson told the crowd.
The memorial fund was set up after the death of Mayor Fisk, and the money will go to at-risk youth in the community. Kiefer said Fisk's son gave his blessing.
And although some might not be excited about their property taxes going to the city of UNO, Kiefer said, so far, the complaints have been minimal.
"We've had a couple people saying you're wasting city money. And my response to that is Mattel has done all the heavy lifting," Kiefer said. "All the cards, all the press releases, all the photographs. All that stuff — they've provided us."
If it was up to Peyton Edmunds, the city of UNO would be here to stay.
"I think it's a way better name. Just leave it like that forever. It's a permanent name now," Edmunds said.