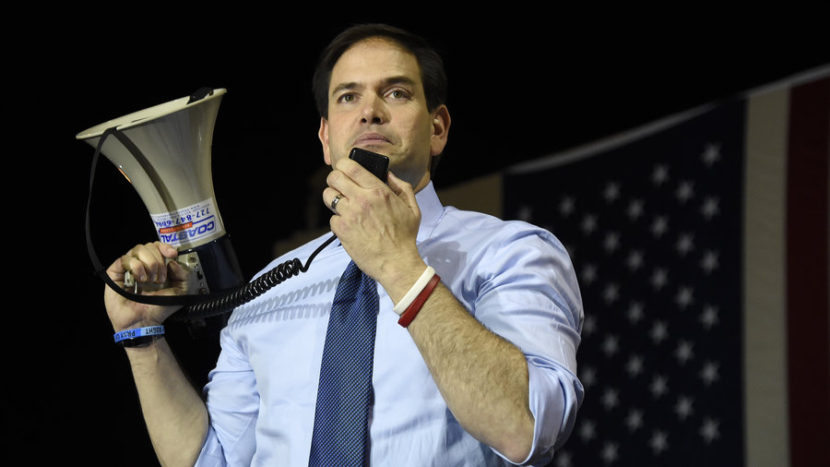 Donald Trump dealt a fatal blow to Marco Rubio, defeating the state's sitting senator in the Florida primary who suspended his campaign shortly after.
"After tonight, it is clear that while we are on the right side this year, we will not be on the winning side," the Florida senator told his supporters.
The Associated Press projected Trump would win big in the Sunshine State as soon as all polls closed across the state at 8 p.m. ET.
On the Democratic side, Hillary Clinton is projected to defeat Bernie Sanders in Ohio, North Carolina and Florida, according to the AP. She's on pace for big wins, helping her pad her delegate lead over the Vermont senator.
Tuesday night's primary races in Florida, Illinois, North Carolina, Missouri and Ohio are expected to most consequential yet of the primary calendar and determine whether the race for the White House is going to be a long slog for both parties.
Florida is the biggest delegate prize of the night for both parties. For Republicans, it's the first state to award all its delegates to the primary winner and not proportionally, meaning Trump will take all 99 delegates.
Ohio is the other winner-take-all state of the night. There, it's Gov. John Kasich who is looking to stop Trump's march to the nomination by capturing the state's 66 delegates.
Elsewhere, Texas Sen. Ted Cruz is looking to bolster his argument that he's the strongest Republican left standing to block Trump's path toward the nomination. He's hoping strong finishes in North Carolina, Illinois and Missouri, where his campaign manager is from, could give him a boost.
On the Democratic side, Sanders got a surprise win last week in Michigan. Other Rust Belt States voting tonight, like Illinois, have a similar electoral makeup, which his campaign hopes will give him more wins over Clinton and keeps a narrow path clear for him to take the nomination. But a loss in Ohio, another state they hoped to challenge Clinton in, dimmed some of that hope early on Tuesday.
Copyright 2016 NPR. To see more, visit http://www.npr.org/.